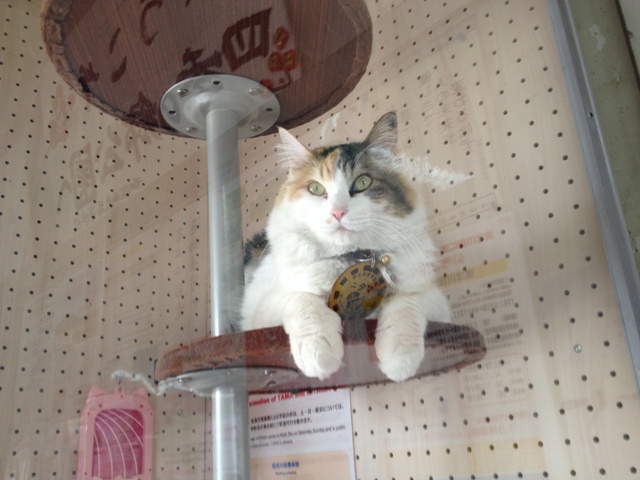 Idakiso Station is the one where Nitama works as a stationmaster.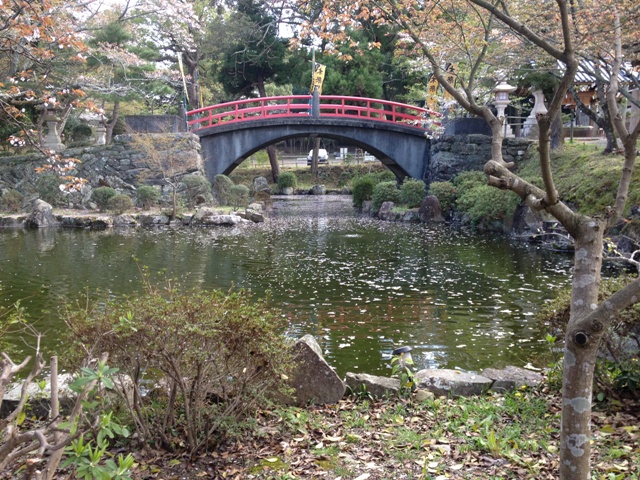 Idakiso is the name of the shrine.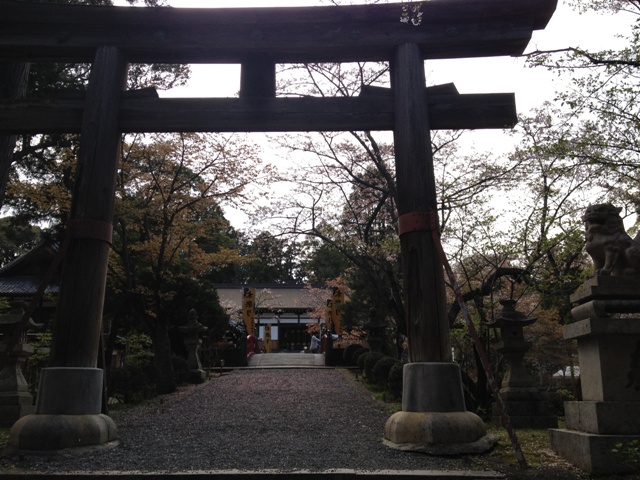 Acturally, I did not know anything about this shrine until I got there.
It is an old shrine founded in early 8th century on Kumano road which starting from Osaka City.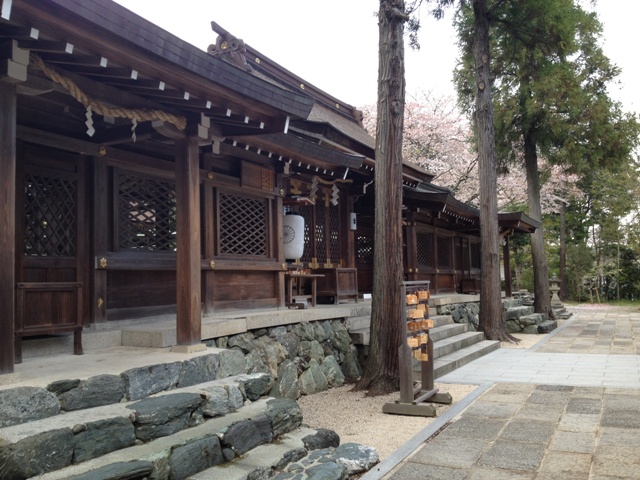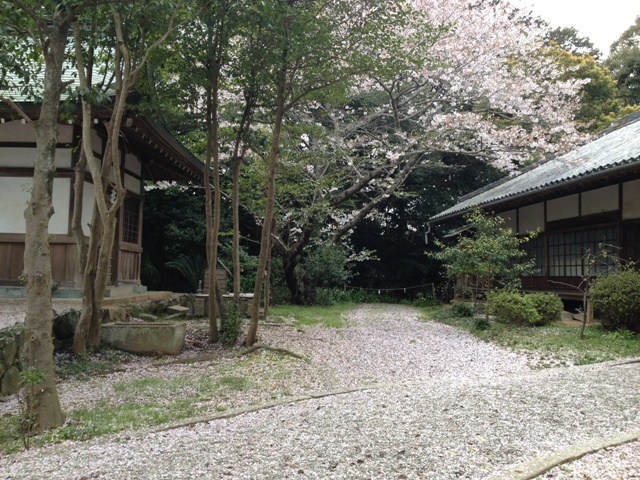 There are Kofuns, ancient tombs.
There is one just next to the shrine.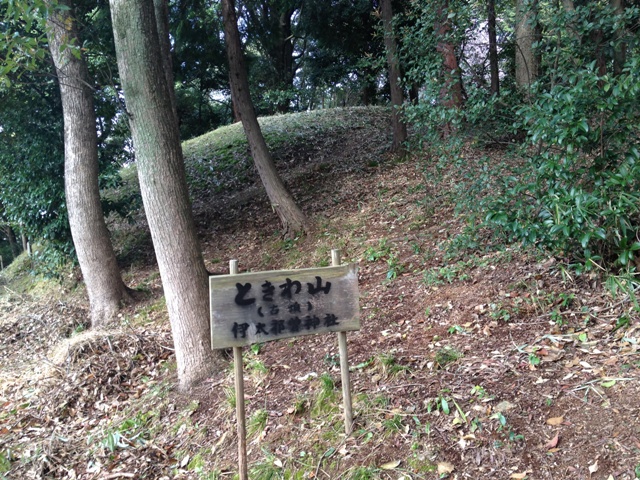 I climbed up to the top of one of them.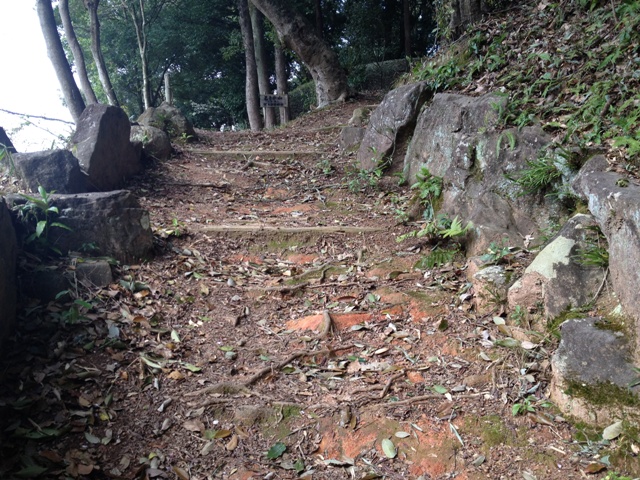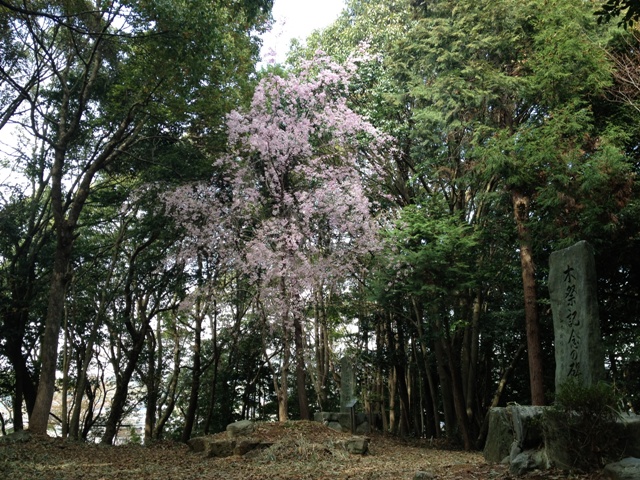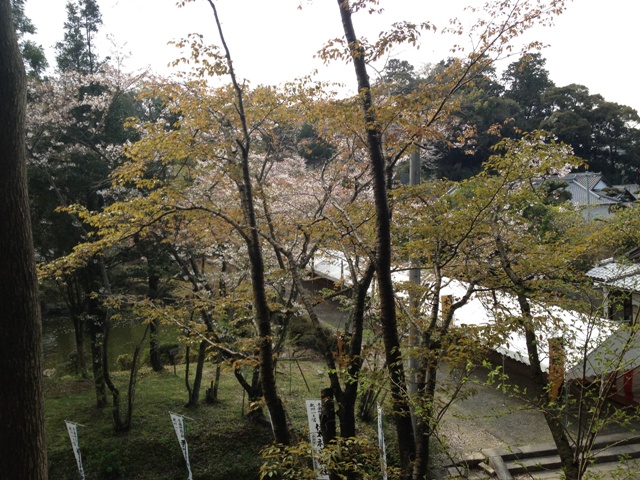 Afterwards, I found a website that shows inside of the tumulus.
Wow! I should go back there sometime.
http://www.geocities.jp/kohun1192/wakayama1.html
The reason I went to Wakayama was I wanted to see her......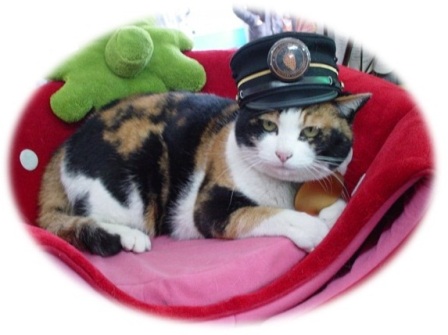 The Stationmaster, Tama.
Was I able to see her?
As for Tama, there is a good explanation in Wikipedia.
http://en.wikipedia.org/wiki/Tama_(cat)
I took Kishigawa Line.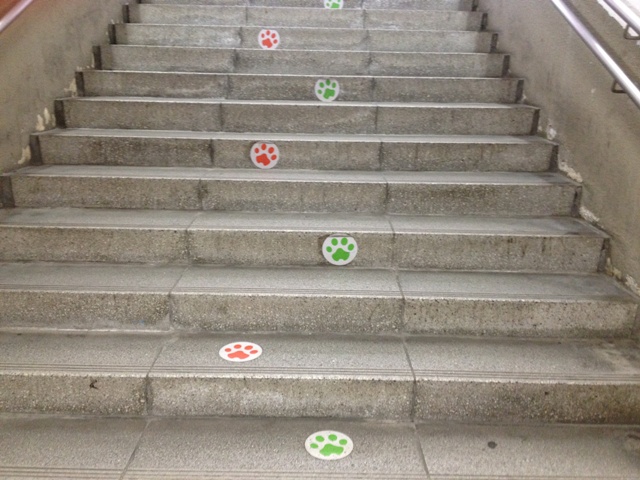 There is even Tama Densha, which means Tama Train.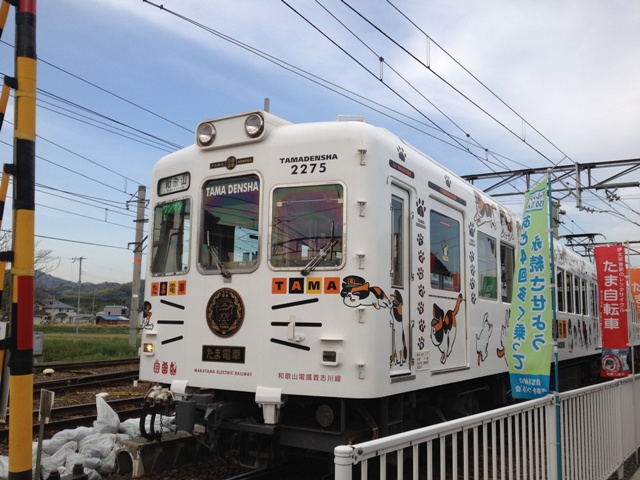 But Ichigo Densha came, which means Strawberry Train.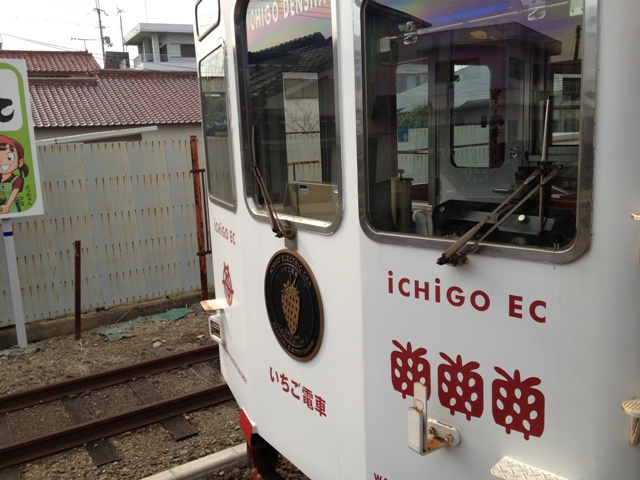 The area around Kishi Station of Kishigawa Line has lots of strawberry fields.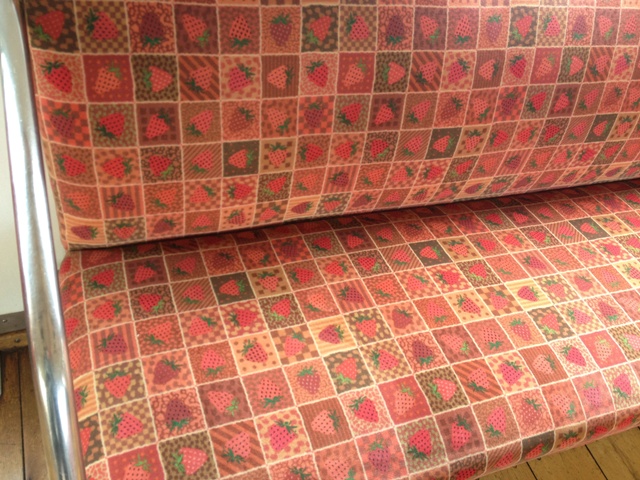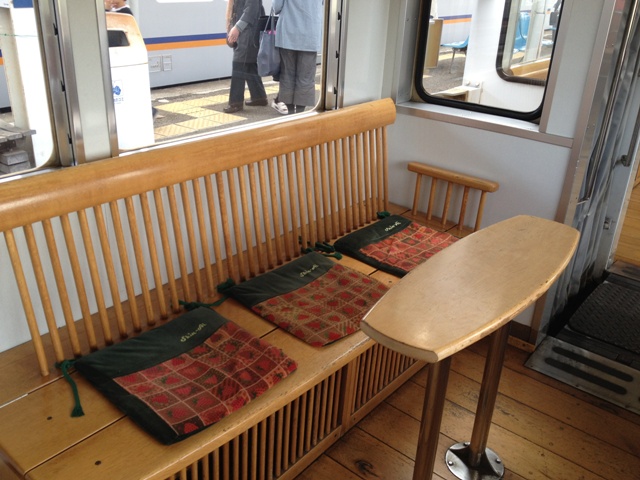 I saw peach orchards along Kishigawa Line, so this area produces lots of fruits. Other parts of Wakayama prefecture is famous for tangerines, and plums. Wakayama is a place of lots which has lots of agriculture and surrounded by great nature.
I got to Kishi Station.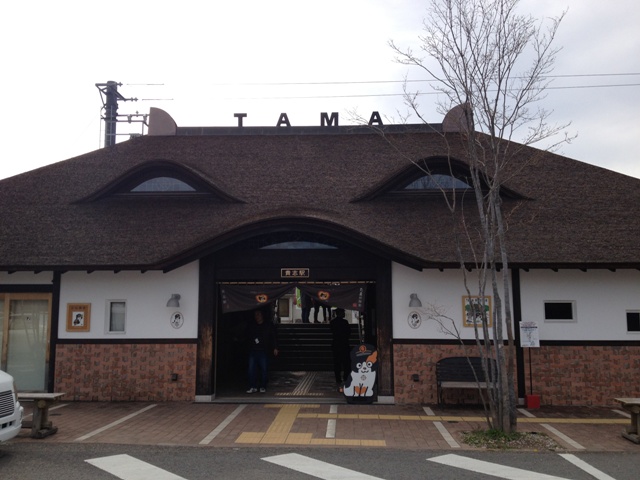 Tawa was not there. She is now fourteen years old. She is old for a cat, and I knew that.
Inside of Kishi Station, I just saw pictures of Tama. Kishi Station is a small museum that exihibits Tama's pictures.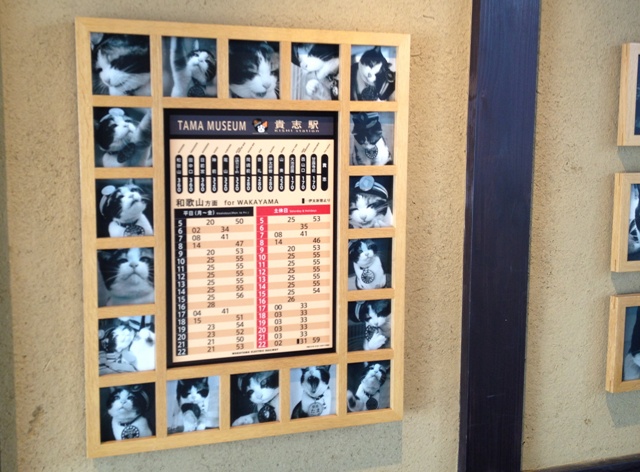 Nitama works as a substitute of Tama.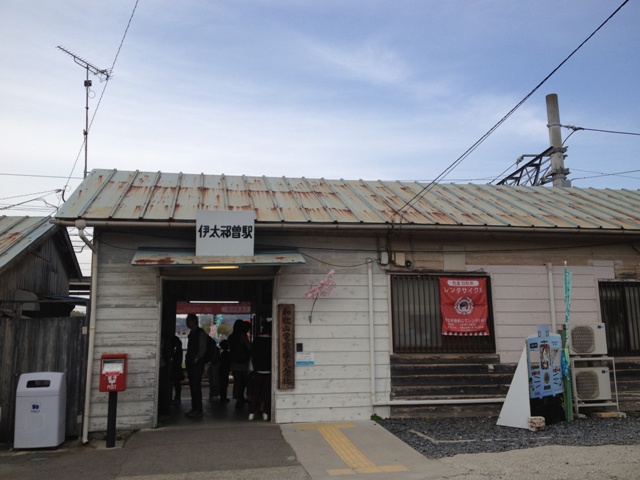 She was an abandoned cat, and she works at Idakiso Station, not Kishi Station.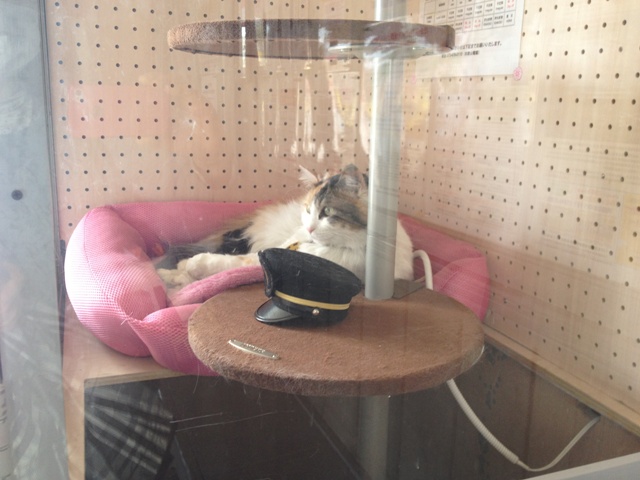 I felt so sad Nitama was in the case. I could not touch her. I was wondering if she was happy in the showcase-like cat house. I figured out in this way, she is protected. She seemed to be OK. She doesn't work every day either.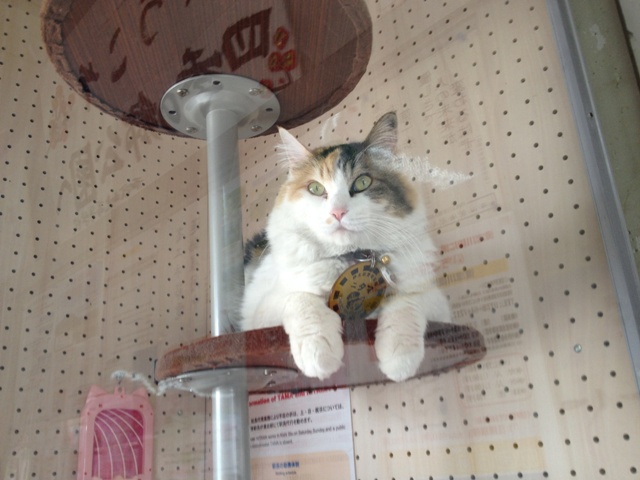 But I was happy to see Nitama, as a cat lover.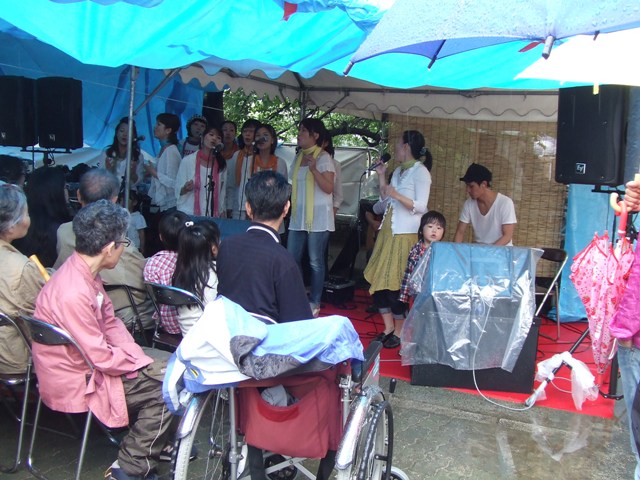 The rainy season has started. It usually starts in the middle of June, but it has already started at the end of May this year.
And the typhoon is coming. Normally, typhoon comes between September and November, but this year, in May.
There are lots of unusual things happening in Japan now.
In Osaka, things are going on as usual.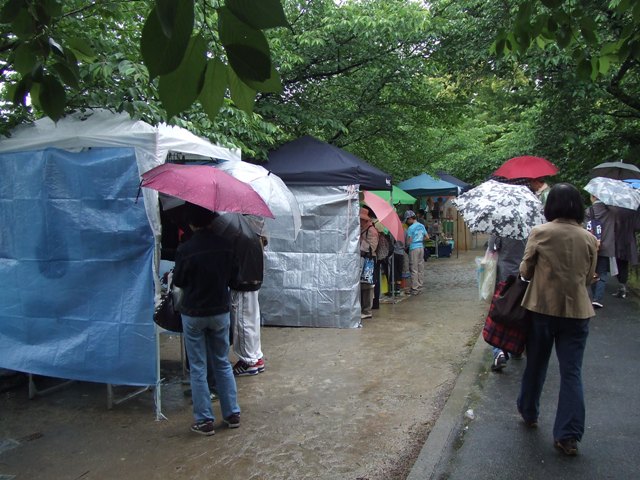 Tezukayama Music Festival is being held today and tomorrow.
Unfortunately, because of the early rainy season and the typhoon Songda, it is raining, but the music never stops, and the festival is going on.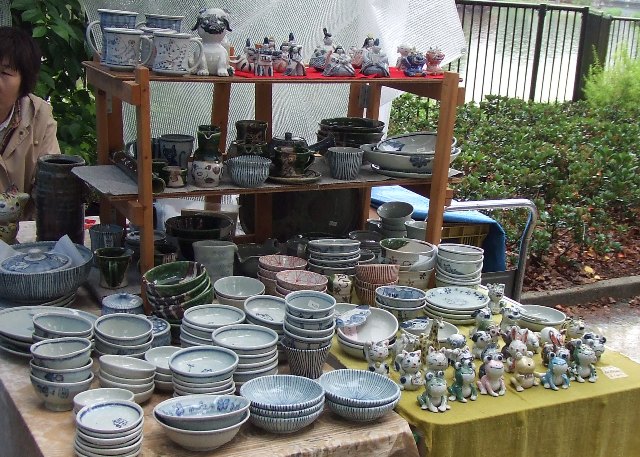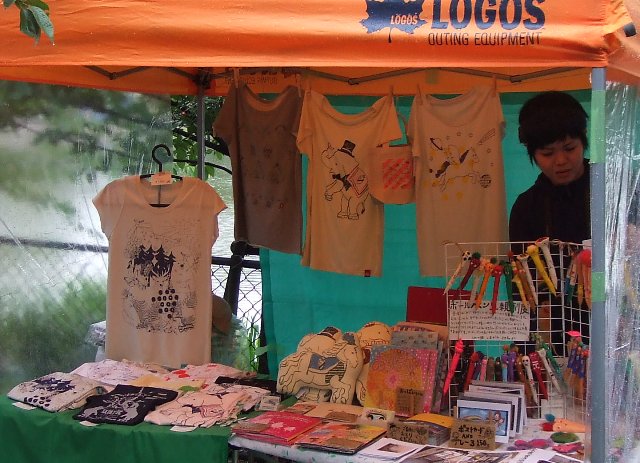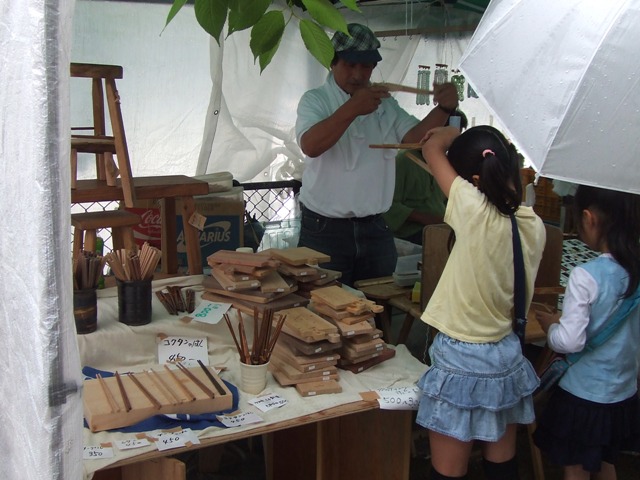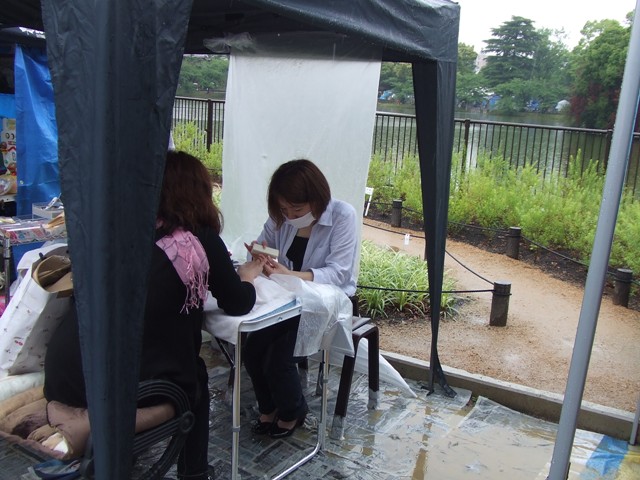 There's even a nail salon.
Lots of food stands not only from Osaka and Japan, but from all over the world.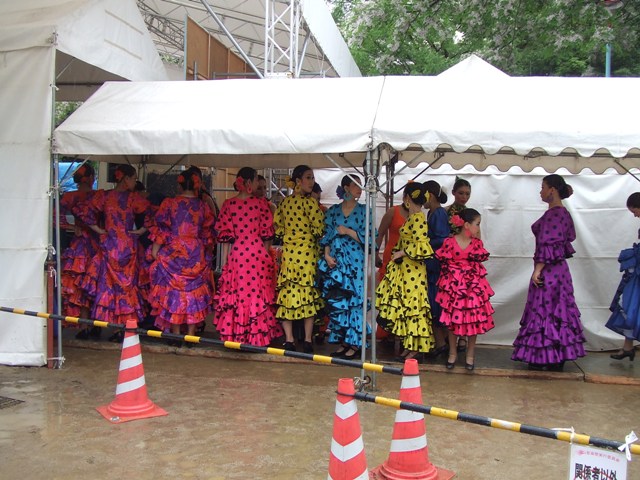 There ladies were waiting....
for the stage!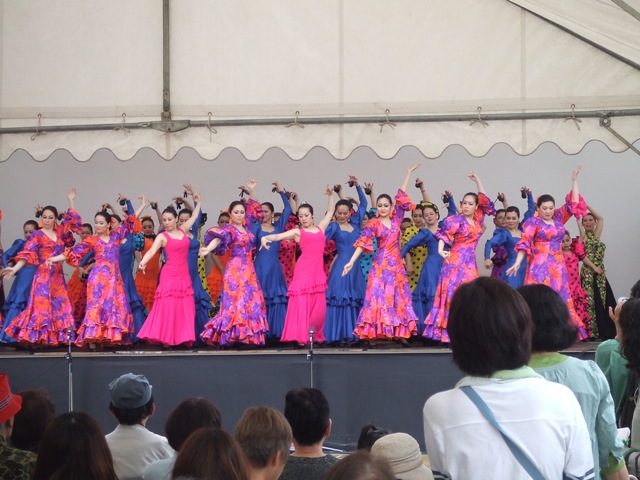 We don't have much snow in Osaka. It snows but it isn't usually accumulated. But it snowed and it was accumulated.
Voila!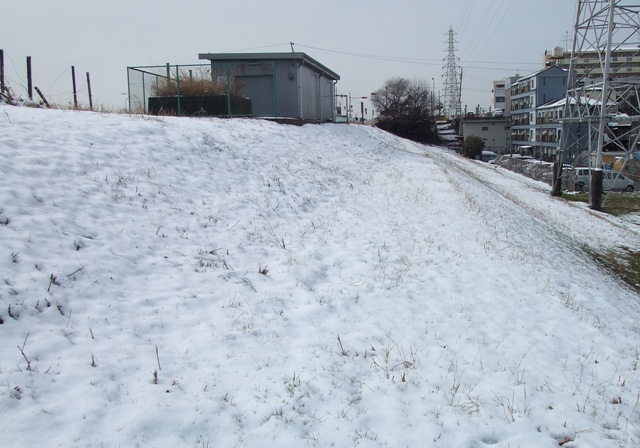 This has been very cold winter.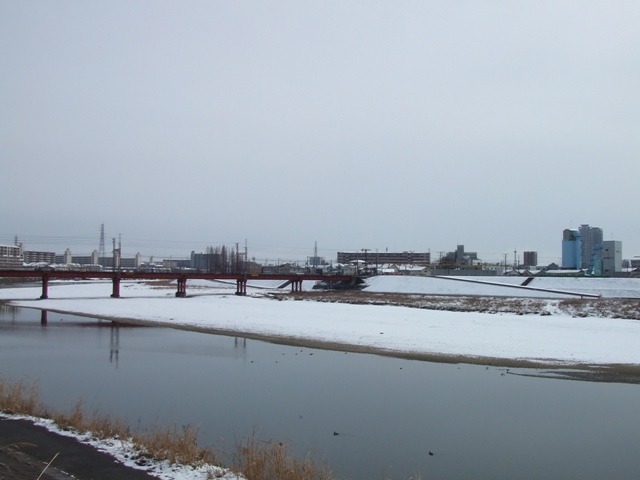 This is rare scenery.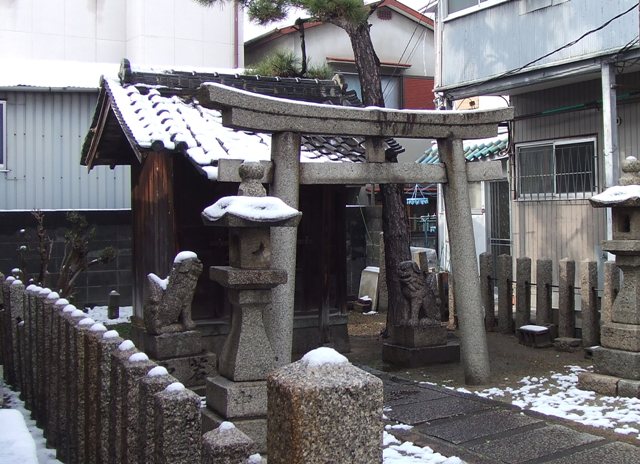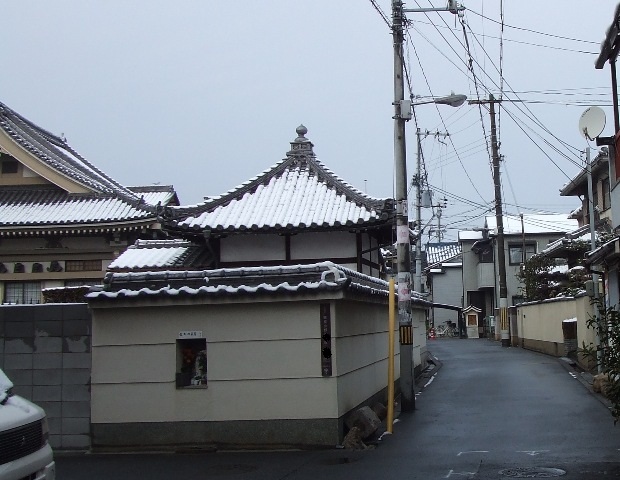 Snowmen in Osaka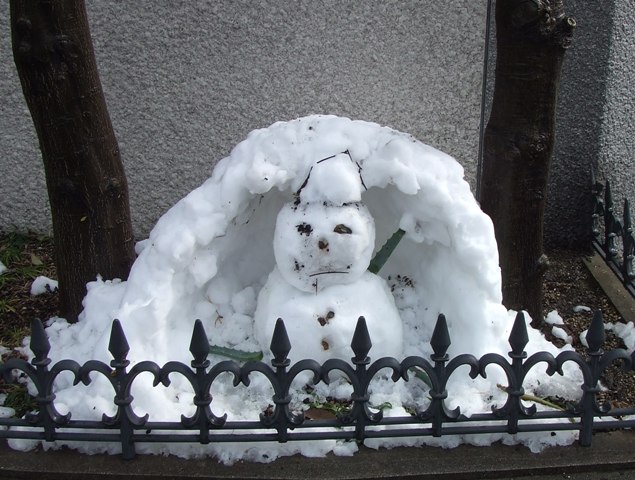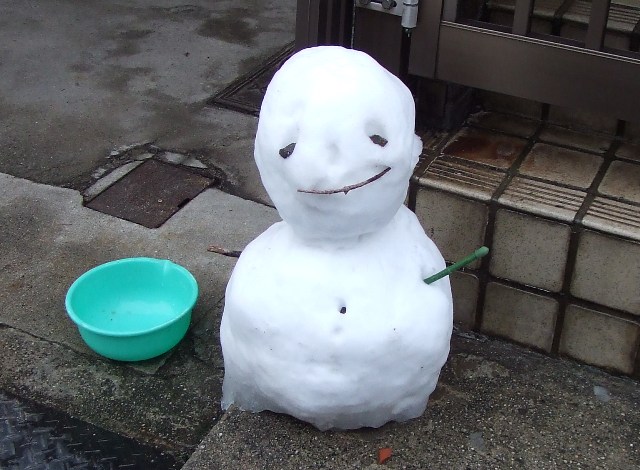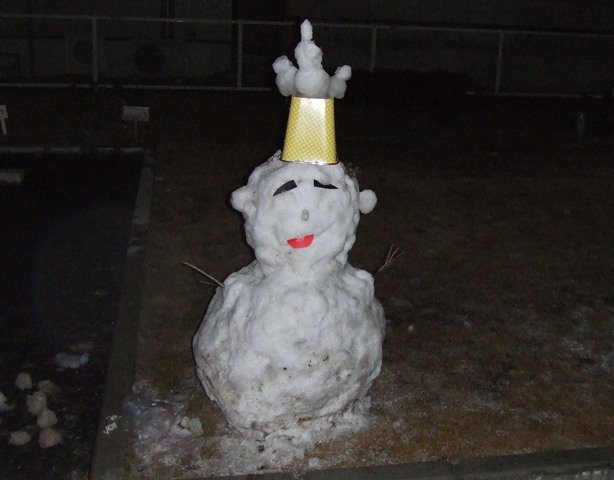 In the southernmost area of Kumano Road in Osaka City, there is a town called Oriono.
According to Wikipedia, this town already existed in 6th century.
Since ancient time, rapeseed oil had been produced up until Meiji Era.
The oil had been dedicated to the Imperial Court until the time Kyoto started to produce.
Even so, I hear the oil was dedicated to Sumiyoshi Grand Shrine, and it was sold quite well to the public and the town had been prosperous.
Oriono has a long history.
There is a temple, Gokuraku Temple on Kumano Road.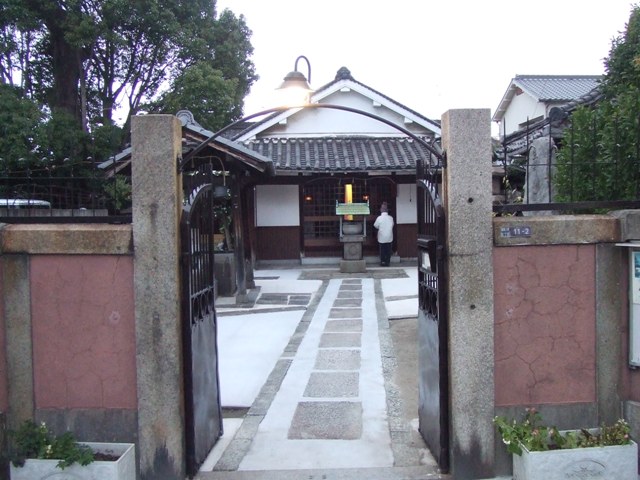 Inside, there is a statue of "Bishamonten", in Sanskrit, it's Vaiśravaṇa.
It is said Prince Shotoku (574-622) made it.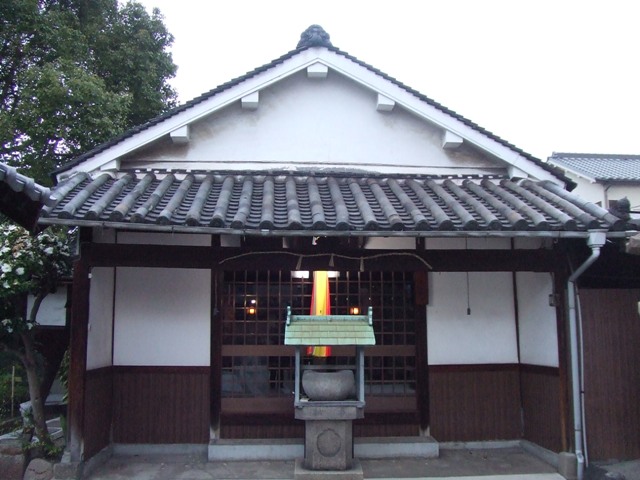 There is a big camphor tree that
Kusunoki Masashige
(1294-1336) planted.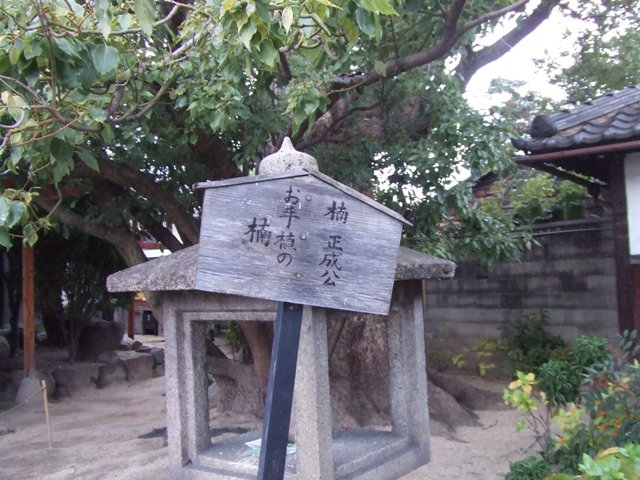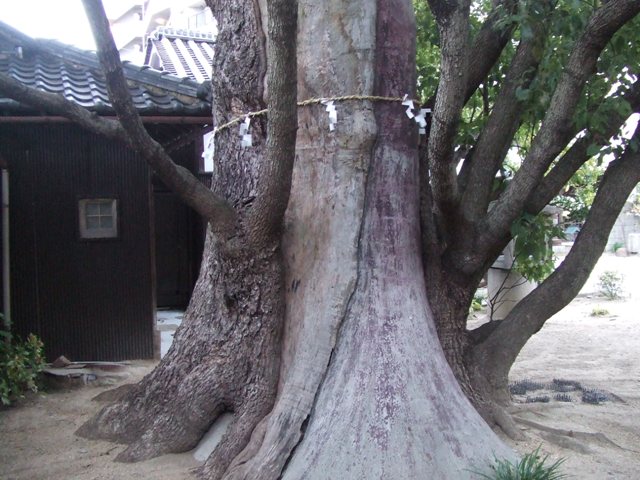 The Statue standing just outside of the Imperial Palace in Tokyo is him,
Kusunoki Masashige
.
When Japan was governed by Northern and Southern Courts, he fought for Emperor Godaigo of Southern Court.
Around Gokuraku Temple, on and off Kumano Road, you can find houses with storehouses and good old atmosphere, and this town was prosperous.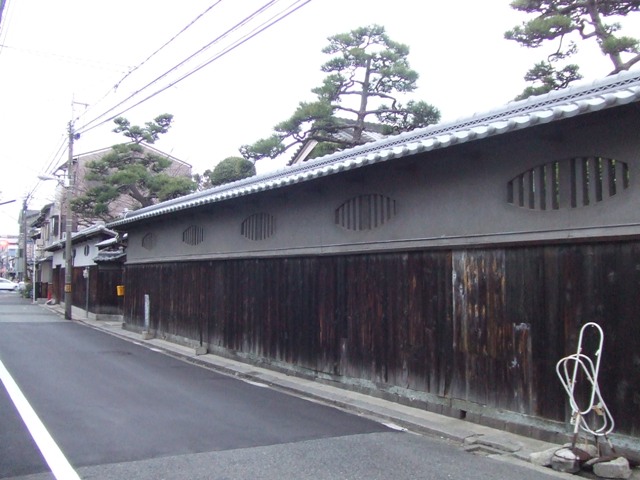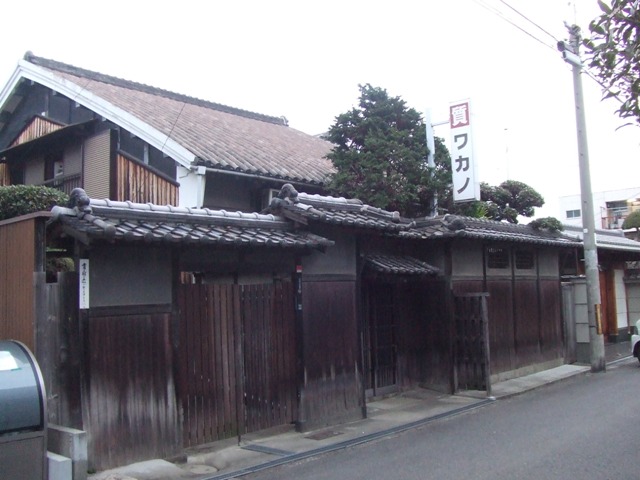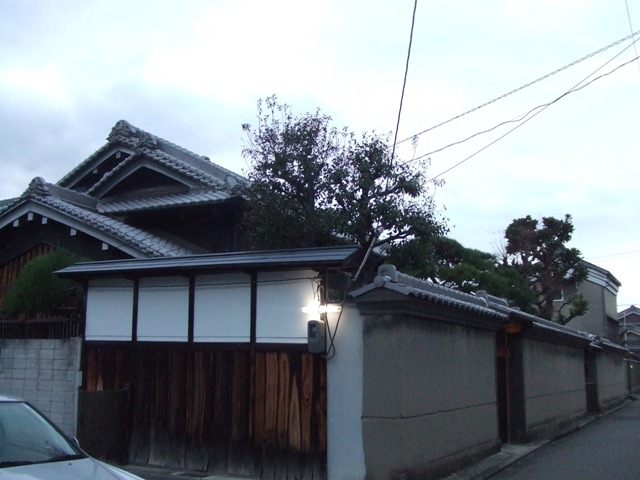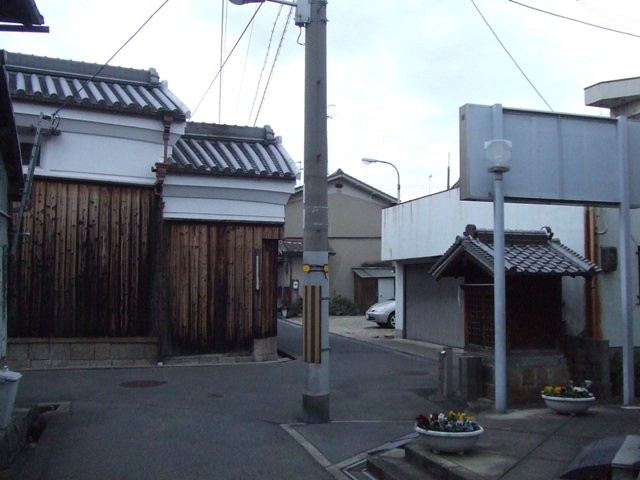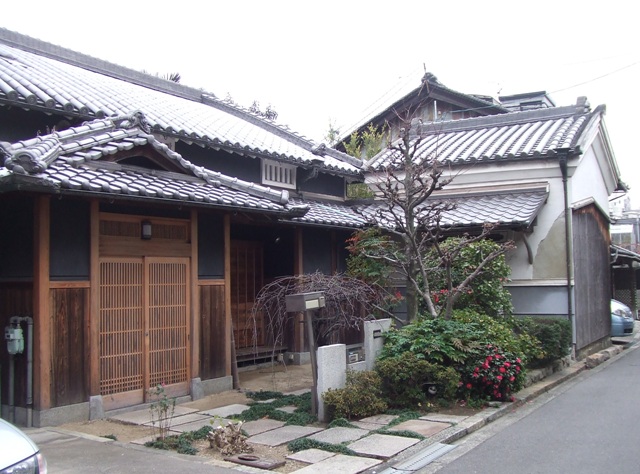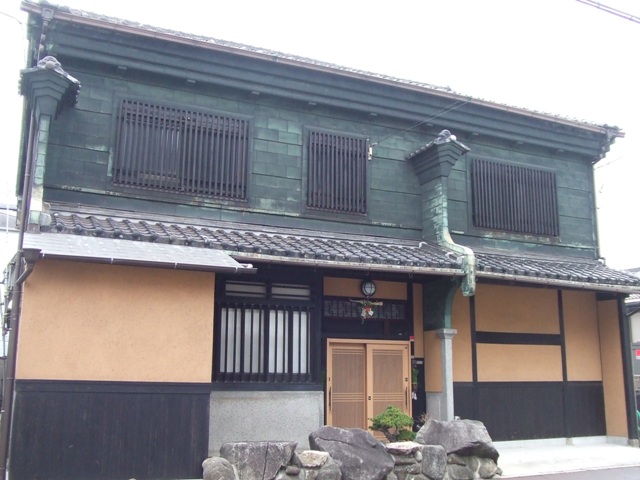 Karahori is located in central part of Osaka. Since this area was not damaged by American Air Force during World War II so much unlike other areas in Osaka, there are many old houses are remained. The old atmosphere and new sense are merged together, and it makes this town a popular spot.
Last month, I went to a Japanese restaurant "En" with a group of people. This restaurant is on Kumano Road.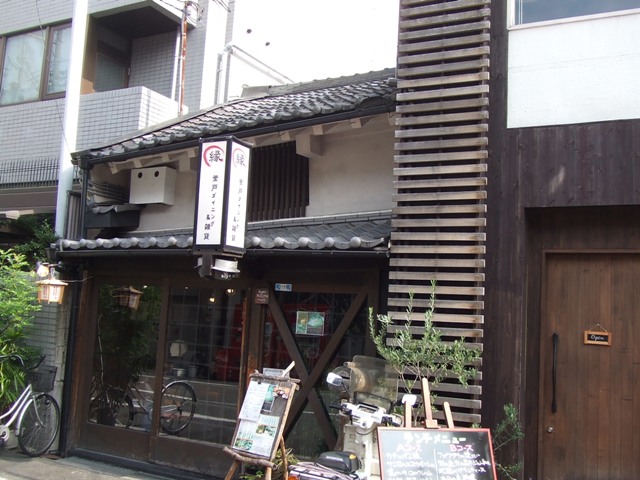 Fish sashimi as appetizer,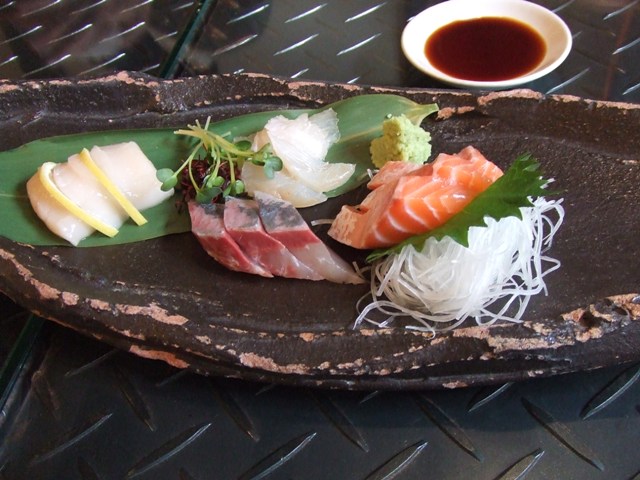 Lunch Combo.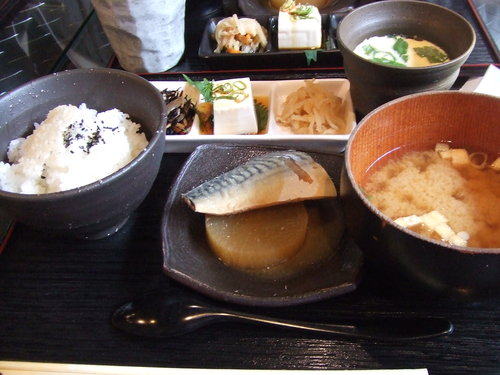 Last week, I went to a casual French restaurant, "Karahori-Tei"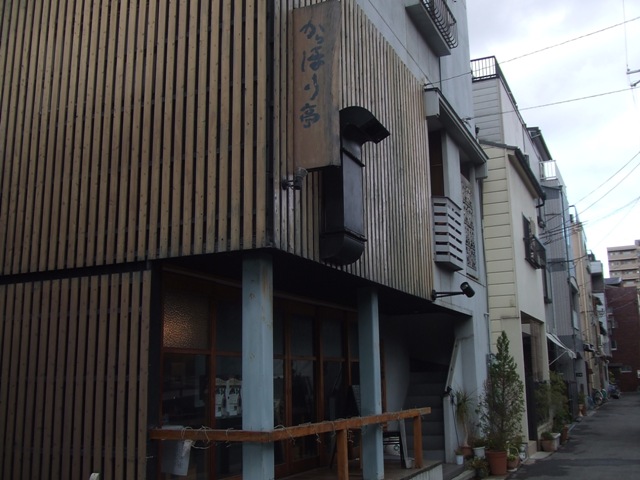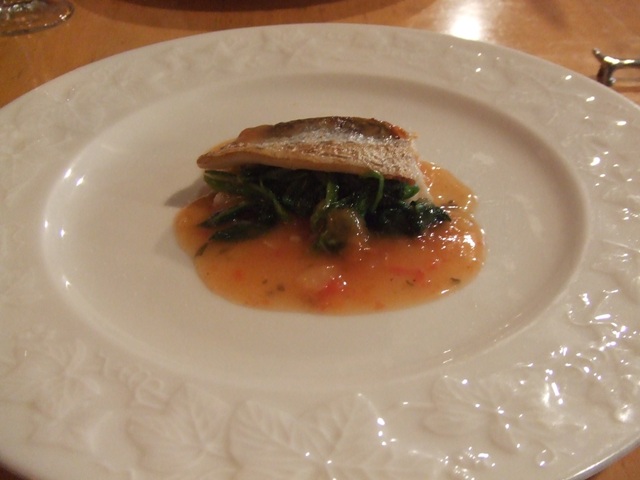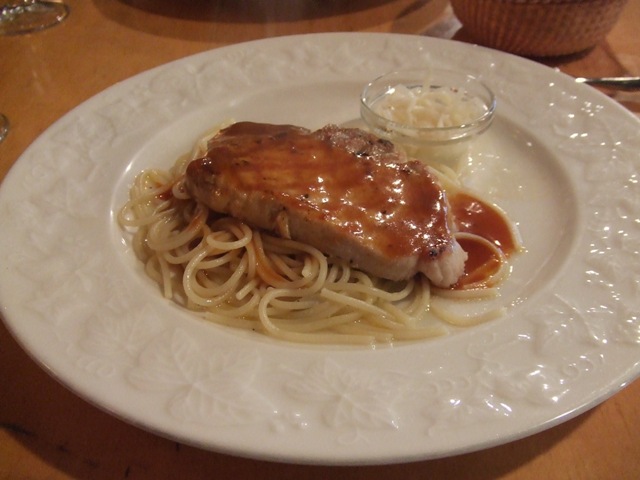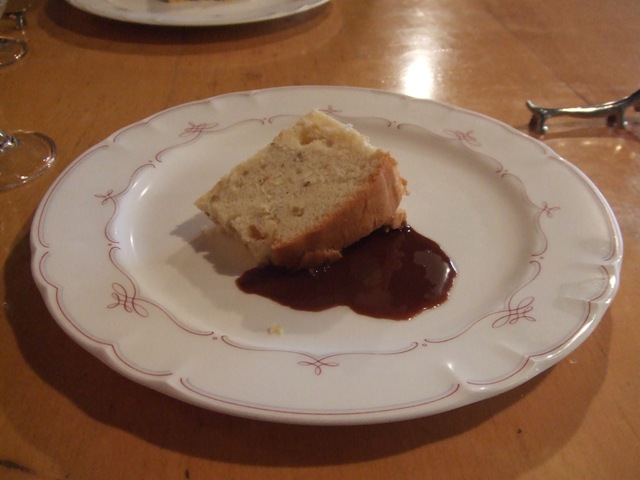 Both restaurants were very good and there are a lot more good places to eat!!!
Shitennoji is a Buddhist temple, and it is said that Shotoku Taishi (Prince Shotoku, 574~622 A.D.) established this temple. This is the oldest temple in Japan, but unfortunately, many of the buildings of this sacred place were burned down because of several attacks including the attack during the World War II.
The buildings were reconstructed, however, and you can see the temple like the way it used to be… except for the surrounding high-rise buildings.
Shitennoji is a Buddhist temple, but there is torii. Torii is a gate seen at the entrance of Shito Shrine.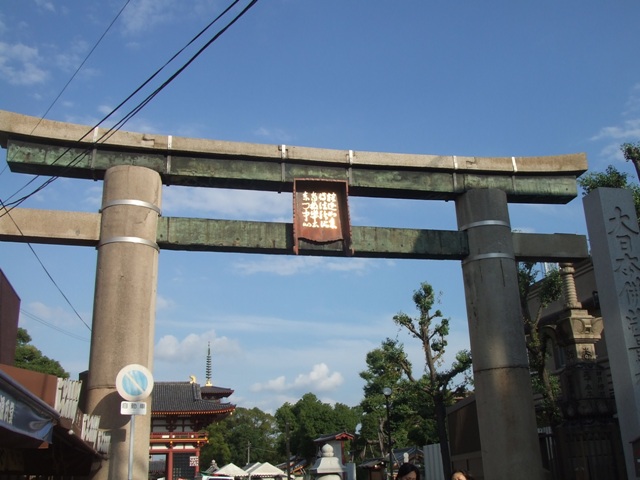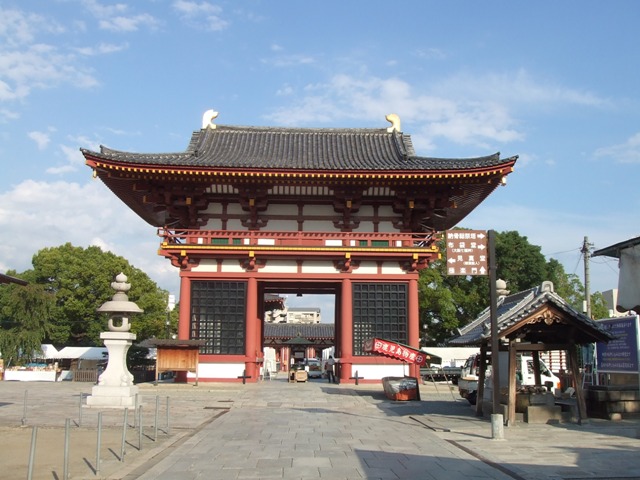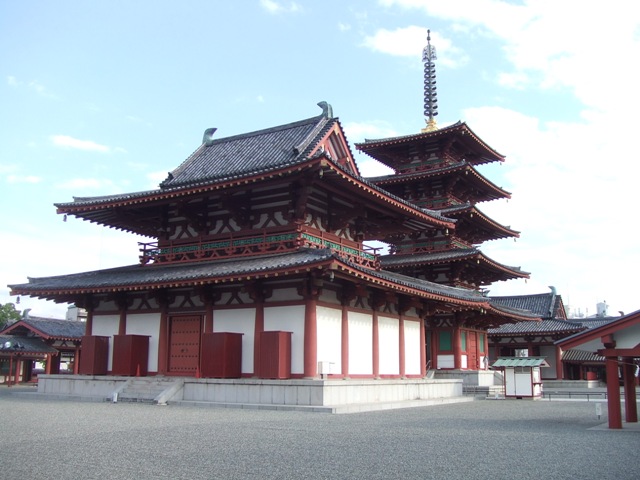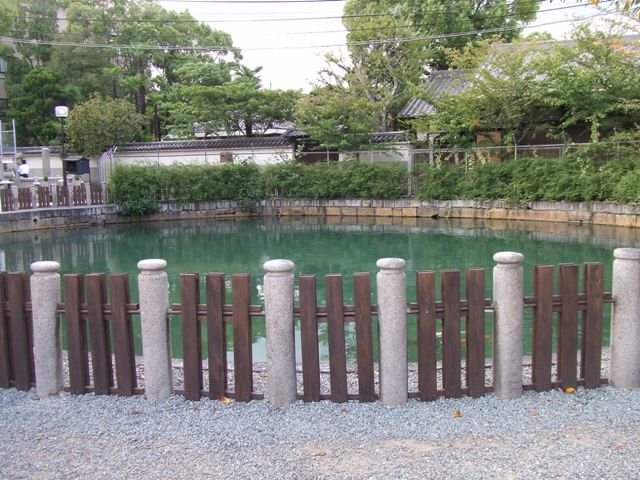 In front of the old temple building, there is Ishibutai, a stage made of stone. This is one of the most notable stages in Japan. The others are in
Sumiyoshi Shrine
in Sumiyoshi-ku, Osaka, and Itsukushima Shrine in Miyajima, Hiroshima Prefecture.
Dancing is dedicated on April 22nd here at Shitennoji Temple.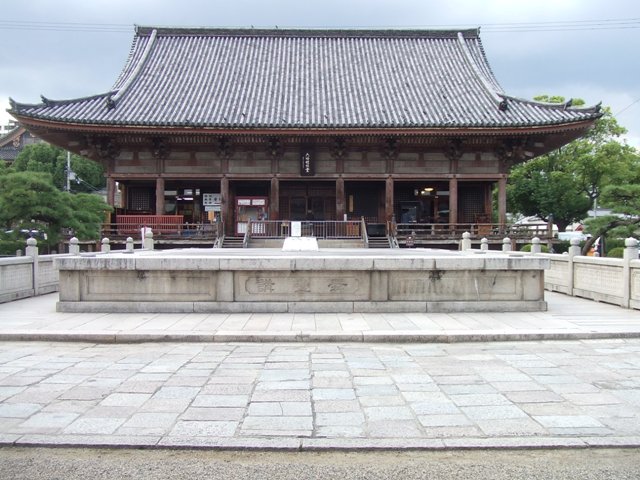 Kamei-do: Turtle Fountain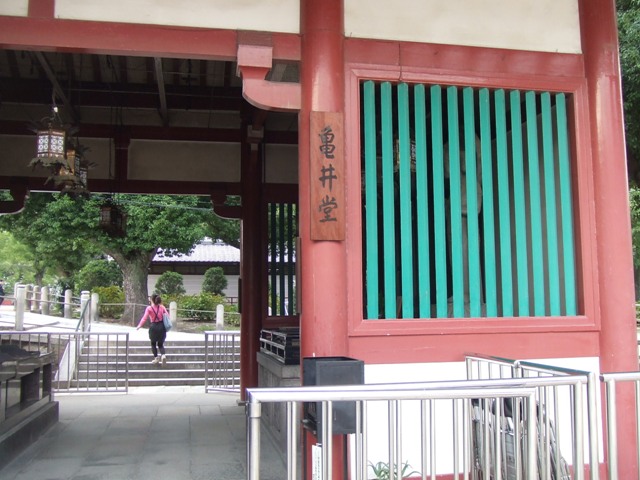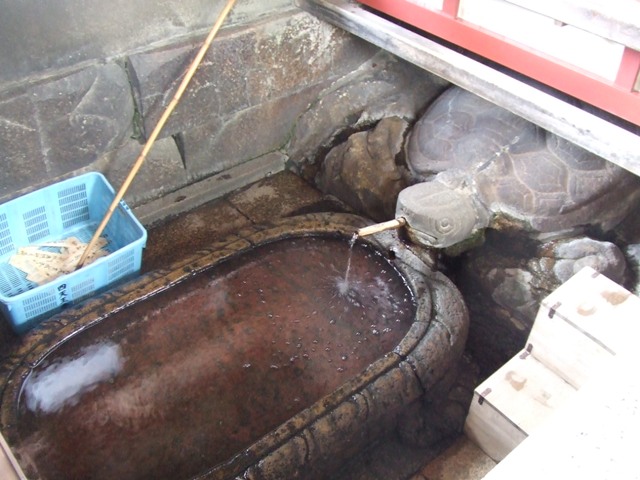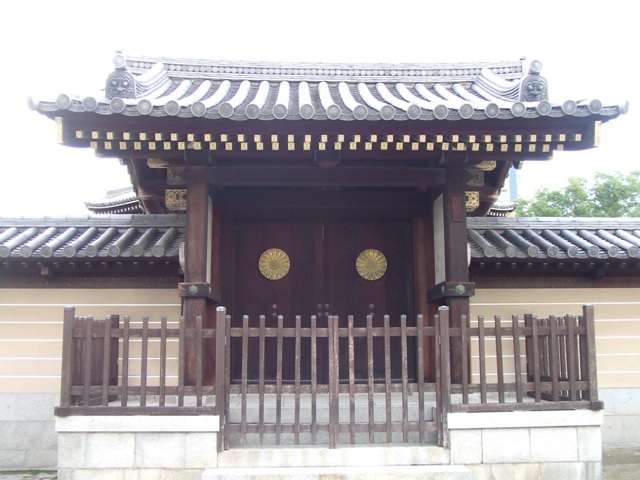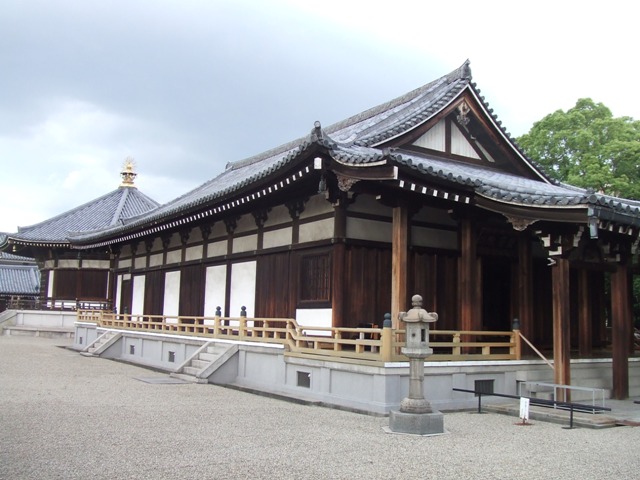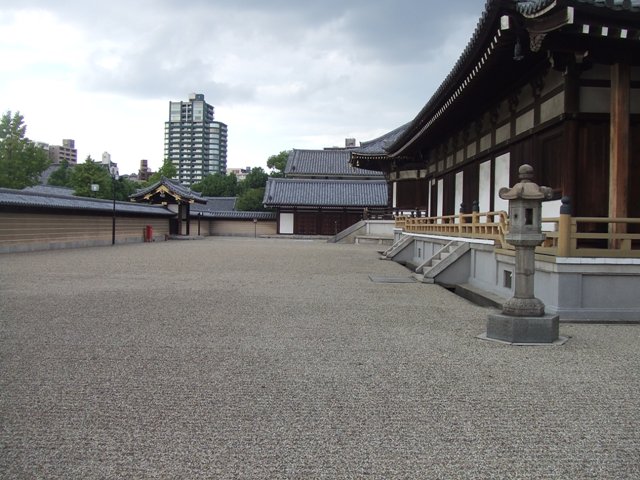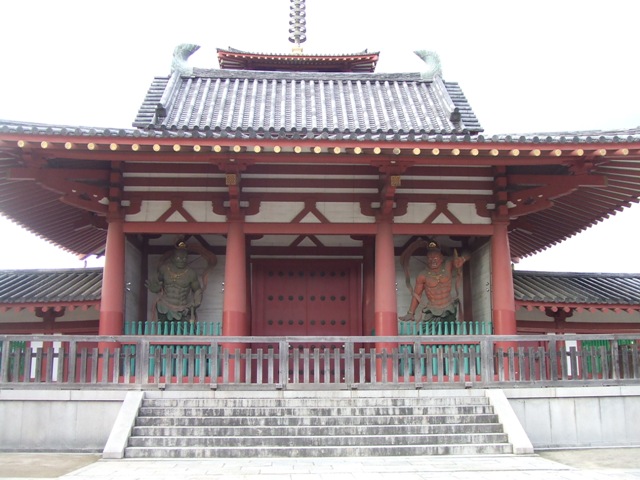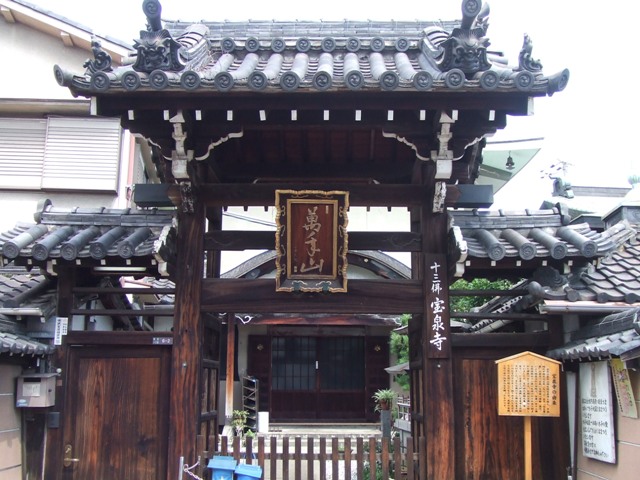 There is a temple, Hosenji, on Kumano Road, near Sumiyoshi Shrine. This temple started in 982 AD. There are thirteen different statues of Buddhas made of stone.
There are many Buddhas besides Shaka in Japan.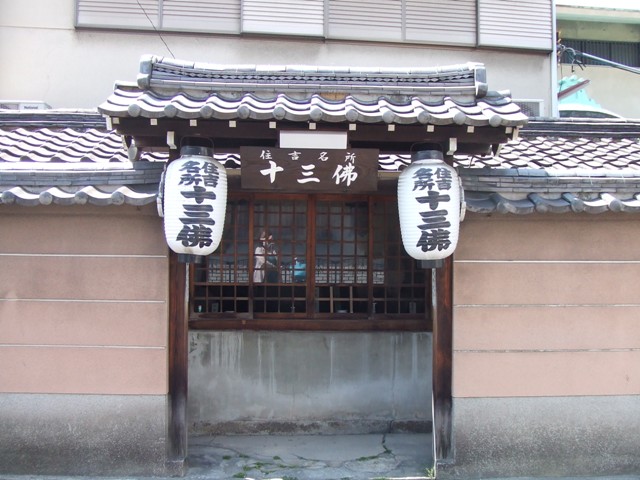 Here, the main statue is Shaka, who is the Buddha, and started Buddhism. Twelve other statues are guardians.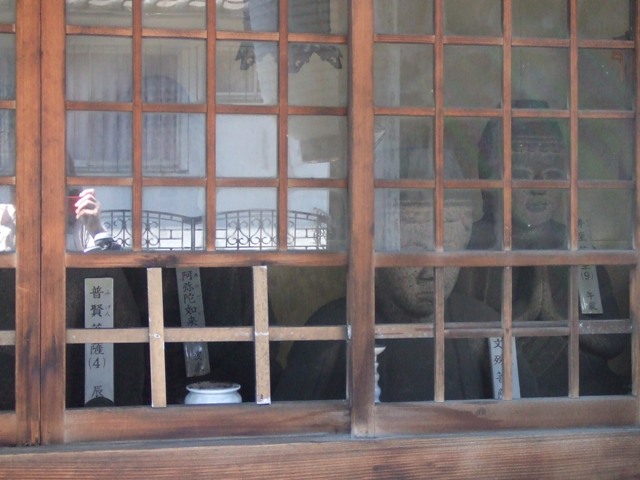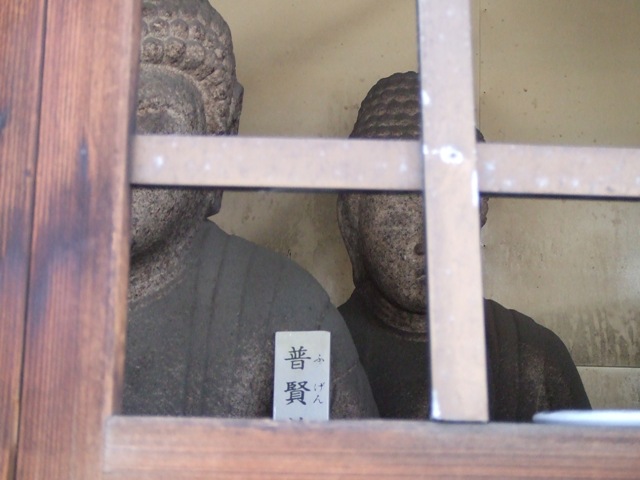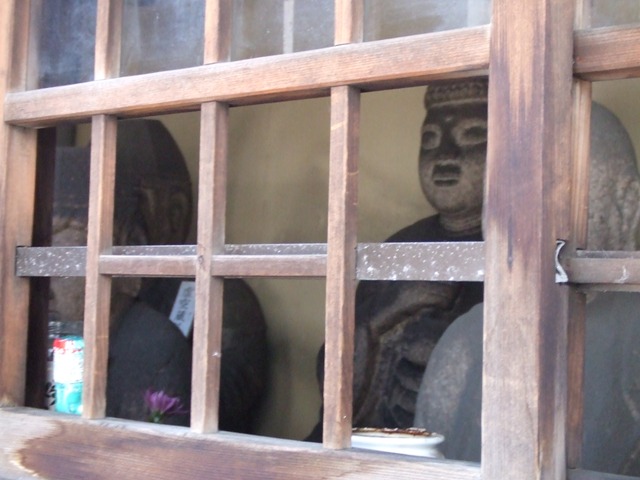 It reminds me of Jesus and twelve disciples.
These statues were carved in around 1570.
Hosenji is a few minute walk from Sumiyoshi-Higashi Station of Nankai Koya Line, and also a few minute walk from Kaminoki Station of Hankai Uemachi Line.
Abeno Seimei (921~1005AD), an "onmyoji", was an astronomer, and predictor for Kyoto Heian government.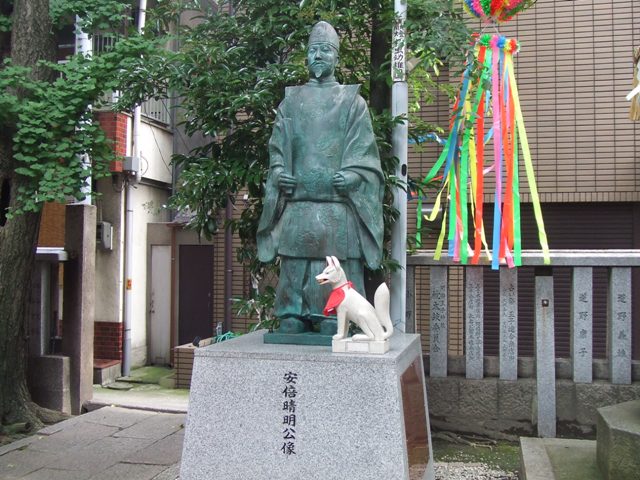 Abeno Seimei is a popular character in movie and drama industry in Japan because of his mysterious knowledge.
He is said to be born in Abeno-ku, Osaka.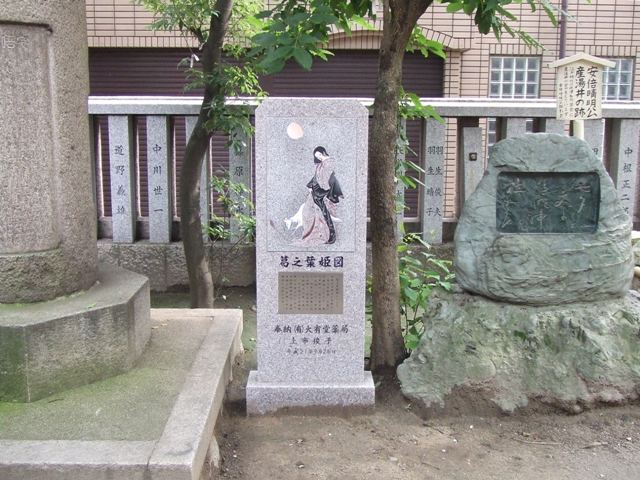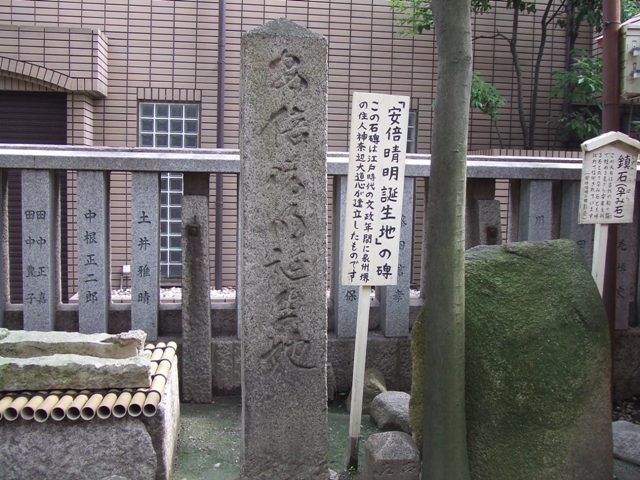 (It says that this is the birth place of Abeno Seimei)
There is "Seimei Shrine" in Kyoto, which Abeno Seimei is also enshrined, where he was active.
His birth place is now Abeno Seimei Shrine near Abe Oji Shrine on Kumano Road.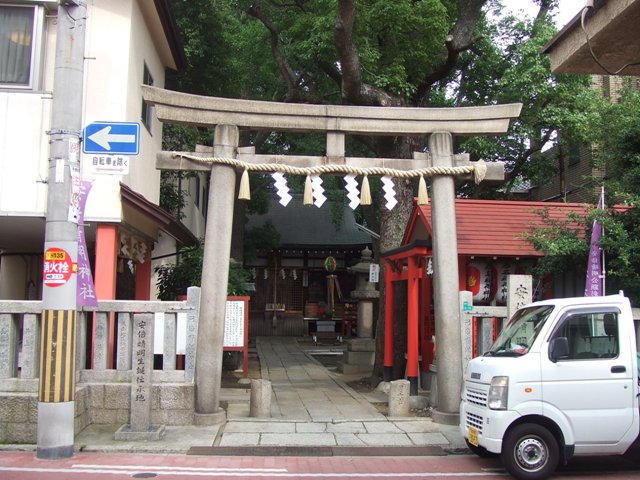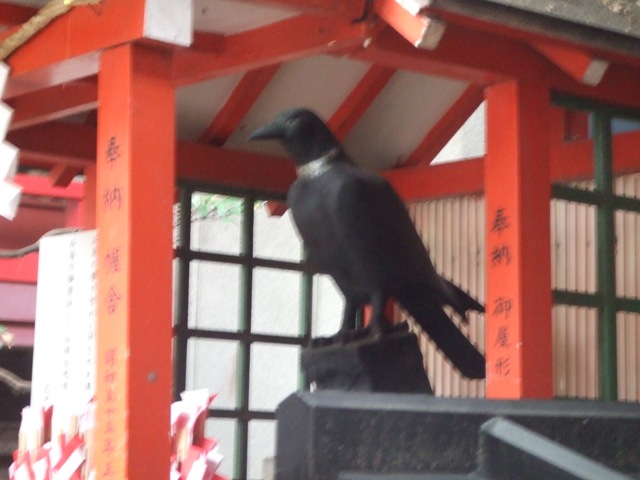 Yatagarasu has another plan.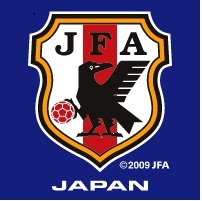 Although Japan lost on PK against Paragway, victory is prepared in a different way. In any way, it was the greatest match I'd ever watched.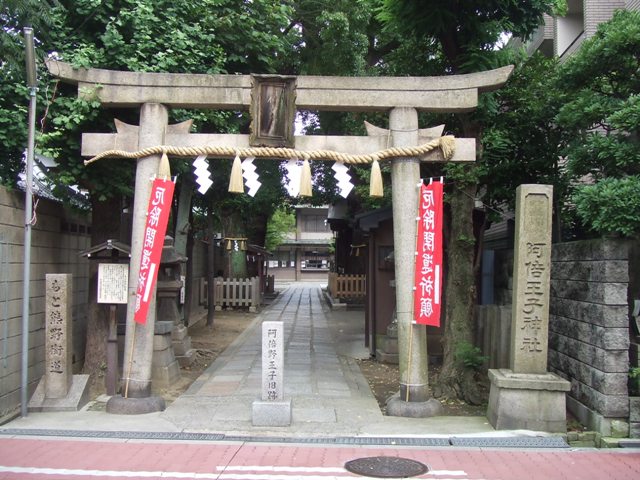 Abe Oji Shrine, or Abeno Oji Shrine, where Yatagarasu is enshrined, is on Kumano Road.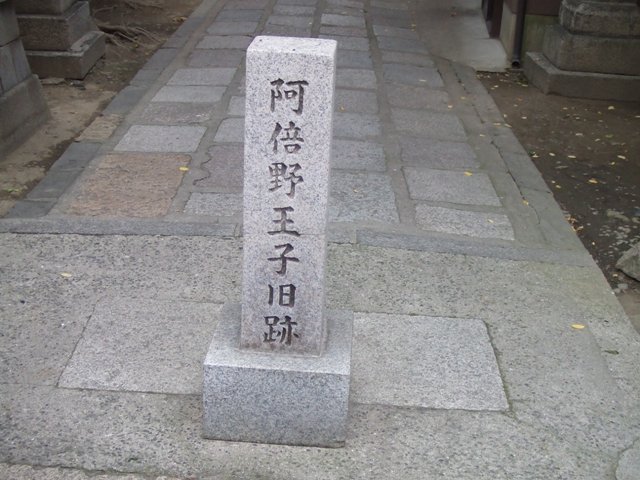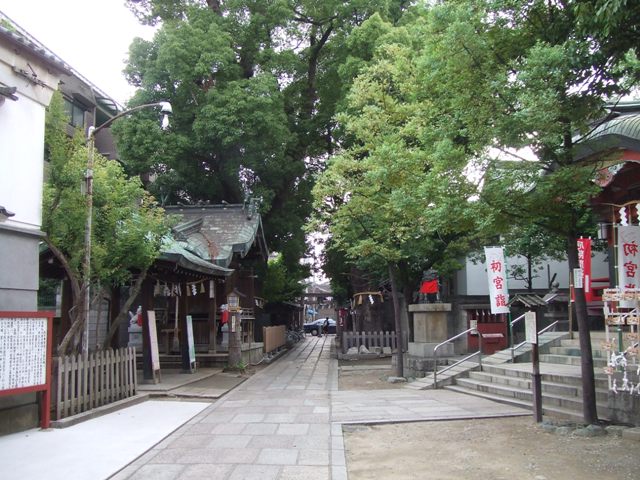 "Oji" used to be a rest area who pilgrimaged to Kumano Sanzan, Kumano's main three shrines in Wakayama Prefecture. There used to be 99 Oji's, but only one, only Abe Oji Shrine is remained in Osaka Prefecture. There are 15 or 16 remained in Wakayama Prefecture.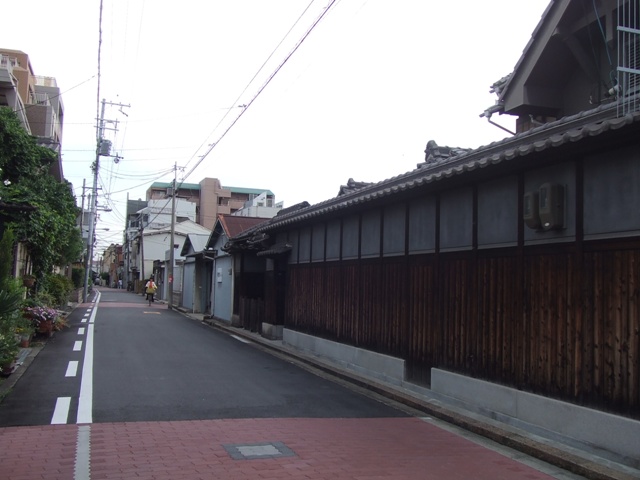 (Kumano Road in Abeno Area)
Abe Oji Shrine is a few minute walk from Higashi Tengachaya Station of Hankai Uemachi Line.