I went to Shiga Prefecture again. Why do I go to Shiga Prefecture so often? Because it's Japanese tradition to go to ancestors' graveyard for o-bon which is around August 15, and my ancestors' graveyard is in Shiga Prefecture.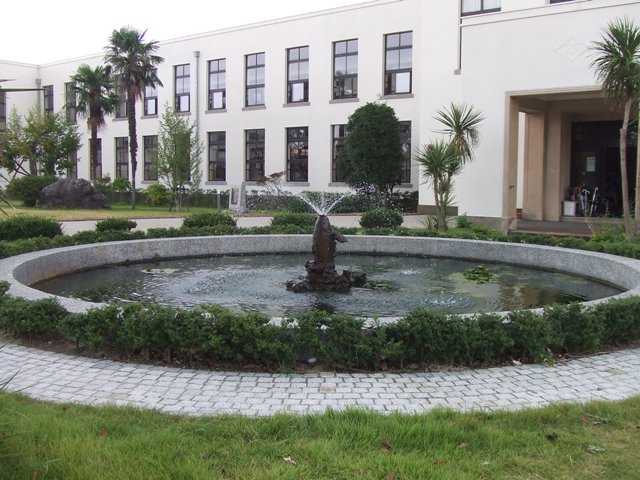 I went to Toyosato Elementary School… again. Now this school is famous thanks to the popular anime, "K-ON", or "Keion".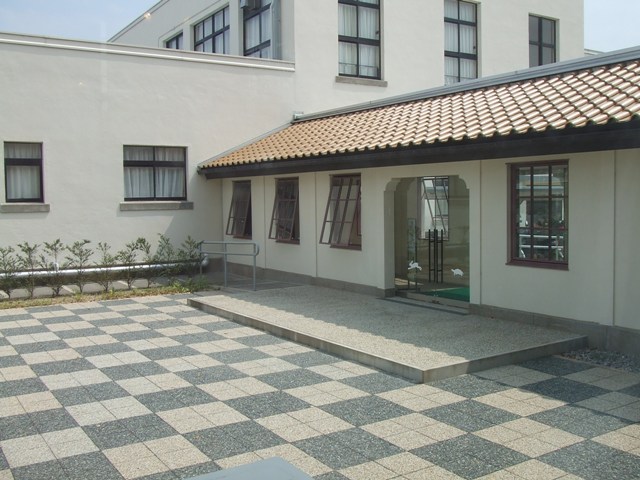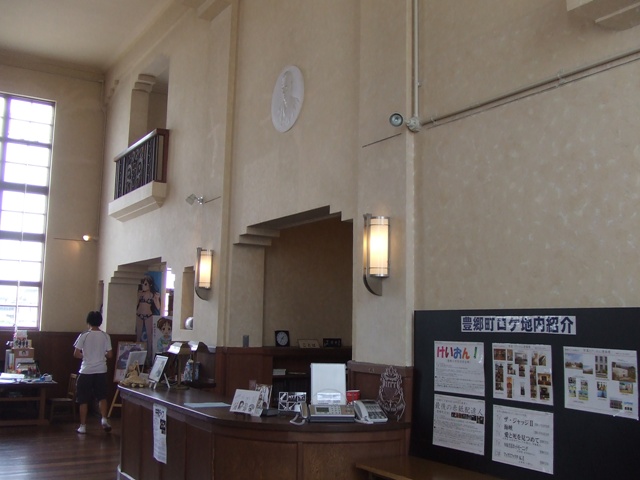 It has got so popular that there is going to be even a movie "K-ON" starting from December 3.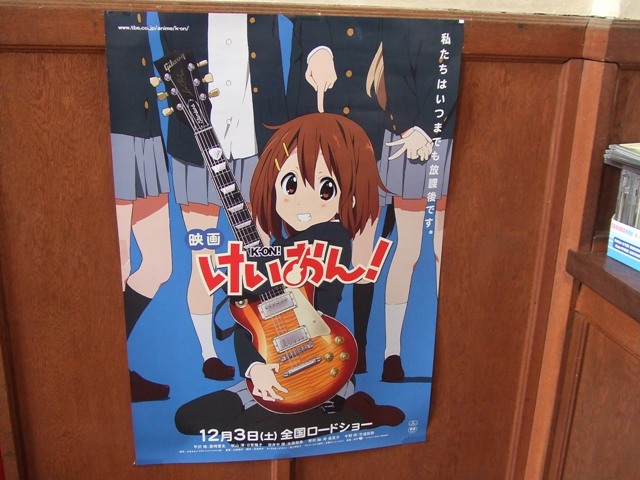 There is a lot of development about goods that are sold. There are hare and tortoise cookies, tortoise breads, K-ON character tissue paper, and many other goods.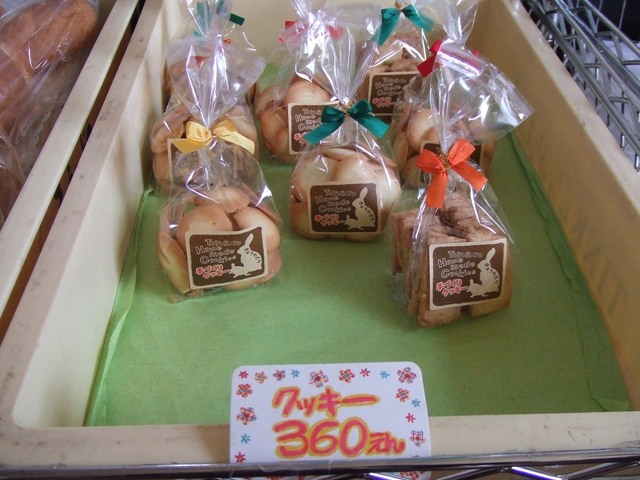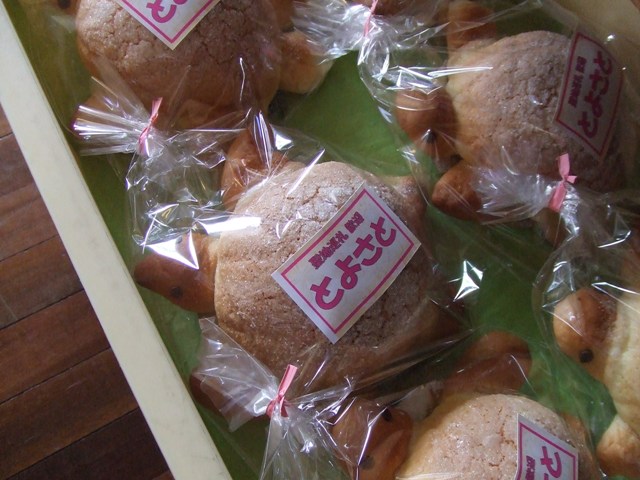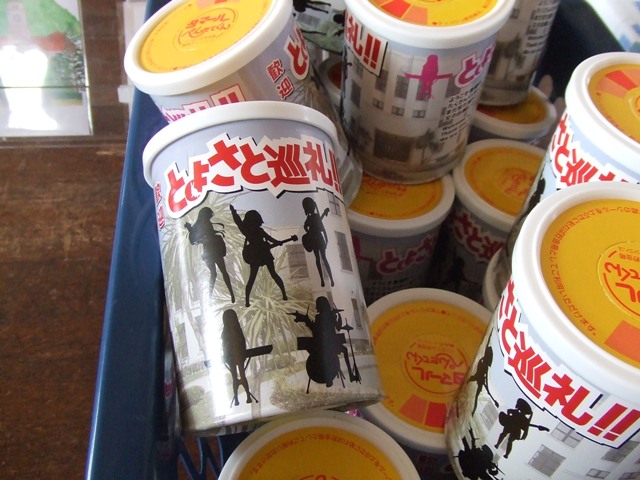 Hare and Tortoise: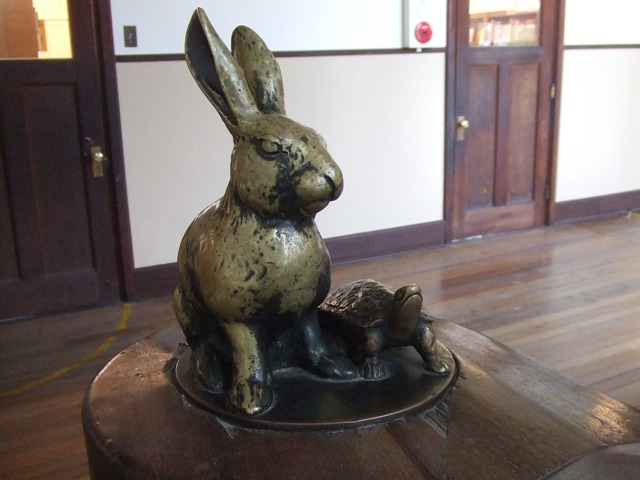 I saw people taking pictures. Are there any famous persons?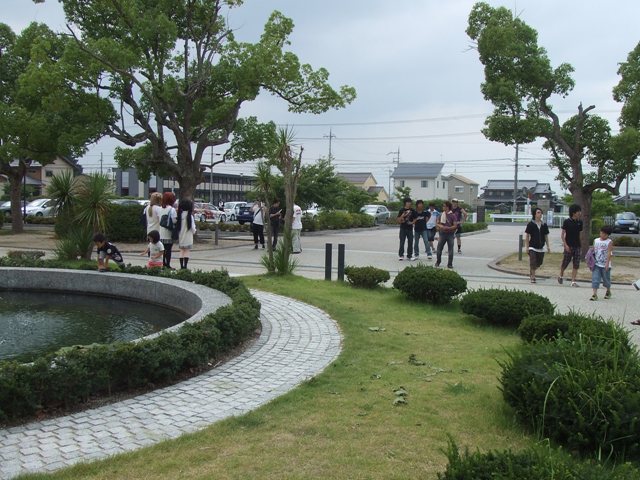 Yes! These girls are from K-ON!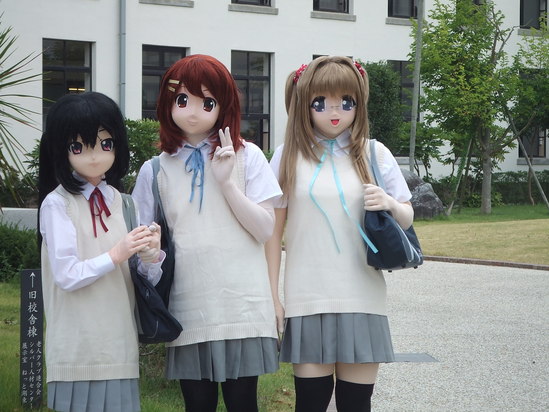 They are anime characters but they are here in real Toyosato Elementary School!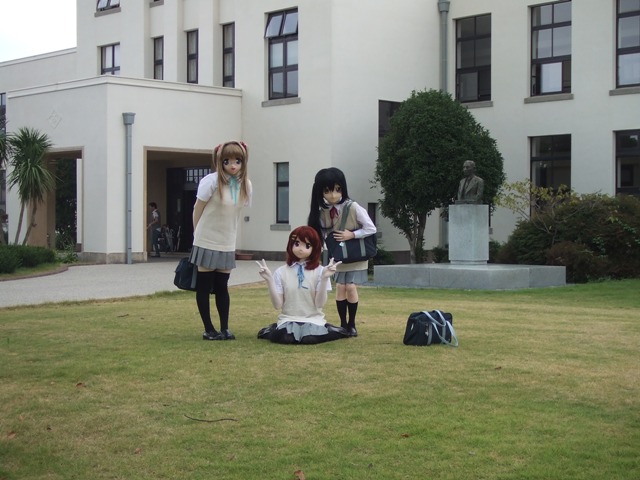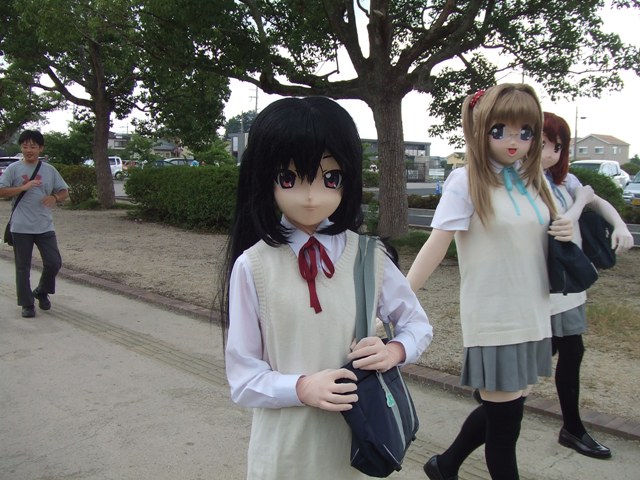 Ohimi Shonin, or Ohmi Merchants' principle is Sanpo Yoshi", which literally means, good for 3 direction. It means business should be good for sellers, good for buyers, and good for society.
Now,
Toyosato Elementary School
has become famous thanks to the Anime, "K-ON!!". Furukawa Tetsujiro paid his fortune to build this school buildings more than 70 years ago.
If you have ever seen the anime, "K-ON!", you know his bust appears.
(see http://indigo05.exblog.jp/12138498)
Furukawa Tetsujiro was also Ohmi Shonin from Toyosato-cho, and worked as a manager for Ito Chu.
Ito Chu is now a corporation's name, and it's the abbreviation of the name, Ito Chubei.
Ito Chubei is a founder of
Ito Chu Corporation
and
Marubeni Corporation
, two of the biggest corporations in Japan.
This is the main building of
Itochu
, located in central Osaka. They have the other main building in Tokyo too.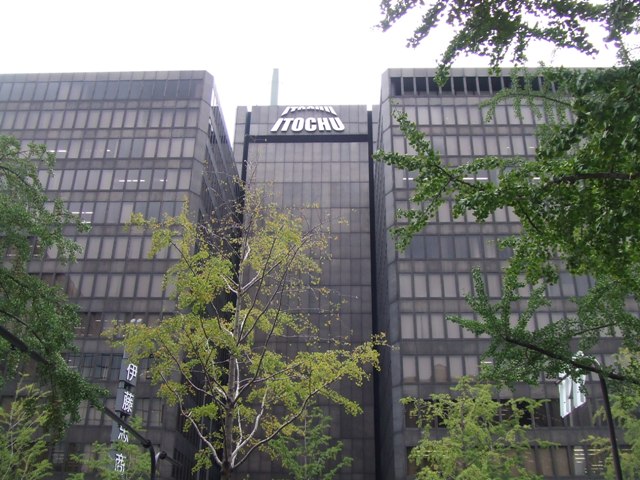 This is the branch building of
Maruben
i, also located in central Osaka. Their main building is in Tokyo.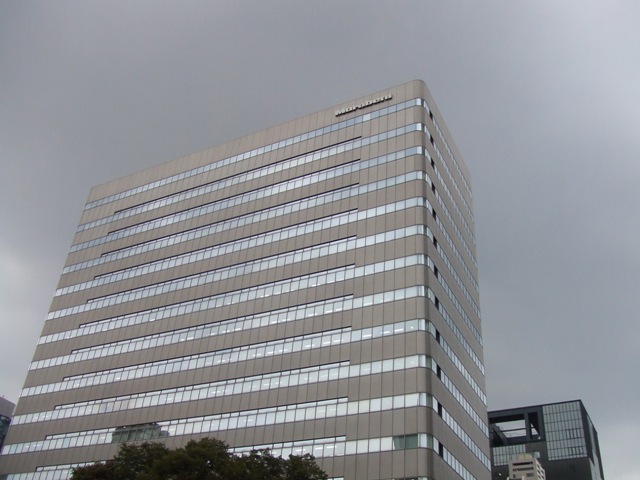 Ito Chubei is from Toyosato-cho, Shiga Prefecture, and once, he was the Mayer of Toyosato-cho.
This is the outside of Ito Chubei's house in Toyosato-cho. Now open to public.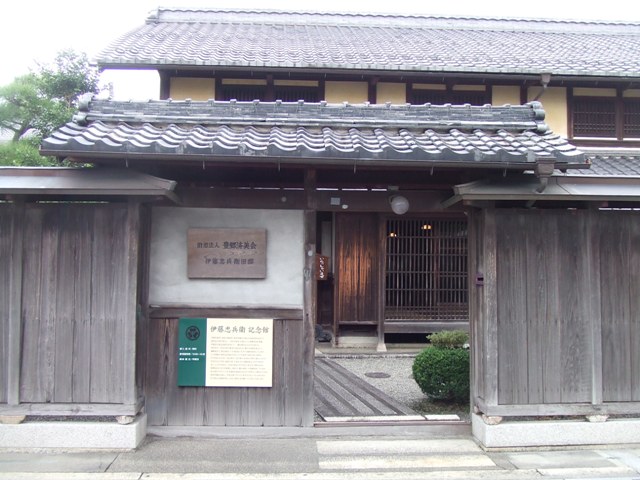 Open Tuesday through Sunday
From 10:00 a.m. to 4:00 p.m.
Admission Free
To be continued.
More "Keion" stuff than before.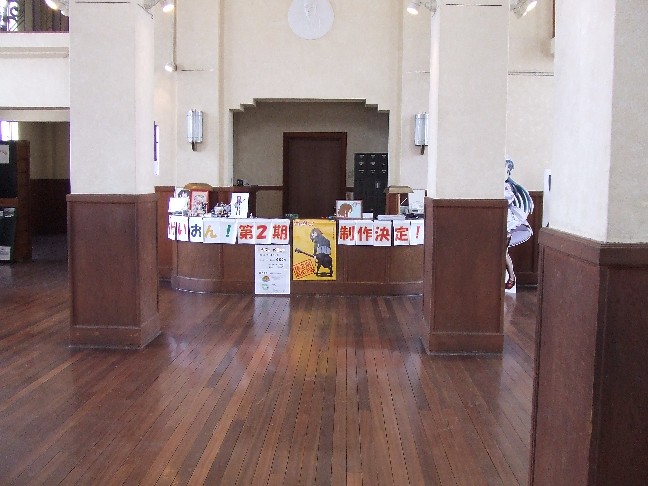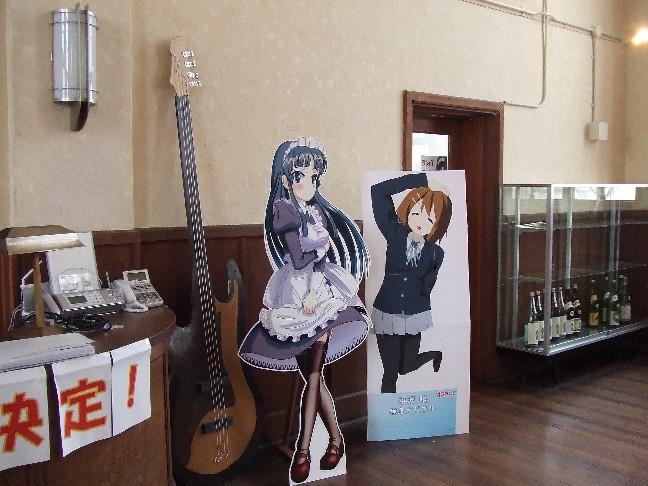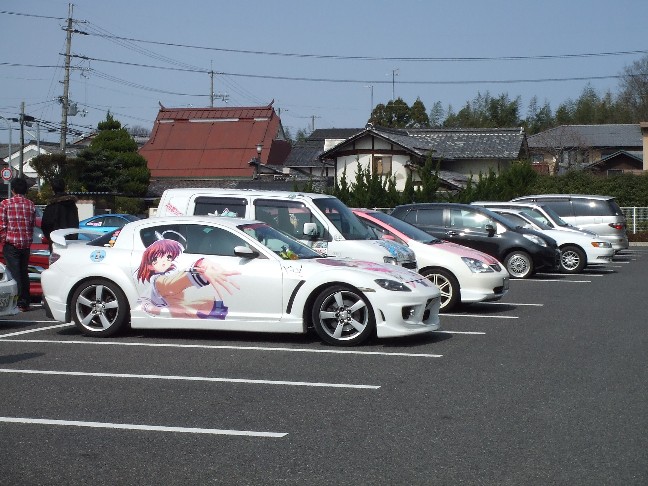 There are visitors purely to see the architecture, but there also are fans of Keion visiting from all over Japan. These boys are fans of fictional girls of the anime, "K-ON", or keion. They even paint the fictional girls on their cars. What an "otaku" world!
This building used to be a library.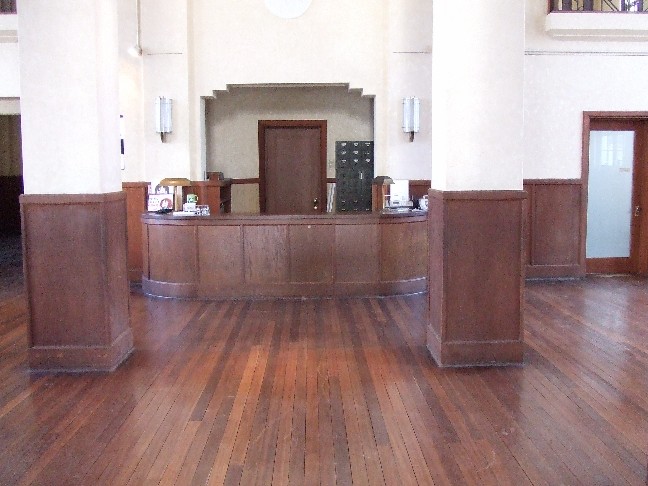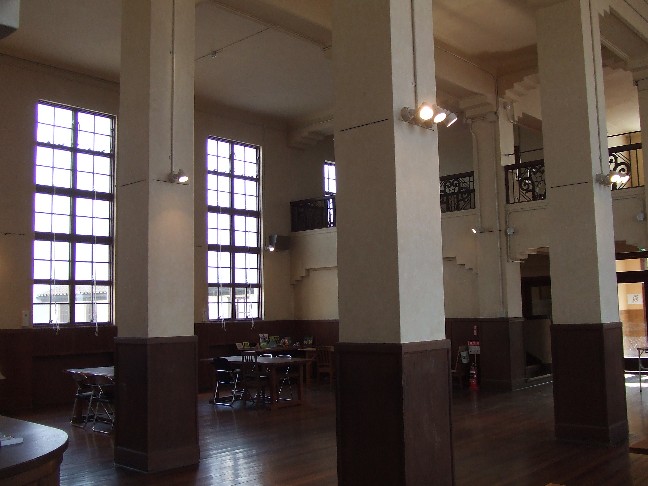 There is a tablet of Chubei Ito on the wall. He is a founder of Itochu Corporation and Marubeni Coporation, who was born in Toyosato-cho in 1842 and grew up in this town. A part of his mansion is still remains, although it is not a mansion anymore.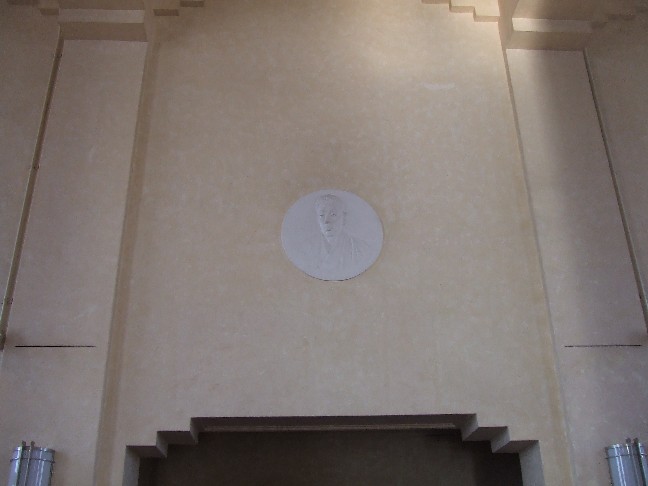 On the corner of this old library, I found "K-ON!" stuff.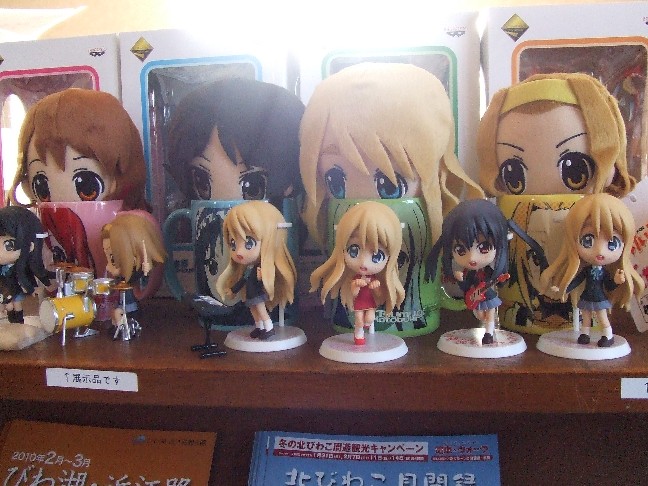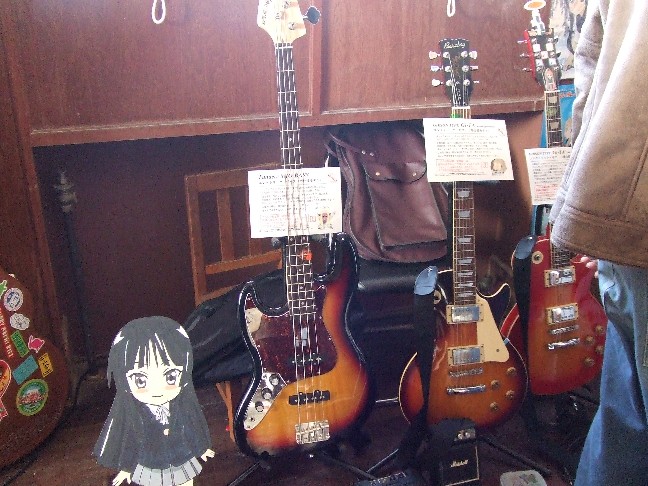 The auditorium of Toyosato Elementary School is a theater rather than an auditorium. From the back, there is a gentle slope downward toward the stage.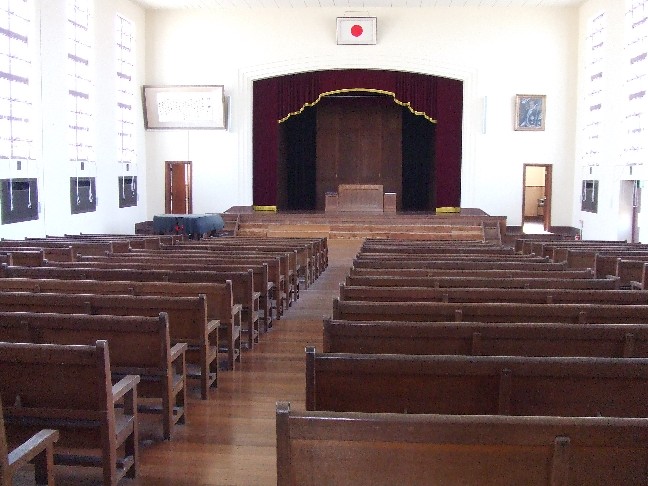 There is even a mezzanine.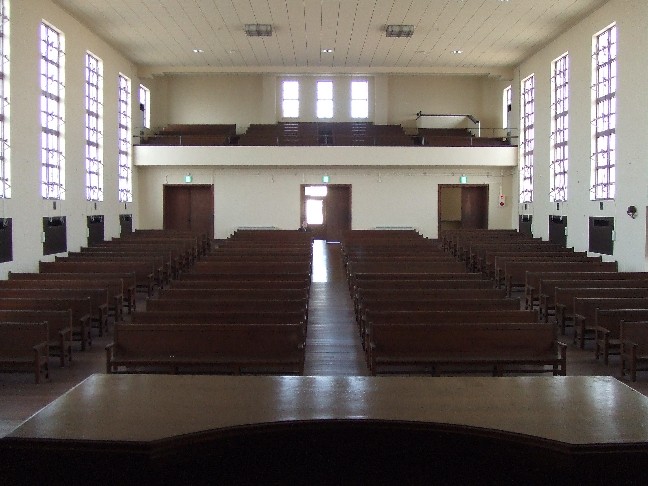 You can experience one of Aesop's Fables "The Hare and the Tortoise" in Toyosato Elementary School.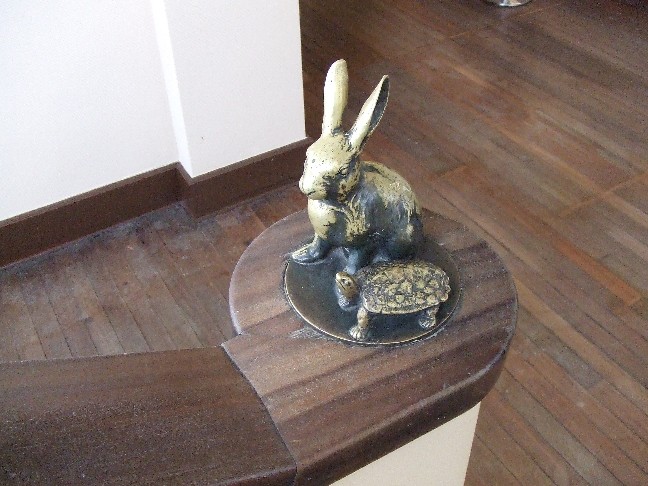 A hare and a tortoise decided to race.
Of course, the hare can run fast, and the tortoise is slow.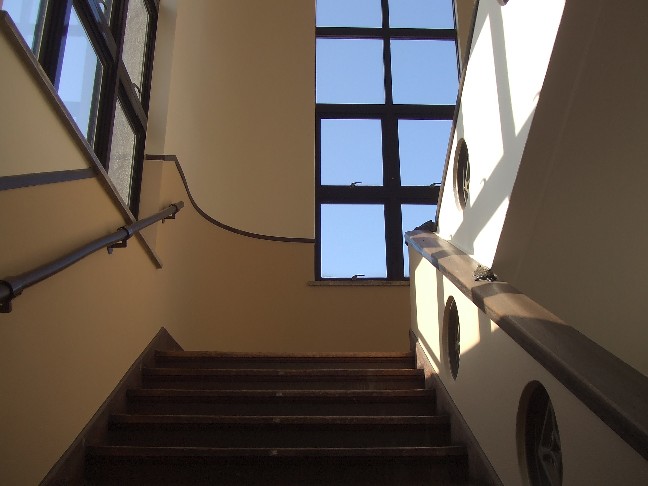 The hare was so much ahead of the tortoise, that he decided to rest.
While the hare was resting, the tortoise outstripped the hare.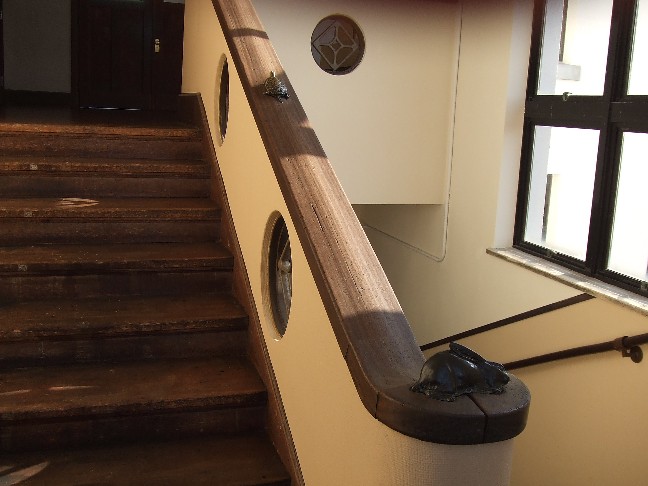 Look who won! It was the tortoise. The proud tortoise is on the top!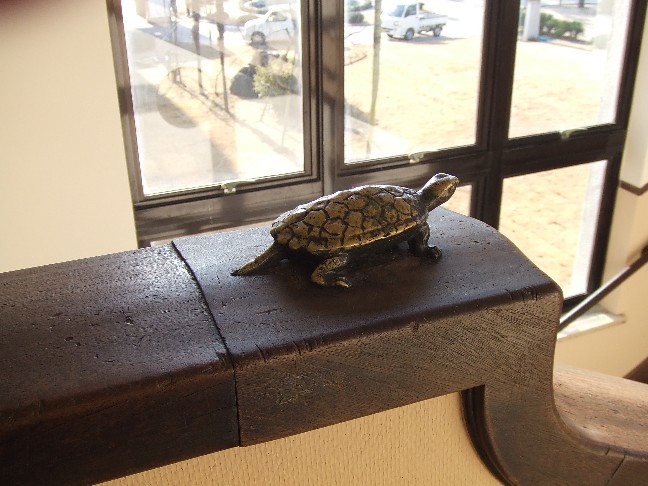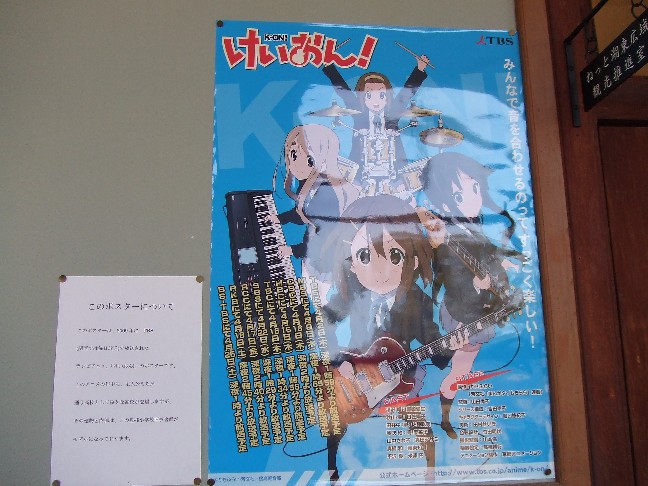 Until I went to Toyosato Elementary School this time, I had not known anything about "K-ON!" (kei on).
It is the Anime about four high school girls who belong to "Kei-on" club. "Kei-on" "Kei" means light, not heavy. "On" is the abbreviated form of "Ongaku" which means music.
So "Keiongaku" or "Kei-on" means light music literally. In other words, unlike brass band or orchestra clubs, a pop music band with the guitar, the base, the keyboard, and the drums is light, not heavy. 
A "Kei-ongaku Club" exists in many high schools and is often called "Kei-On"
If you have ever seen the anime, "K-ON!", you will recognize this building structure. Sakura High School in K-ON is exactly like Toyosato Elementary School!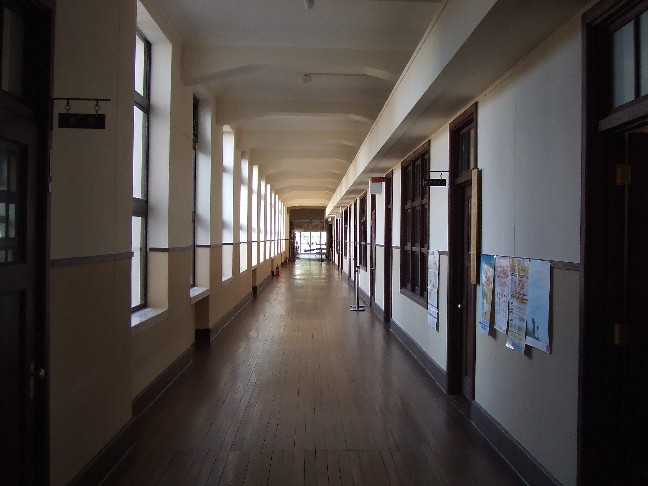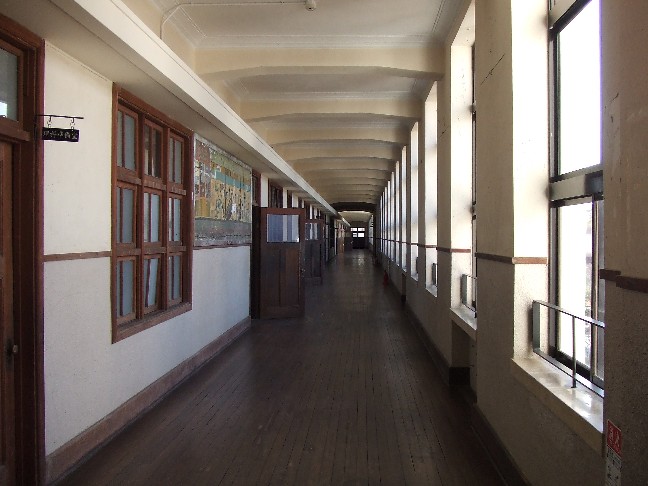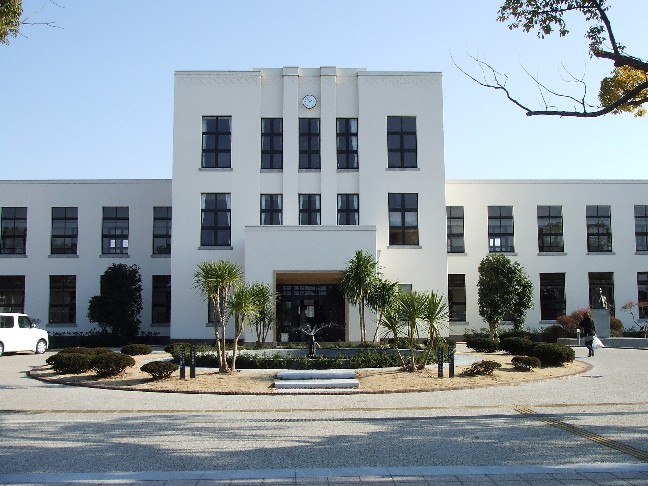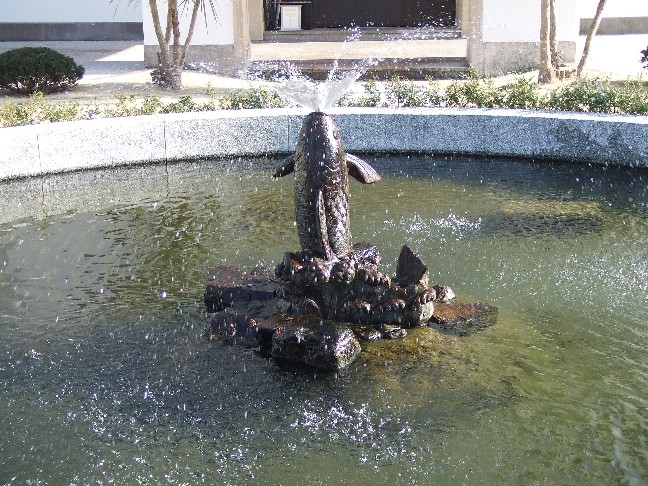 A few years ago, Toyosato Elementary School became very famous nationwide, because the mayor at that time tried to demolish this beautiful building. It was a big news and a lot of criticism toward the mayor were discussed.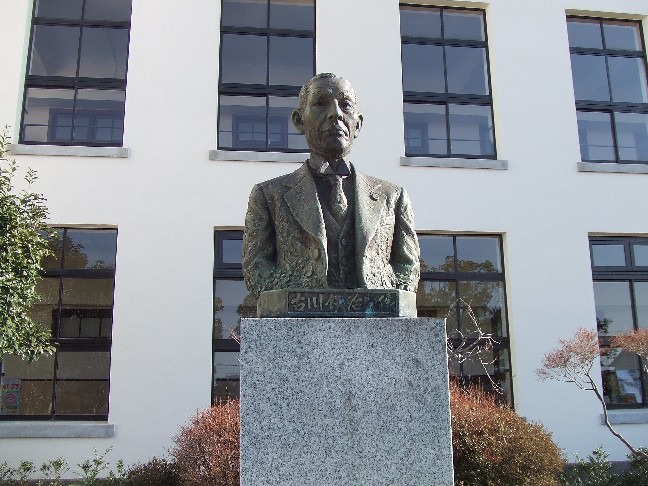 Tetsujiro Furukawa (above), a manager of Itochu Corporation at that time donated to build this building, and was built in 1936. An American architect, William Merrell Vories designed, who also designed Daimaru Department Store in Shinsaibashi, Doshisha University in Kyoto City, Kansei Gakuin University, and many other notable western style buildings.
Fortunately, this building is well preserved now. New buildings for elementary school students were built behind it.
Now it is famous nationwide again thanks to the anime, "K-ON!".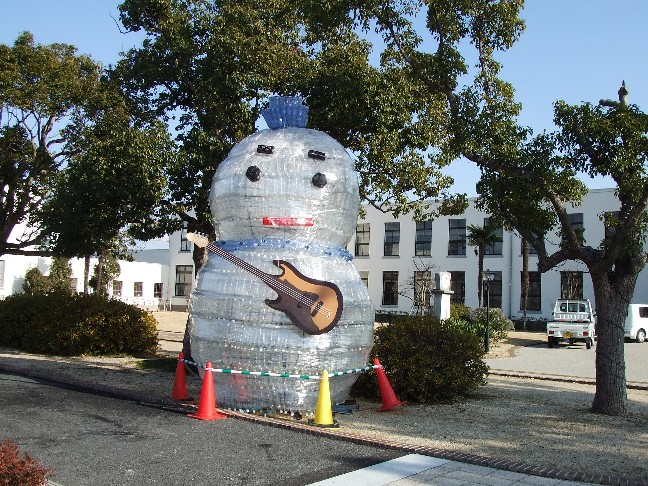 Toyosato Elementary School is located not so far from Toyosato Station. Admission free. From JR Hikone Station, take Ohmi Line. It takes 17 minutes. Ohmi line costs 400 yen one way. Very expensive, but worth taking.