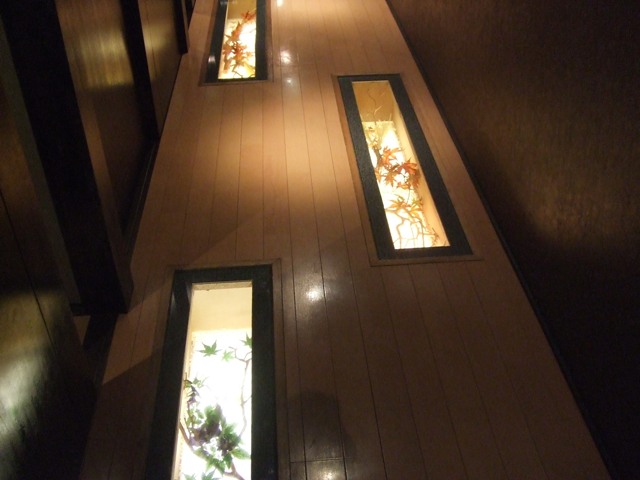 This is the hallway of Izakaya restaurant that I was taken by the group of people.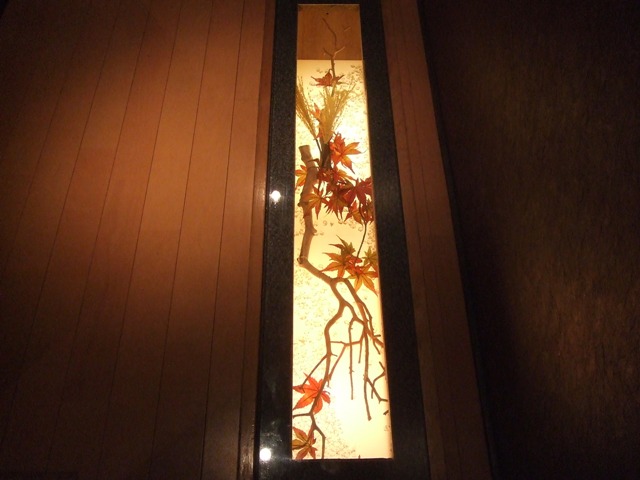 It's like an art.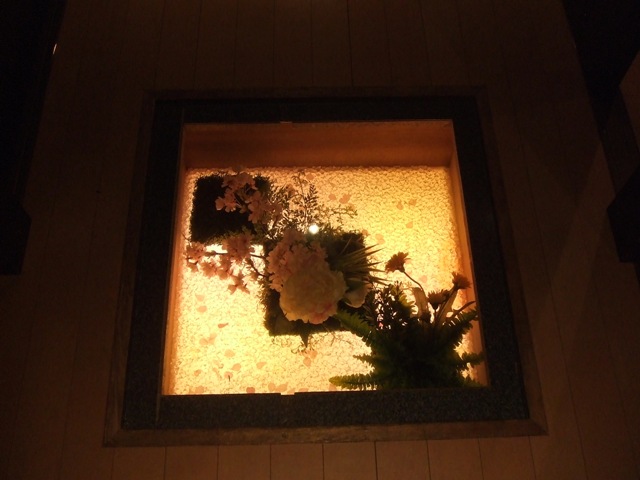 Their service was not so good, because there were not enough people working. However, the food was good.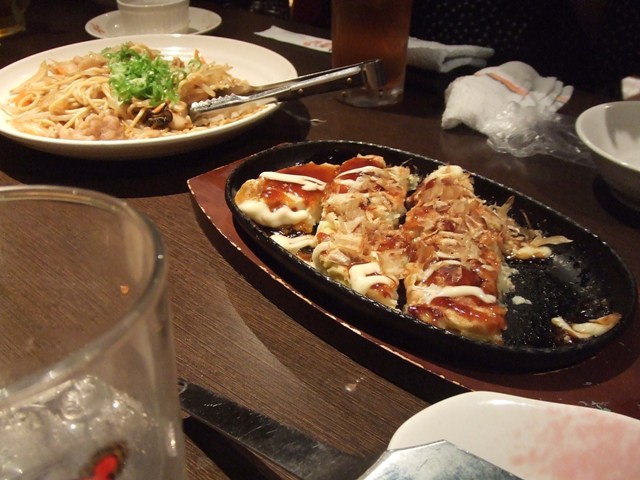 The Izakaya is located near Sakaisuji Hommachi Station, but I don't remember the name...
Yasunari Kawabata (1899~1972), a Nobel Prize of Literature winner in 1968, was born in Osaka City.
He wrote a short story "Soribashi". "Soribashi" is the name of the bridge.
The bridge is this: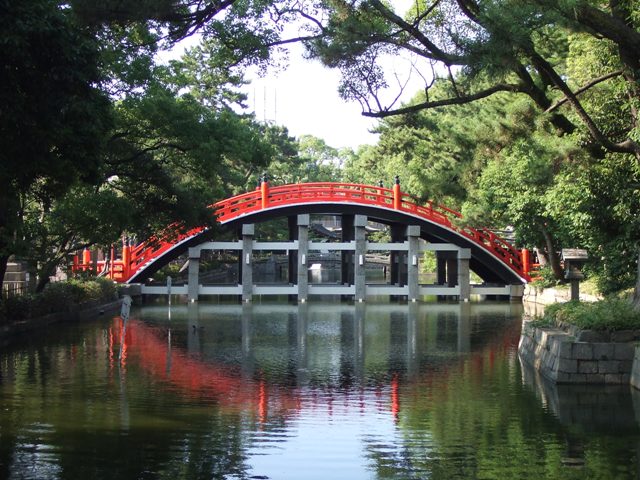 It is the name of the red bridge in Sumiyoshi Grand Shine.
Many people call this bridge "Taikobashi", but the real name is "Soribashi.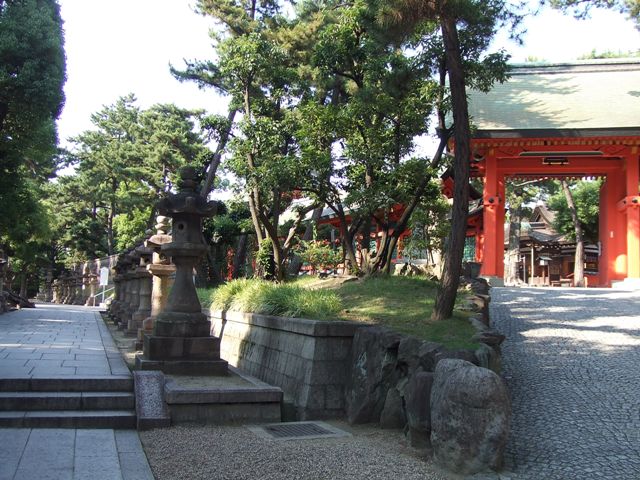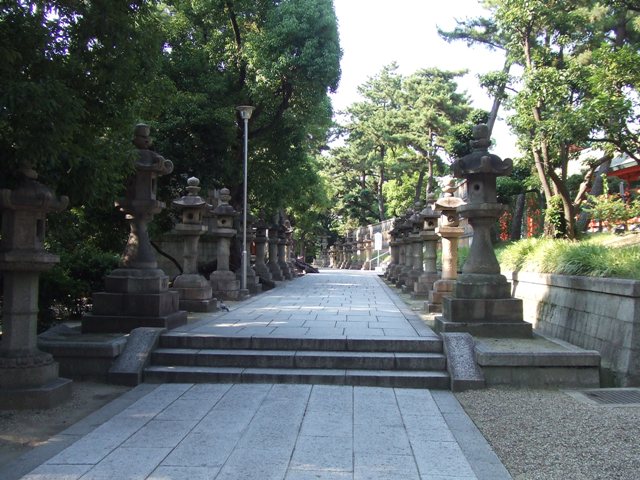 There is a monument of his story beside the pond.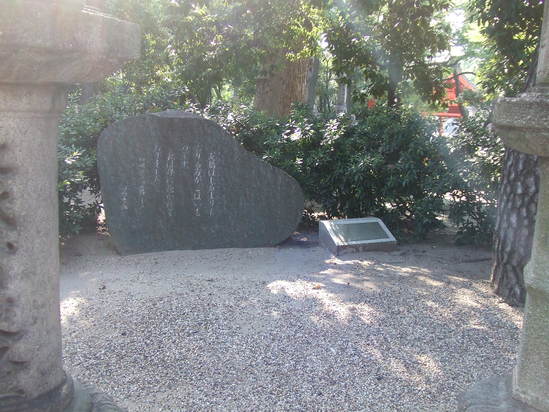 It says, "It is easier to go up Soribashi than to go down. I was being held in my mother's arms."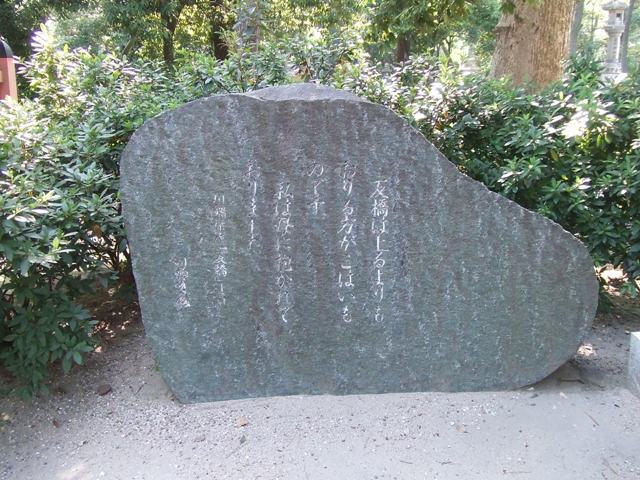 I went to a small tea room which has a small gallery. The name of the tea room is "Avon" (Japanese way of pronunciation is like "Ehbon"). This is their 40th year and there was a small joint exhibition of illustrators and artists until last Sunday.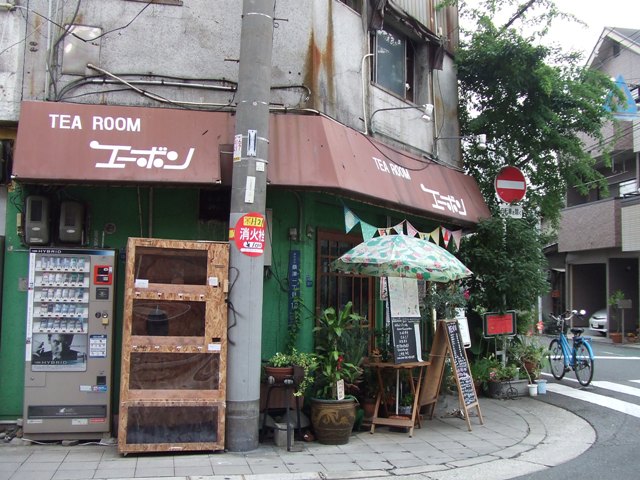 Sadly, there was a fire on their third floor last fall.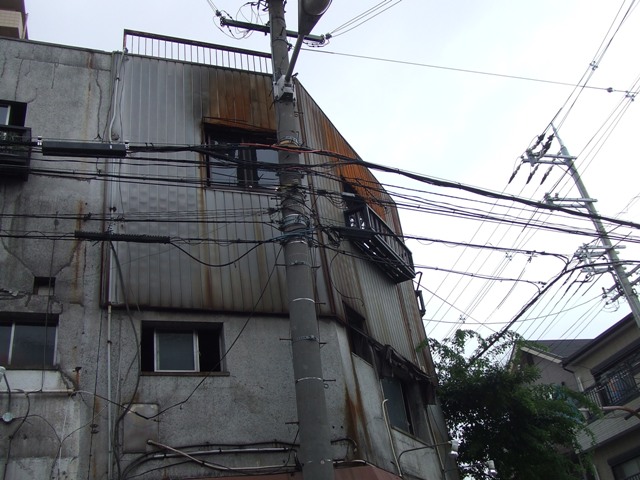 They decided to keep this way and exhibit as an art!!!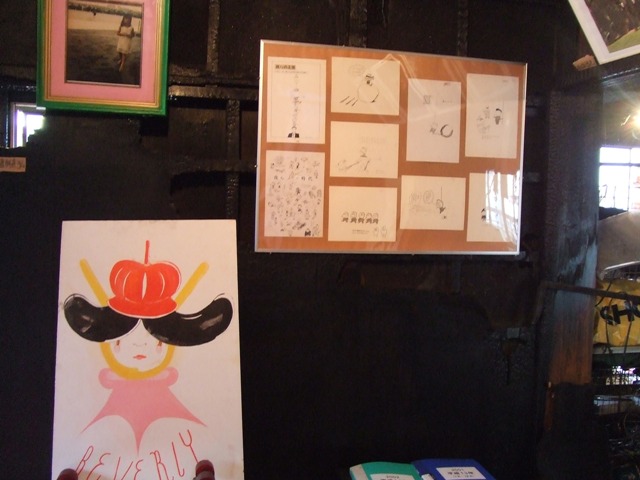 Yes, it looks like a kind of art.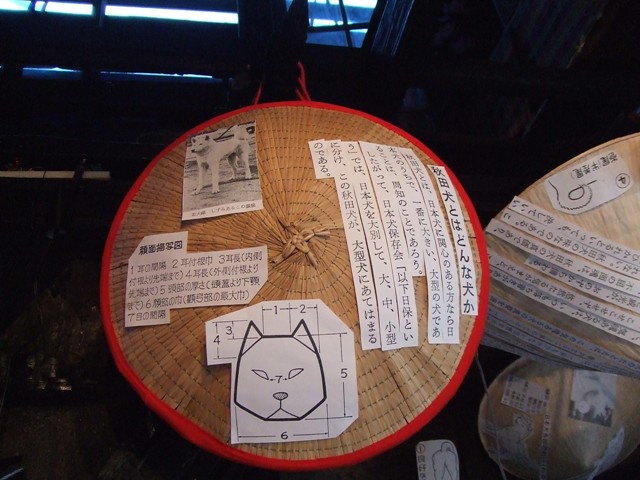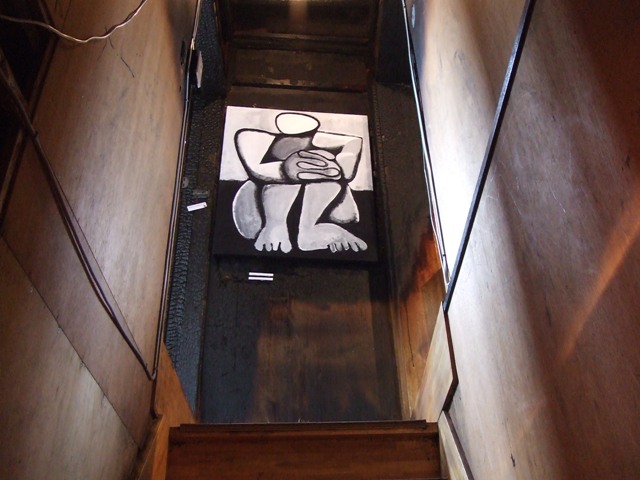 The exhibition was awesome.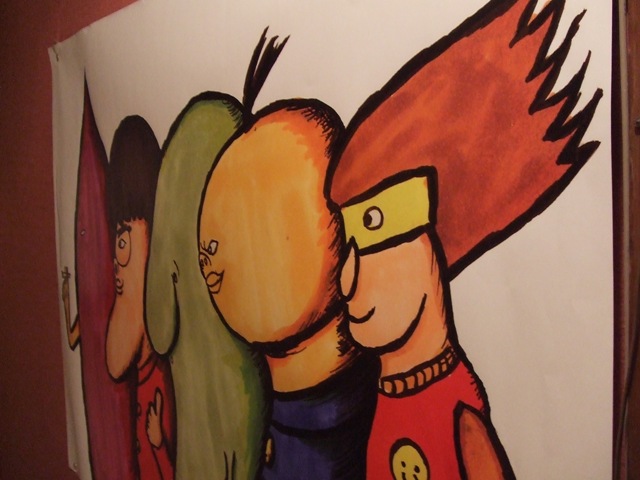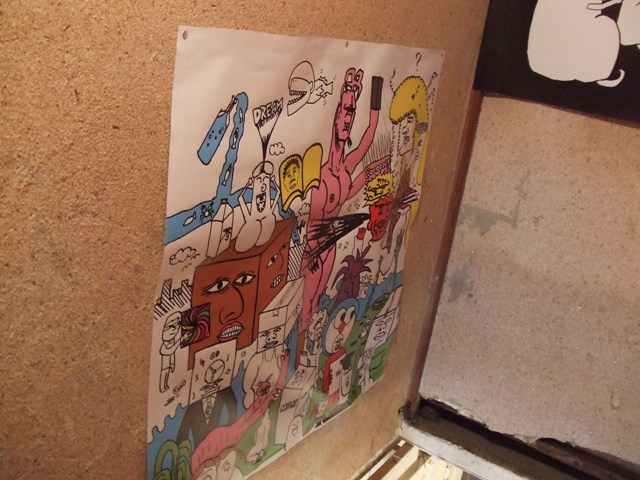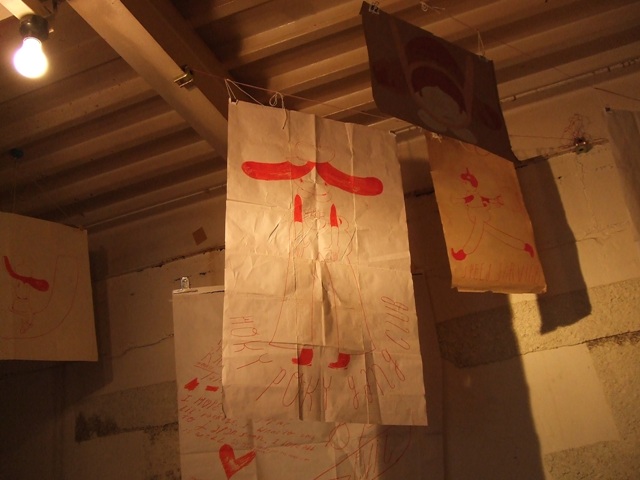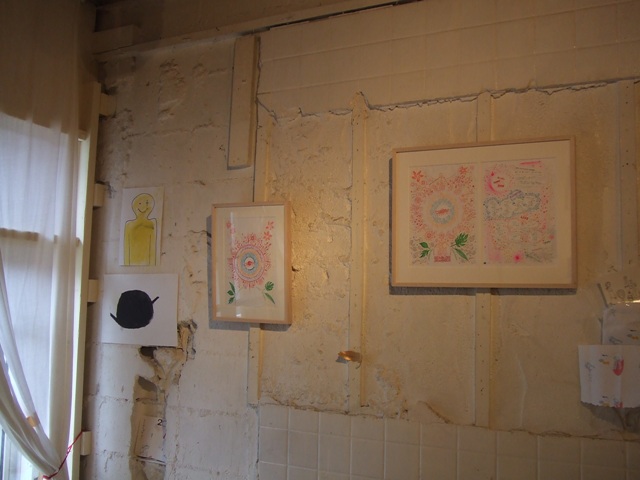 I was invited by this illustrator's wife.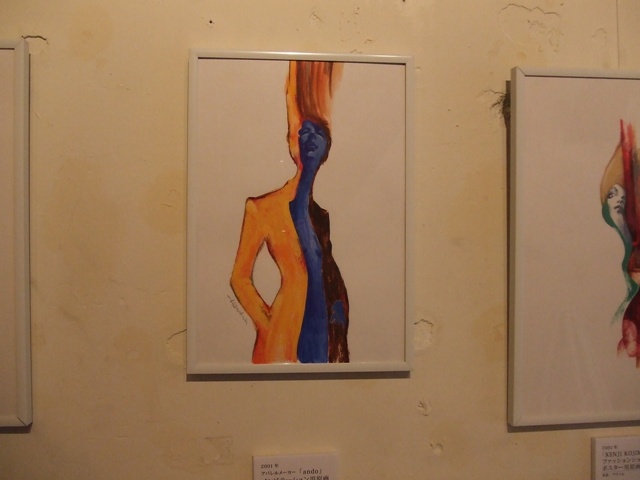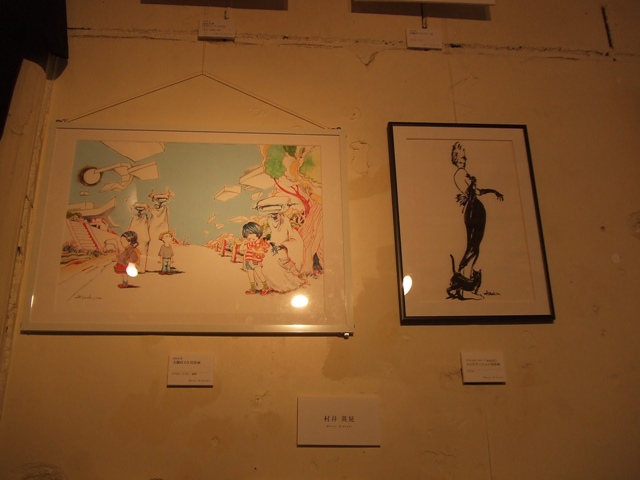 He made this robot kind of thing inspired by his own illustration.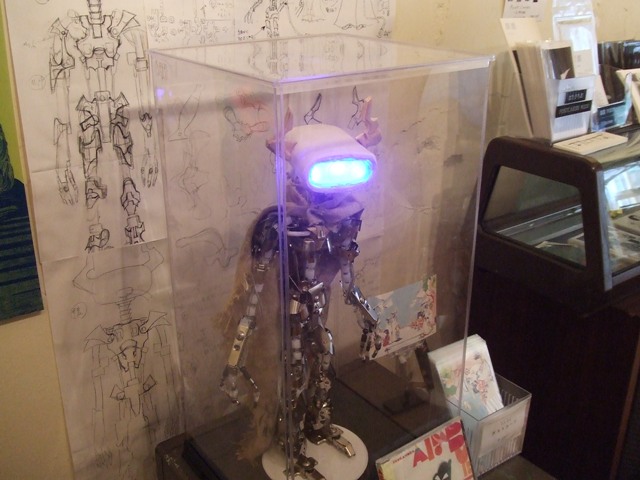 Unfortunately, the exhibition was over, but live concerts are also held from time to time here at Avon. There should be the next exhibition.
Very creative place where artists get together.
During the special exhibition period, Honganji Temple Sakai Branch was open.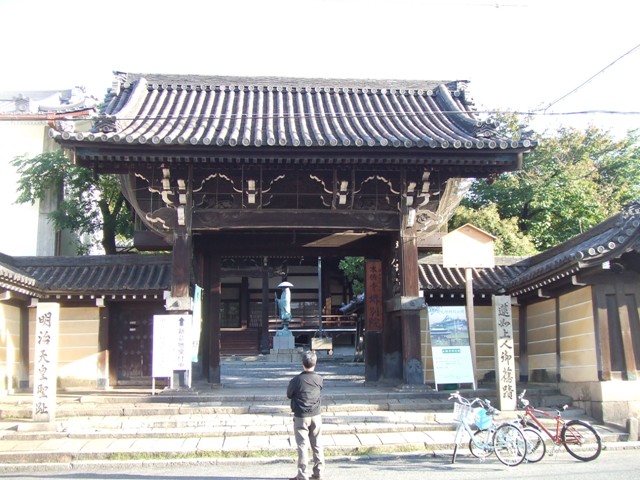 Main building of Honganji Temple Sakai Branch is the biggest wooden architecture in Sakai City.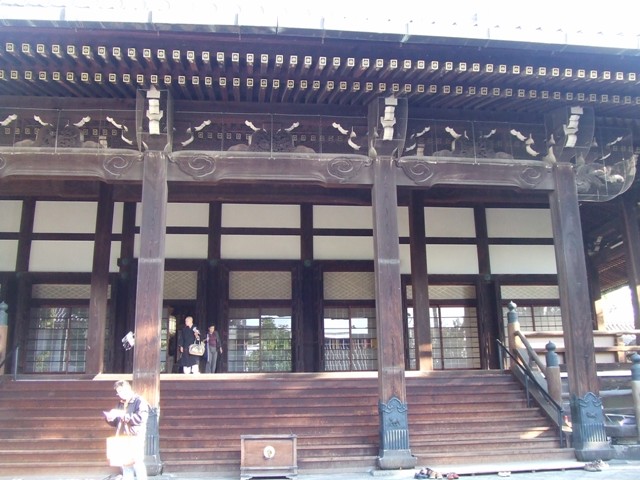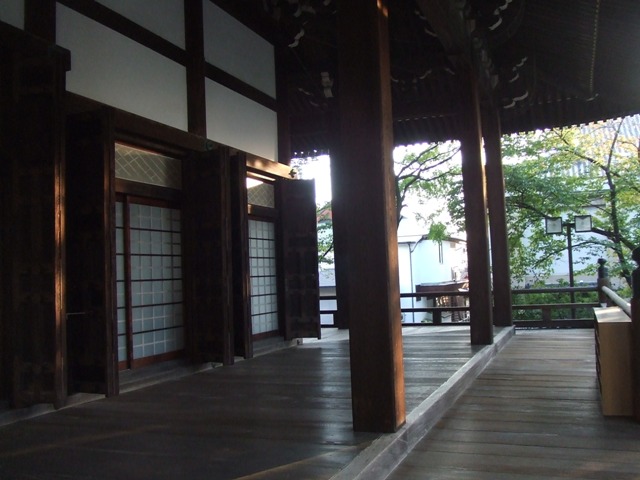 Main Temple of Honganji Temple is in Kyoto, which is known as
Nishihonganji
Temple.
This Sakai Branch started in 1470. After having been burnt down in 1798, the current building was built in 1825.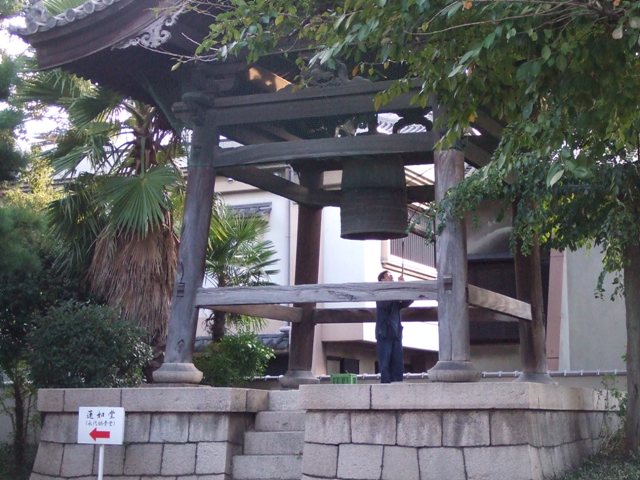 They have sliding doors that Portuguese and Spanish merchants when Sakai was prosperous with trading in 16th century were painted on.
It was prohibited to take photos inside, but they distributed post cards of the sliding door.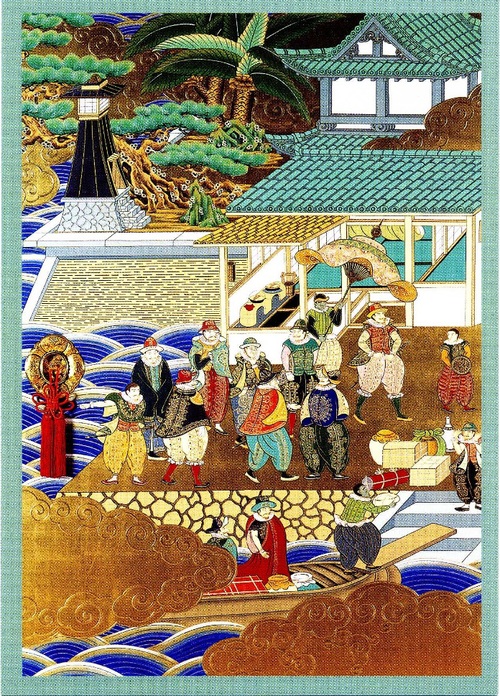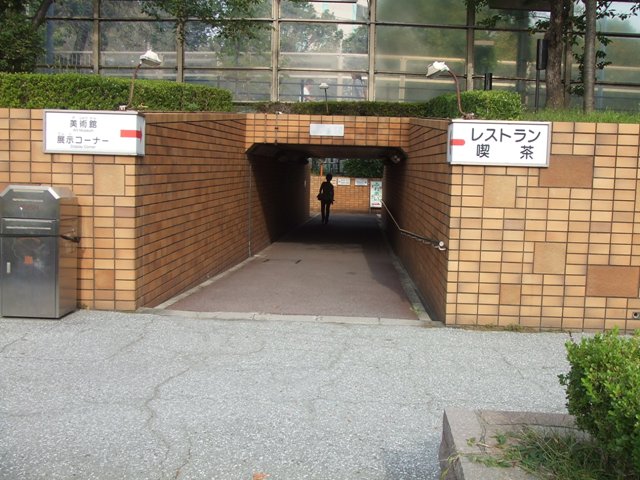 In Tennoji Park, go through the tunnel, and there is "Vermeer's Path", named in memory of Vermeer Exhibition in 2000.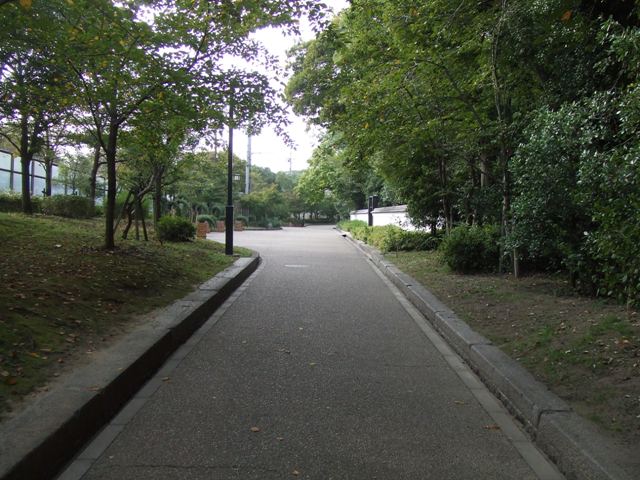 Go pass the gate. This gate is a remain of a part of Fukuoka Kuroda Clan's Storage house from Edo Period.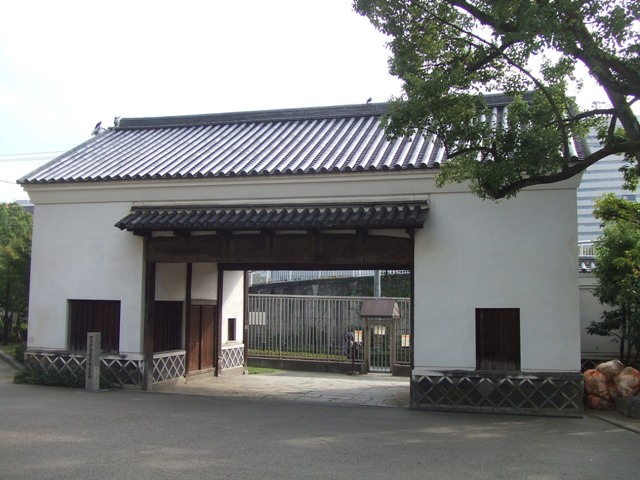 You reached "Osaka Municipal Museum of Art".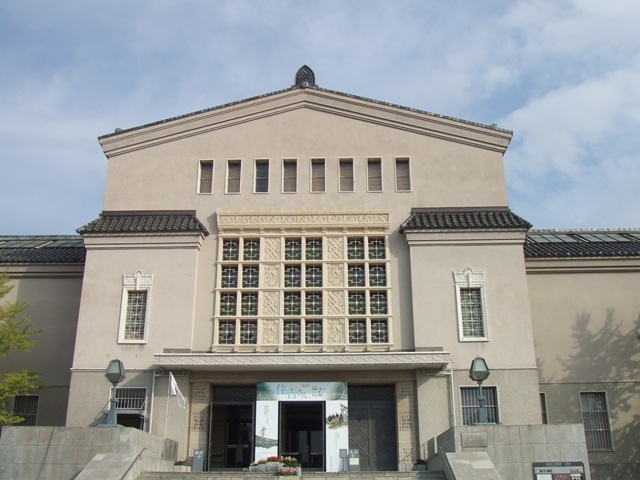 We call it "Tennoji Bijutsukan", which means Tennoji Museum.
Tennoji Museum is on Uemachi Plateau. You can see Tennoji Zoo below.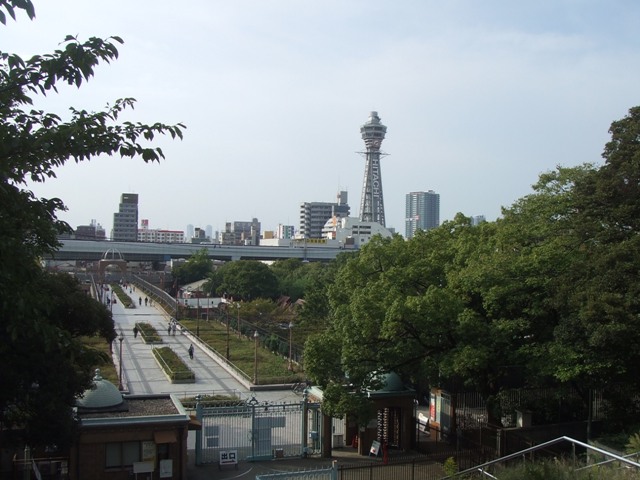 Now there is a special exhibition, "The Arts of Sumiyoshi Grand Shrine through the Ages". You need additional 1,050 yen to enter this special one.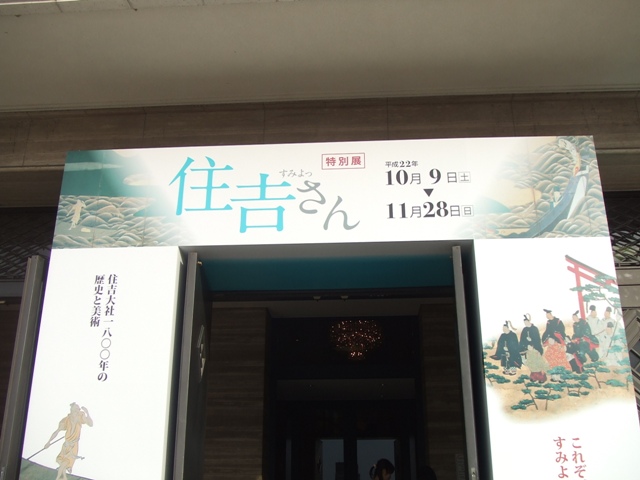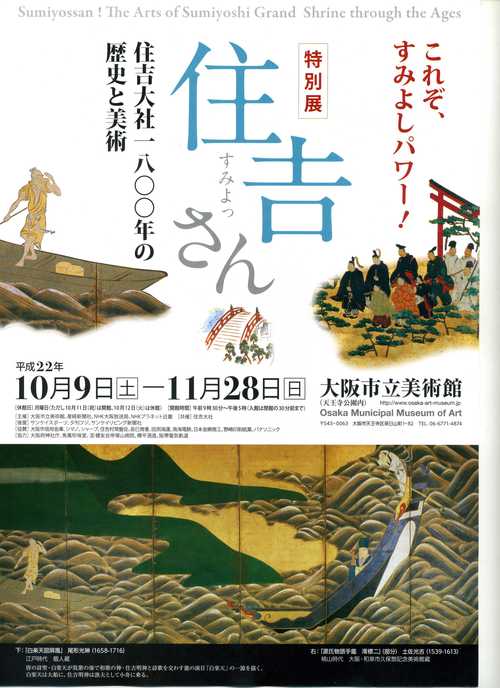 Sumiyoshi Grand Shrine is the shrine I usually go through when I commute. There are many "Sumiyoshi Shrines" in Japan. This Sumiyoshi Grand Shrine is like a head of all Sumiyoshi Shrines. From now on, I'd better call this shrine Sumiyoshi Grand Shrine to discriminate from other Sumiyoshi Shrines.
There are not only art works that Sumiyoshi Grand Shrine owns, but also the ones from museums all over Japan gathered to this museum during this period this time, until November 28th.
Photos are not allowed. So I bought three post cards.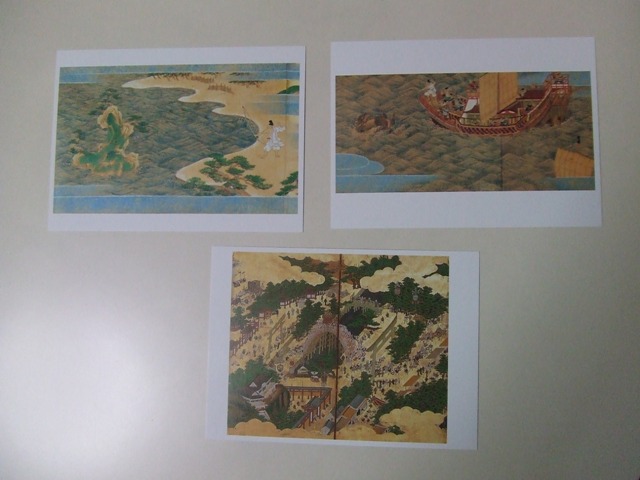 If you hear Asuka, many people think of Asuka in Nara. (I am talking about the name of the place.) In Japanese, we pronounce Asuka like "Aska" without "u" vowel.
But in Osaka, there is also a place called Asuka.
It is not scientifically proven that there was a capital in Osaka in 7th century yet, but it is highly possible. There is a ruin of a palace "Naniwano Miya" near Osaka Castle.
Asuka closer to Naniwano Miya used to be called "Chikatsu Asuka", and the one further from Naniwano Miya used to be called "Totsu Asuka".
Chikatsu Asuka is now around Taishi-cho, Kanan-cho of Minami Kawachi-gun and Habikino City in Osaka Prefecture. In Habikino City, there is still a name, Asuka ramained.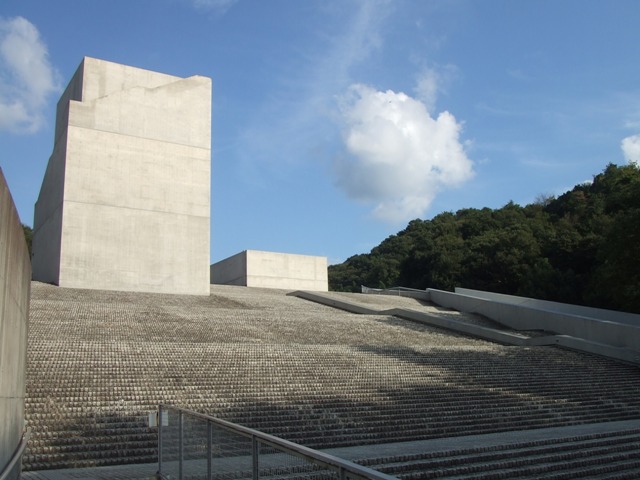 There is a museum, "Chikatsu Asuka Museum", which exhibits things found in Kofun tombs of 3rd to 7th centuries.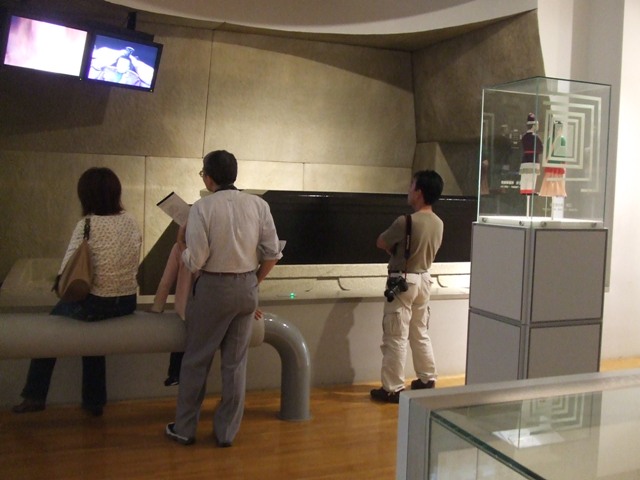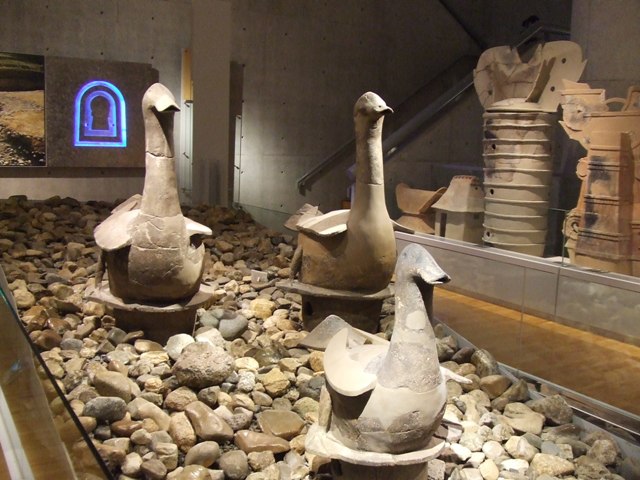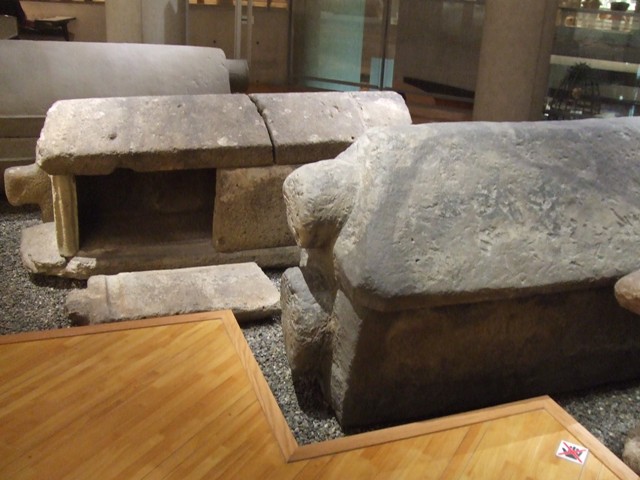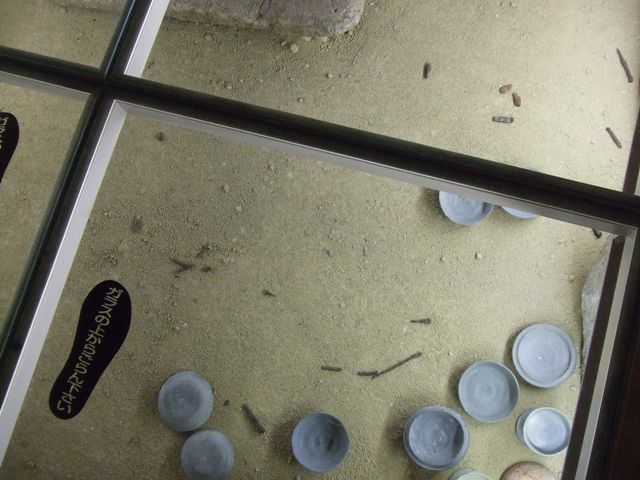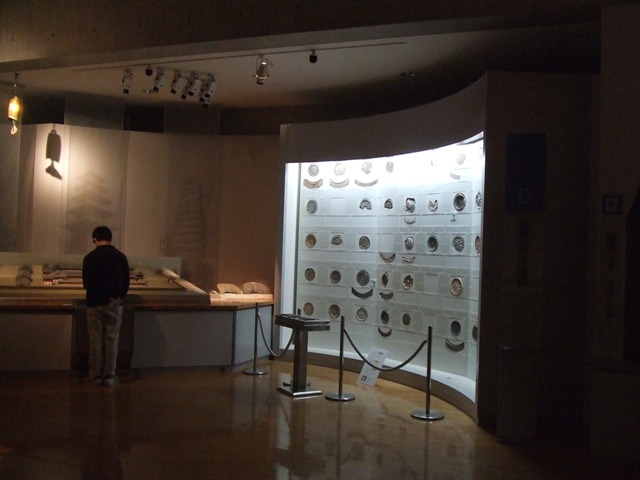 The building is designed by Tadao Ando, one of the top architects in the world. By the way, Tadao Ando is from Osaka.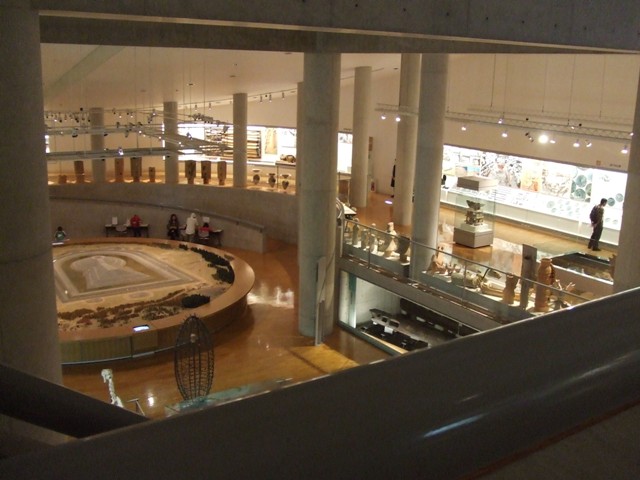 Photos are partially prohibited in the museum.
There are walking trails around this museum.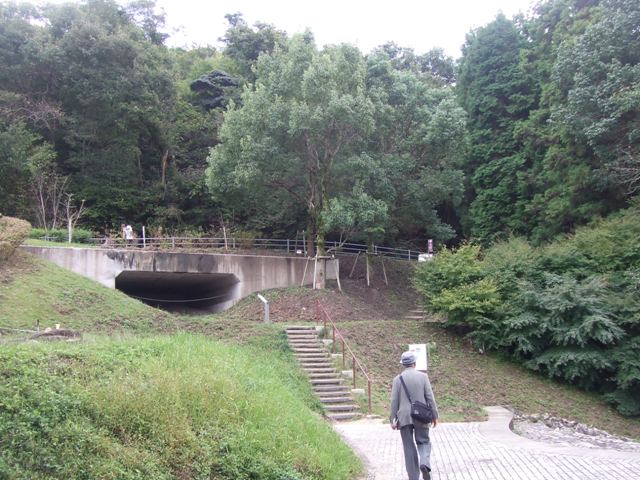 There are 102 smaller sized ancient tombs and you can see 40 of them.
From Kishi Station or Tondabayashi Station of Kintetsu Nagano Line, take the bus to "Hannan Neo Polis"(阪南ネオポリス).It takes 15 minutes from each station.
I went there by car.
The final destination of the bus tour was
Adachi Museum
in Shimane Prefecture.
Adachi Museum was founded by Adachi Zenko, a local businessman forty years ago .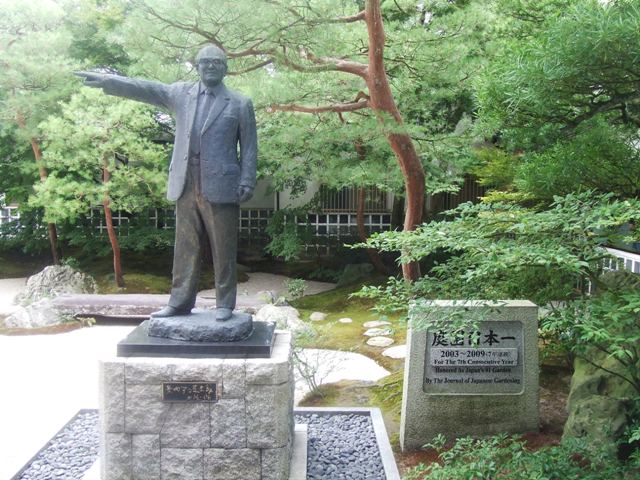 It has a lot of well known Japanese painter, Yokoyama Daikan's paintings. Unfortunately, pictures were not allowed inside of the building.
But from the building, we can see spectacular view of huge Japanese gardens.