In 1894, the Roman Catholic cathedral was built as St. Agnes Cathedral, but it was completely burnt down by World War II in 1945. St. Francisco Xavier Cathedral was founded in 1949, but later, the current cathedral, Osaka Cathedral of Tamatsukuri of Saint Mary, was founded in 1963.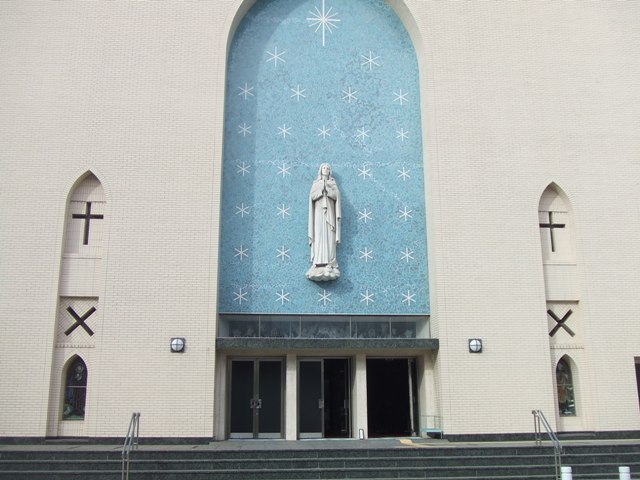 Stand in front, and you can see the statue of Gratia Hosokawa (1563 – 1600) on the right. We call her Hosokawa Garasha.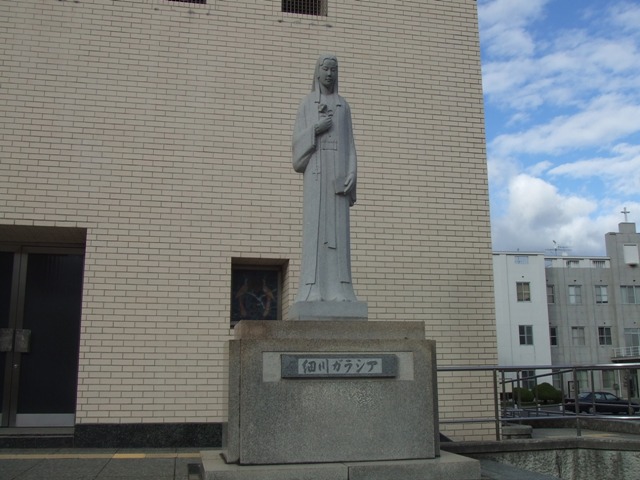 She died near this cathedral when she was almost taken away as a hostage of Sekigahara War in 1600. War. Her husband, Hosokawa Tadaoki was a notable samurai.
On the left, there is a statue of Ukon Takayama (1552 –1615), who was a Saumrai, and a lord of Northern part of Osaka.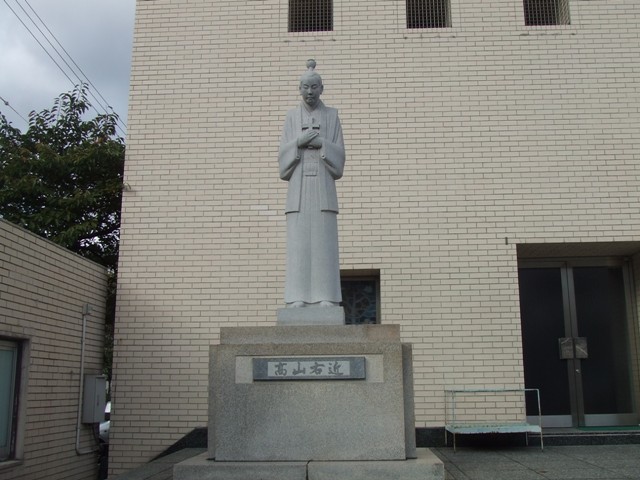 After Francisco Xavier, a Roman Catholic missionary of Society of Jesus, arrived in Japan in 1549, Catholic Christianity was wide spread all over Japan. Those Catholic Christians were called Kirishitan. Tokugawa Shogunate prohibited Christianity in 1612, and Takayama Ukon, Dom Justo Takayama, was expelled from Japan in 1614 and died in Philippines.
These two people were faithful Kirishitans from Osaka, who had tragic lives.
Inside of the cathedral, there are paintings of them.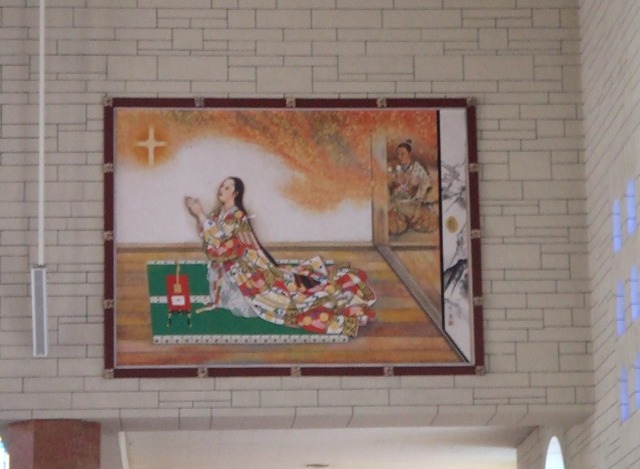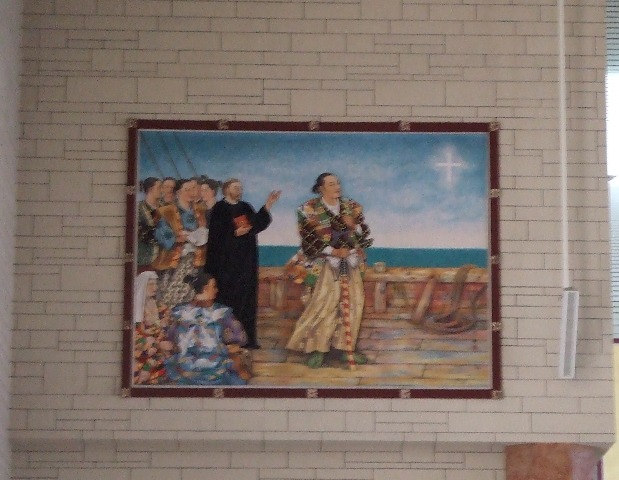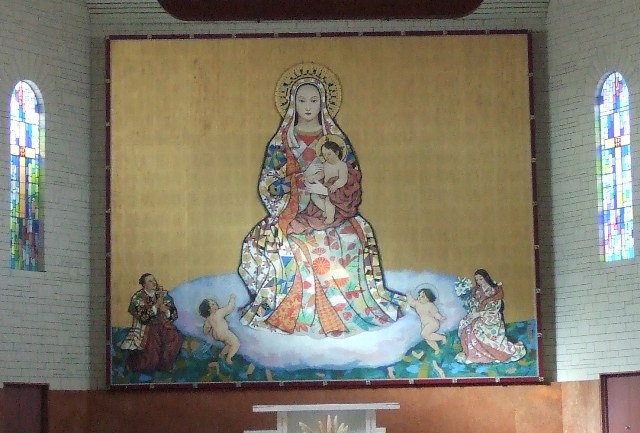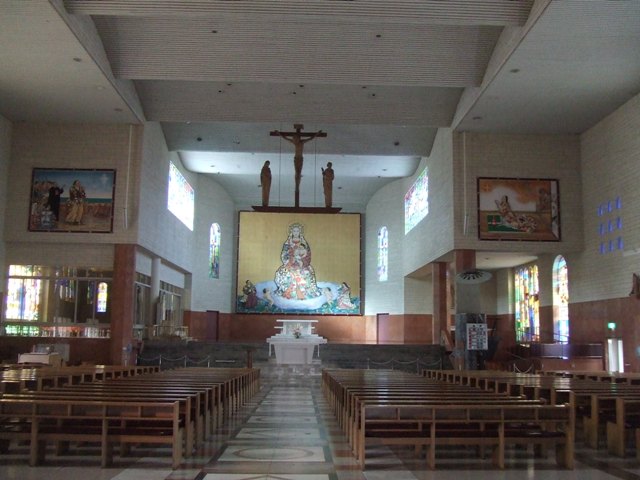 Stained glasses: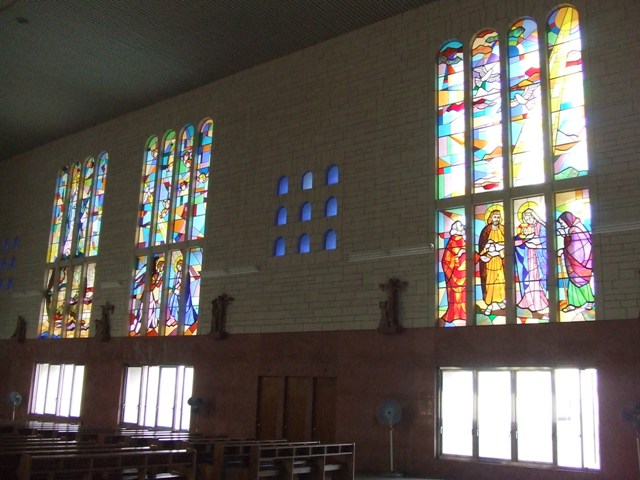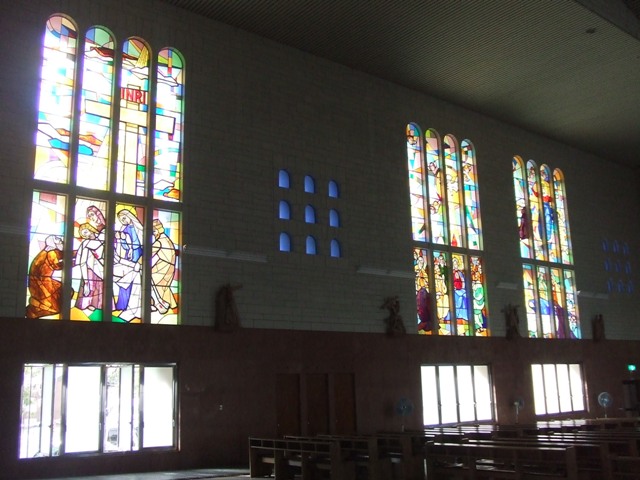 There is a pipe organ. The organist was playing Bach's Fugue when I went into there.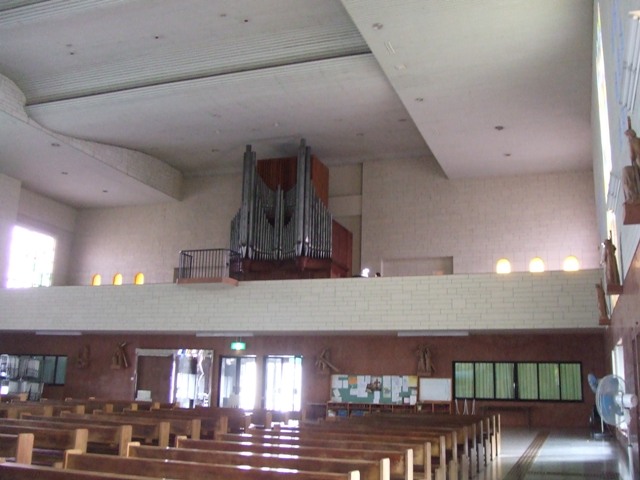 Nakanoshima is an island downtown Osaka.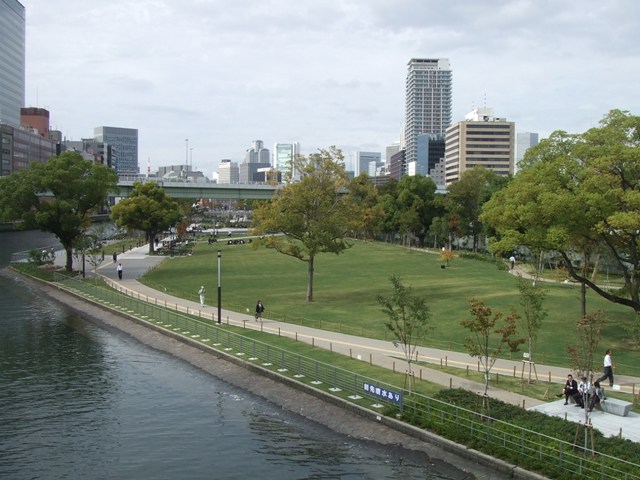 Nakanoshima Park is an oasis for the busy people who work down town, especially for lunch time. Also, many other people visit, relax themselves, and enjoy.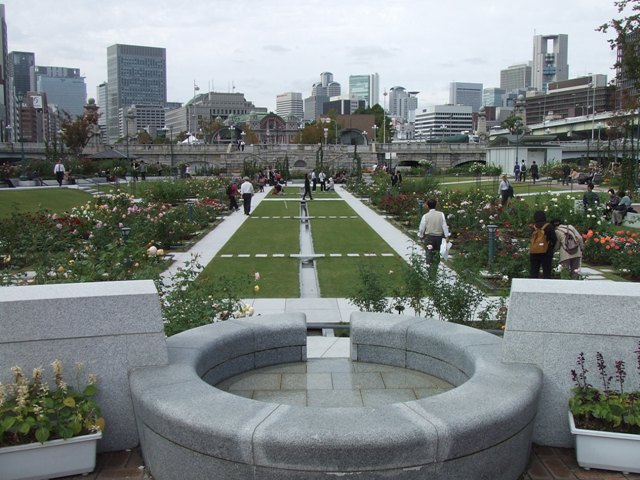 There is a rose garden, and the roses are blooming now.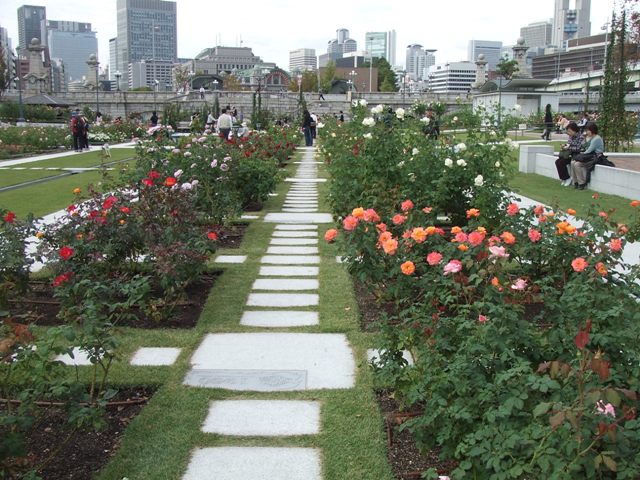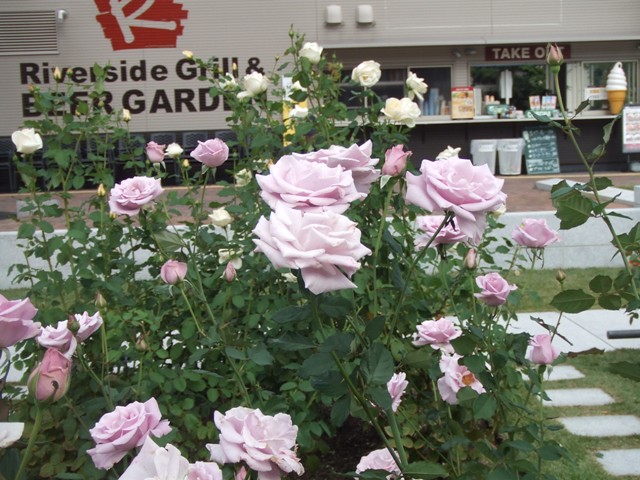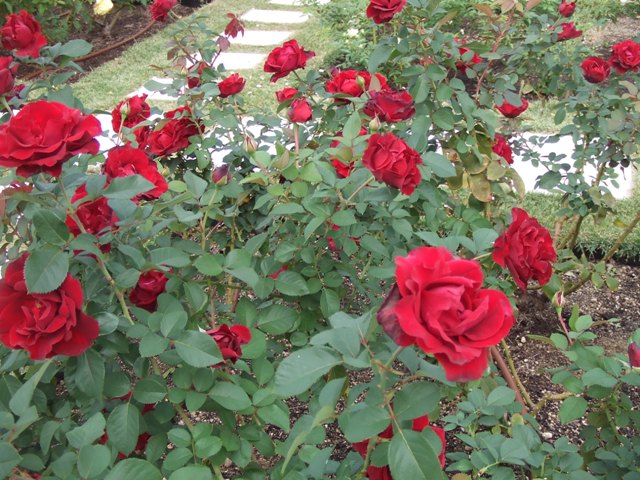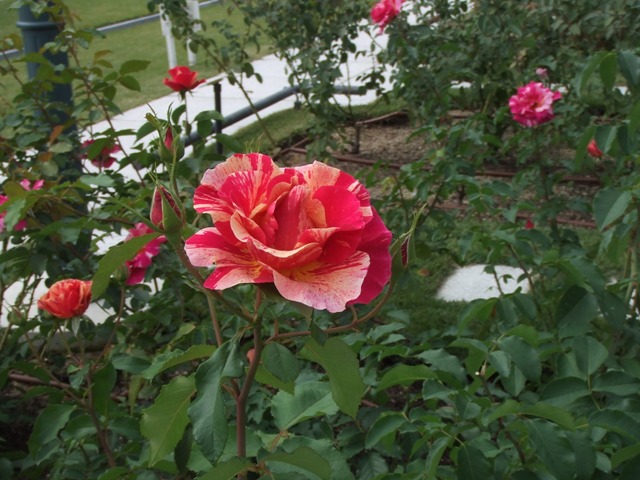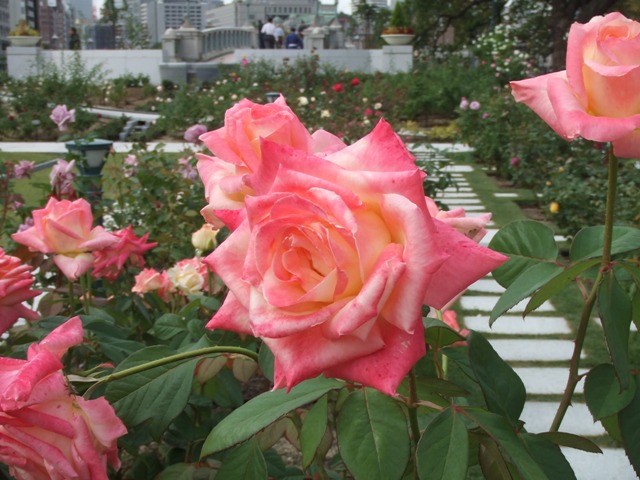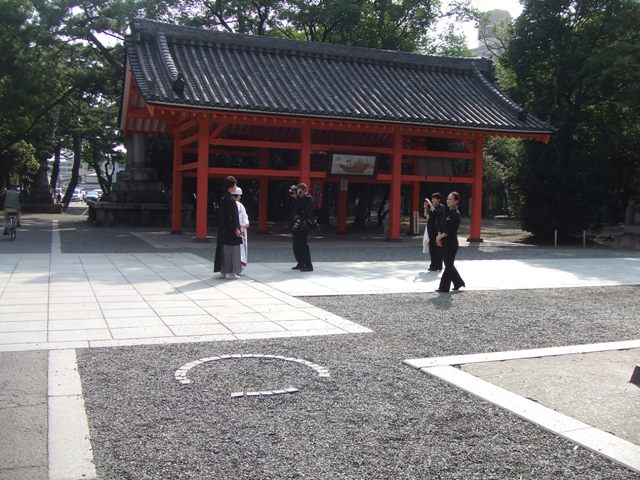 What photo is the cameraman taking? I was curious.
They were taking a bride and groom's photo.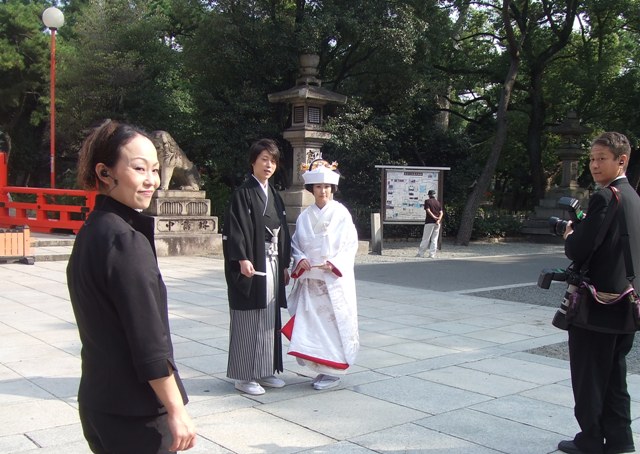 Yes, Sumiyoshi Grand Shrine is a popular place for wedding. You can run into the ceremony especially on weekend.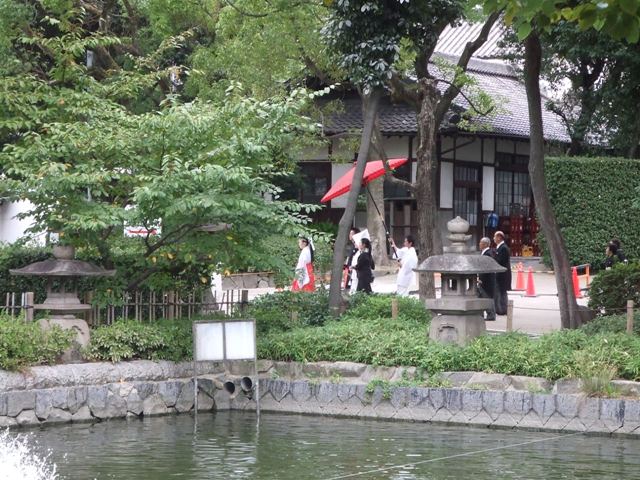 There is a good place for reception "Kisshoden".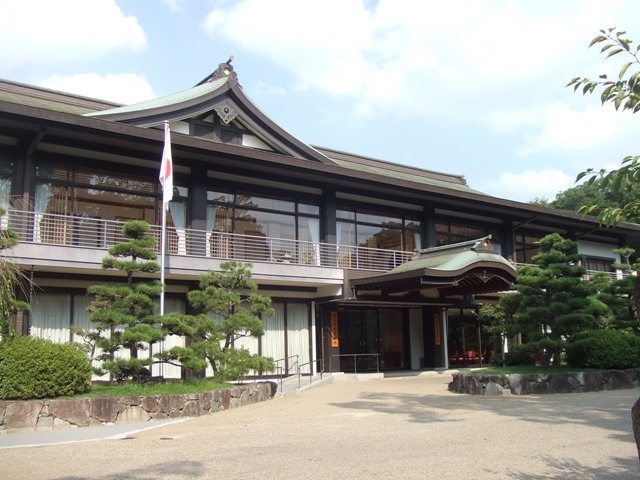 I was totally ignorant about the culture of my country when I started to this blog. I started to research as much as possible since the day I realized I was ignorant. Now every time I research, I realize there are a lot more things I still don't know.
I have decided to try to go to the places as far as the time allows.
Sumiyoshi Grand Shrine is close to where I live.
I wanted to go to "Takarano Ichi", the rice harvest ritual. I had terrible allergy. Too terrible to go out. So I stayed home. But what is this weather? It doesn't get cooler. It is still like summer.
When I went to the rice field on later day, the rice was all reaped.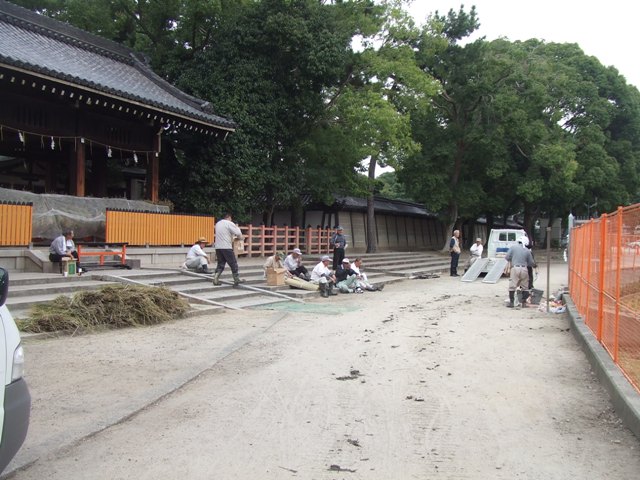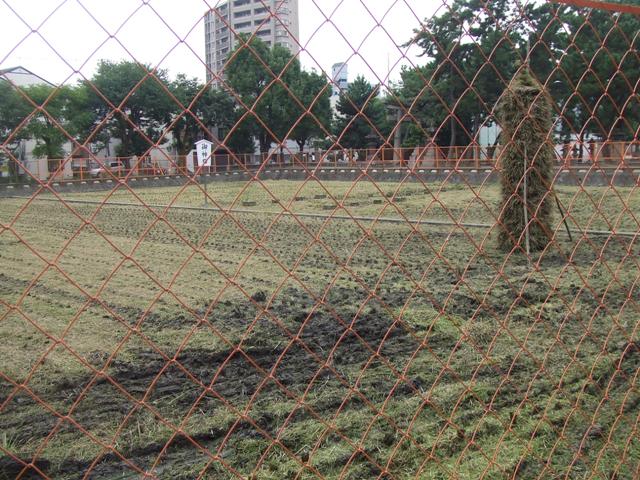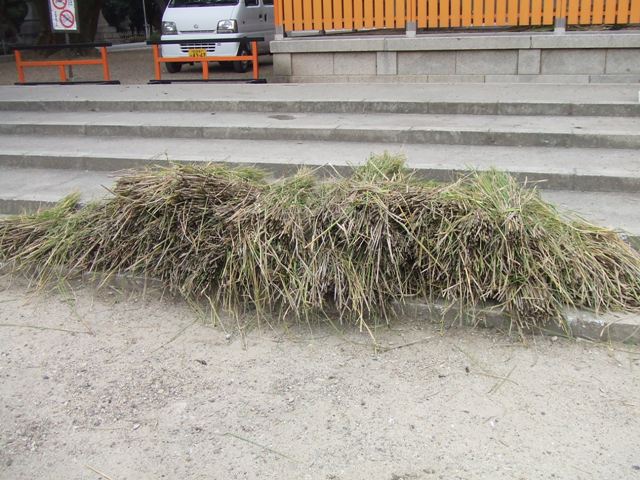 The first crops are dedicated to Jingu. Jingu means Ise Jingu, Ise Grand Shrine in Mie Prefecture. Ise Jingu is the highest of all.
There is "Ise Jingu Yohai-sho" in Sumiyoshi Grand Shrine.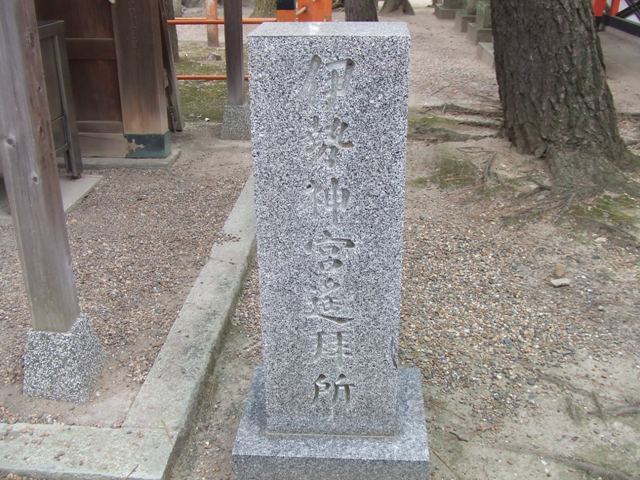 I wanted to know how the ritural is proceeded. Maybe next year.
It is the place to worship "Amaterasu Omikami" of Ise Grand Shrine from the distance. Sumiyoshi Grand Shrine's three gods and Amaterasu Omikami are siblings. They have the same parent, Izanagi.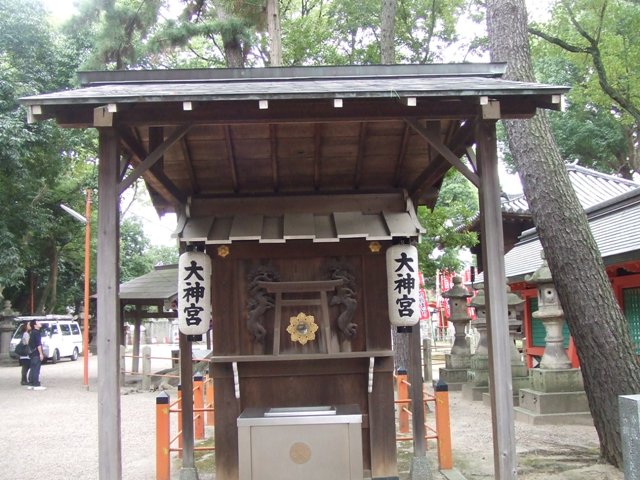 Amaterasu Omikami's "
go-shintai
" is Yatano Kagami, Yata's mirror.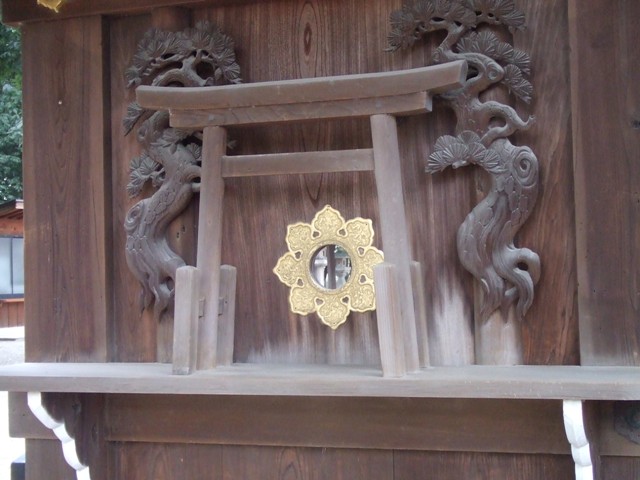 Separate to this harvest ritual, at Sumiyoshi Grand Shrine, there is "Niiname Festival" on November 23. It is the festival to give thanksgiving for the harvest.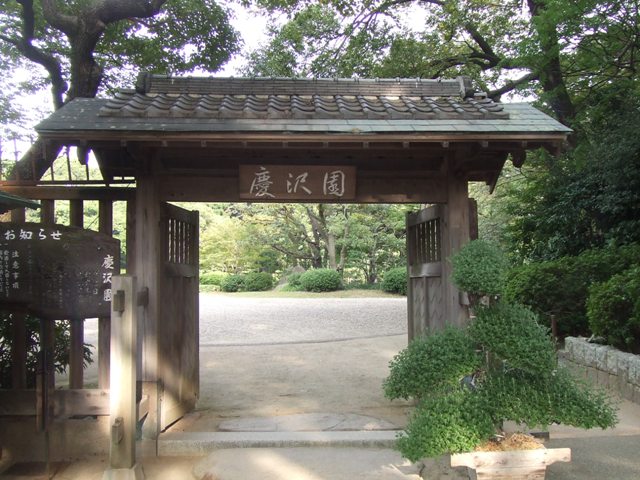 Next to Tennoji Museum, there is a Japanese garden "Keitaku-en" .
This garden was made in 1921, by Sumitomo Zaibatsu at that time, and later, it was dedicated to Osaka City in 1926.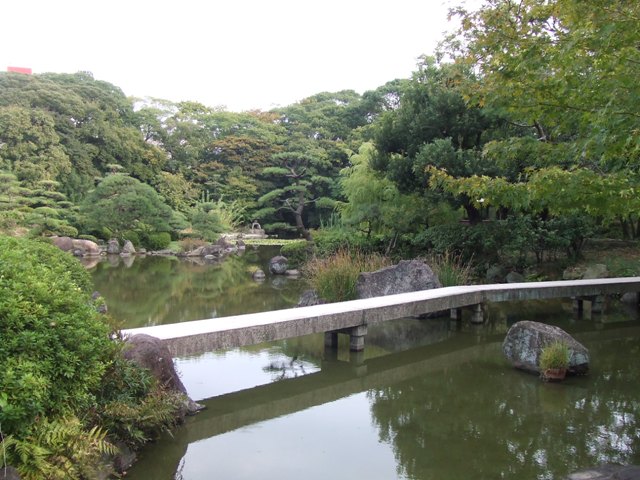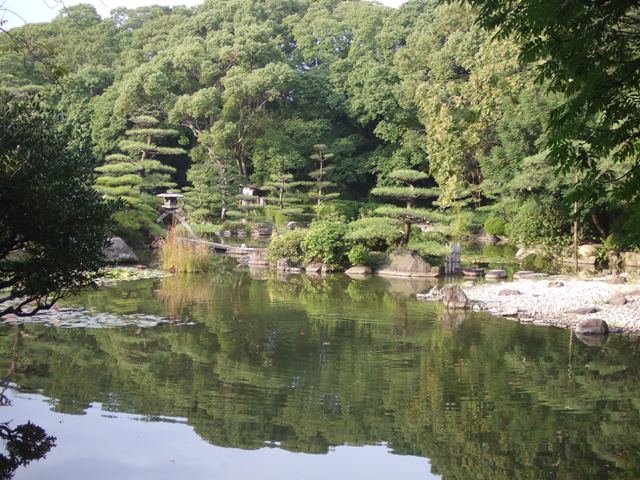 There is a hut called "Azumaya".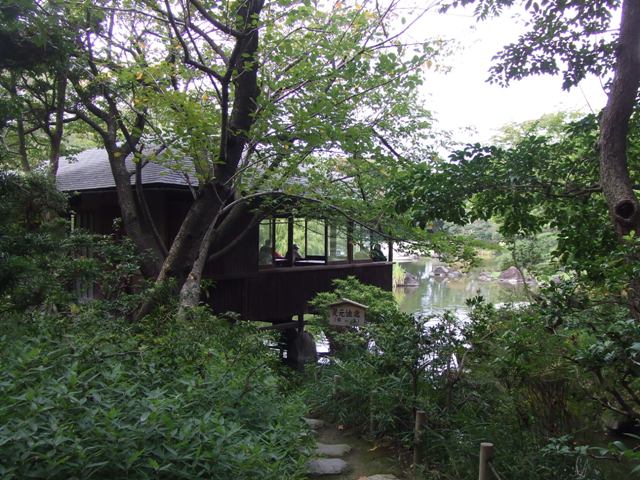 The view of the garden is spectacular from here. It's a good place to relax when few people are in.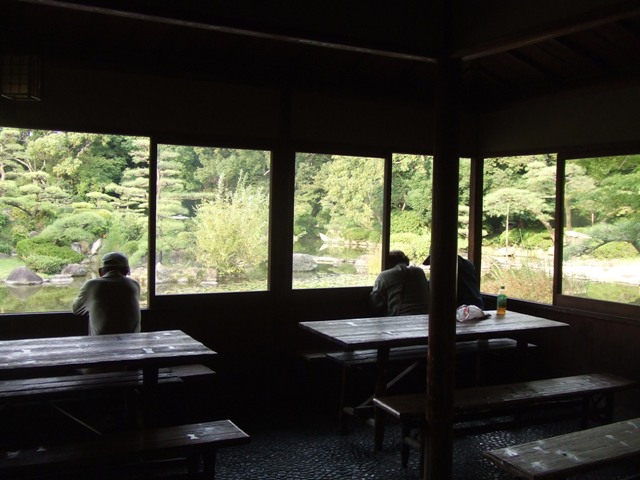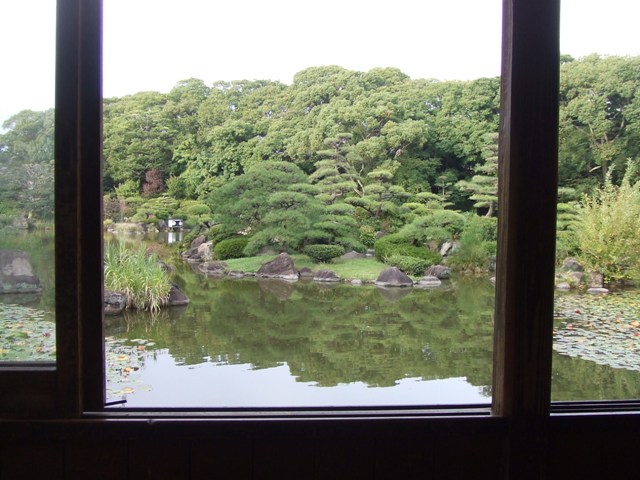 No additional fee is needed for Keitaku-en after you enter Tennoji Park.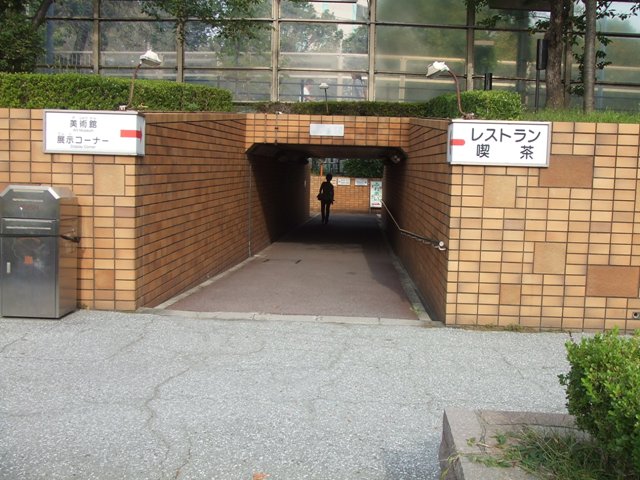 In Tennoji Park, go through the tunnel, and there is "Vermeer's Path", named in memory of Vermeer Exhibition in 2000.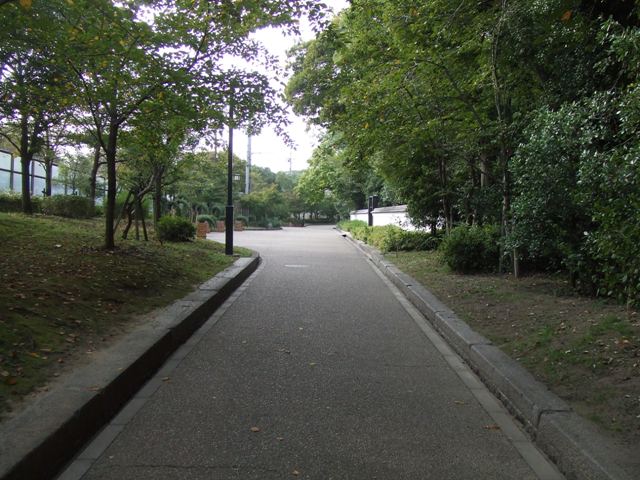 Go pass the gate. This gate is a remain of a part of Fukuoka Kuroda Clan's Storage house from Edo Period.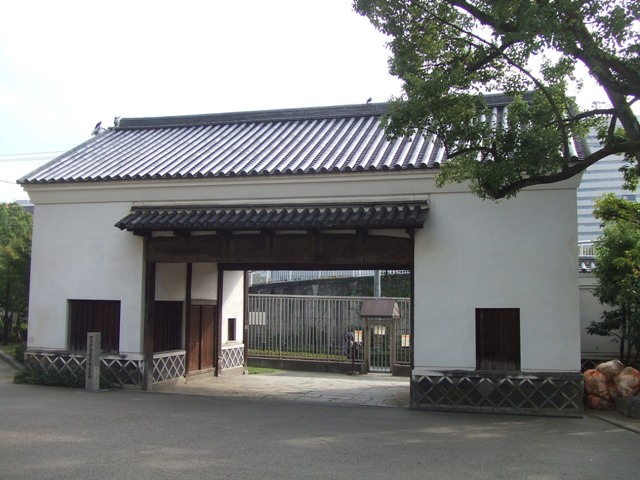 You reached "Osaka Municipal Museum of Art".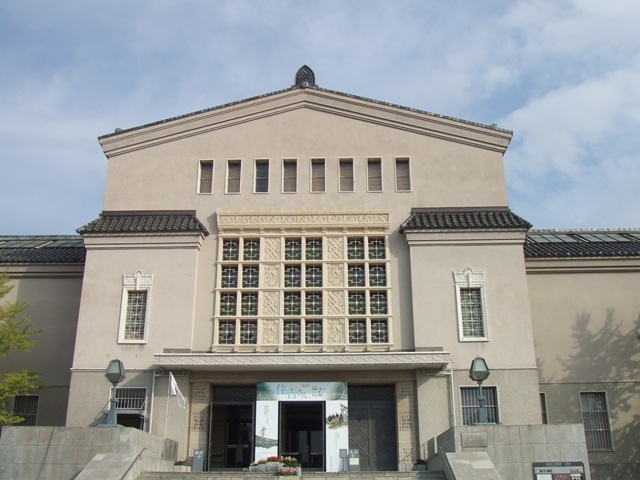 We call it "Tennoji Bijutsukan", which means Tennoji Museum.
Tennoji Museum is on Uemachi Plateau. You can see Tennoji Zoo below.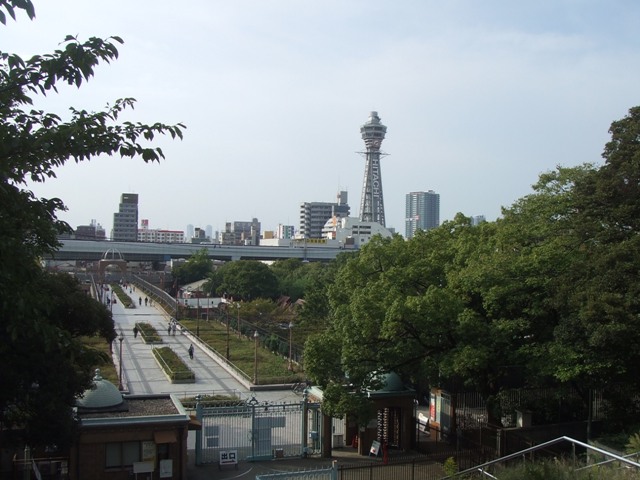 Now there is a special exhibition, "The Arts of Sumiyoshi Grand Shrine through the Ages". You need additional 1,050 yen to enter this special one.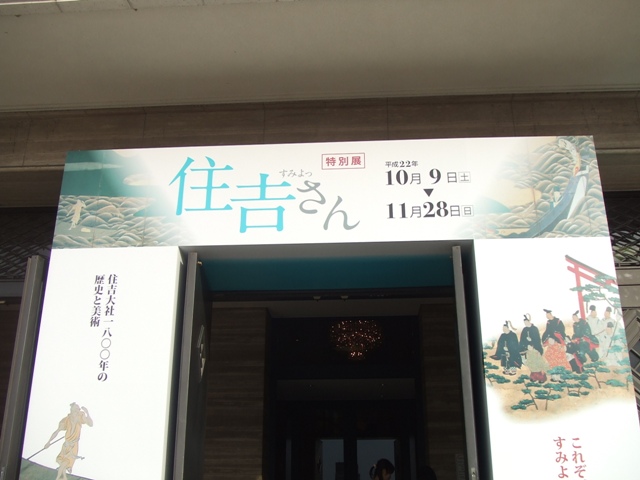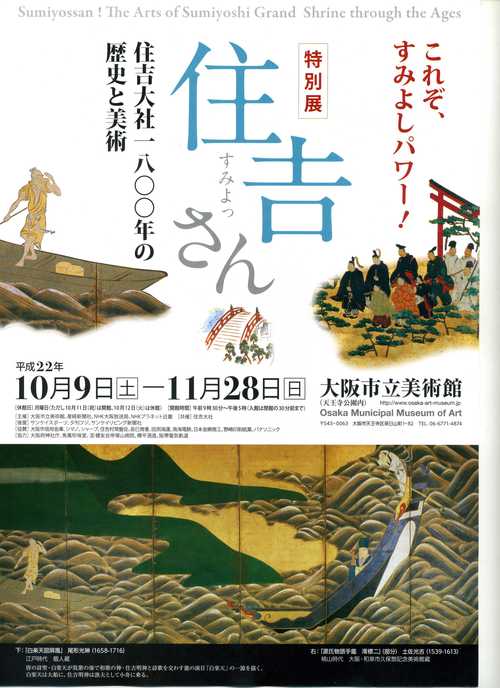 Sumiyoshi Grand Shrine is the shrine I usually go through when I commute. There are many "Sumiyoshi Shrines" in Japan. This Sumiyoshi Grand Shrine is like a head of all Sumiyoshi Shrines. From now on, I'd better call this shrine Sumiyoshi Grand Shrine to discriminate from other Sumiyoshi Shrines.
There are not only art works that Sumiyoshi Grand Shrine owns, but also the ones from museums all over Japan gathered to this museum during this period this time, until November 28th.
Photos are not allowed. So I bought three post cards.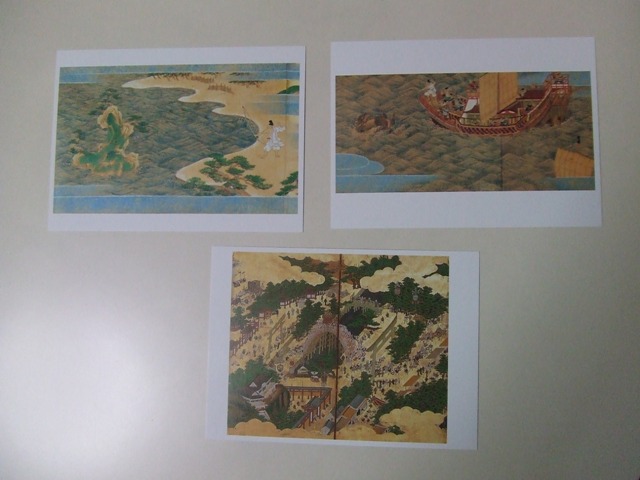 In Tennoji, a central part of Osaka City, if you pay 150 yen, you can experience a quiet and clean park with beautiful flowers.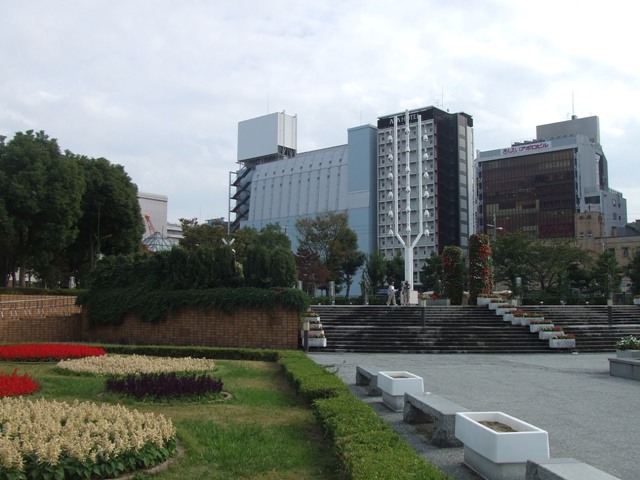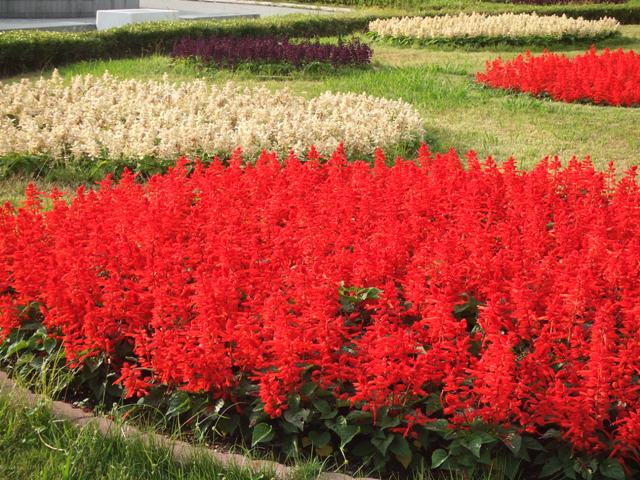 This big park is owned by Osaka City. For people who are under 15 years old, over 65 years old and disabled persons with ID living in Osaka City, admission is free.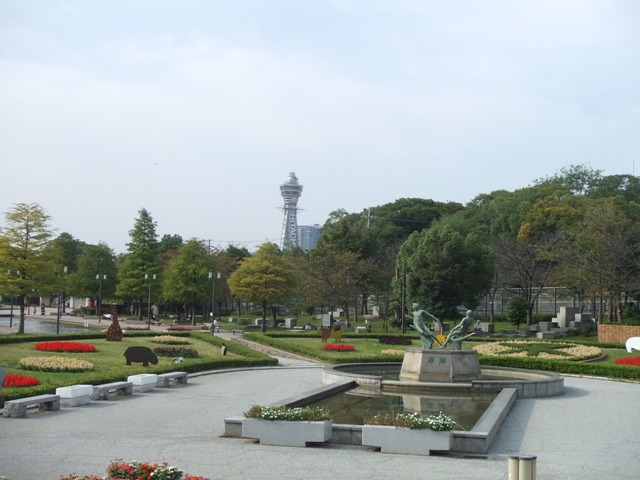 Since this park has a zoo next to this area, there are many animal shaped statues. (To enter the zoo, you need additional 500 yen. You can go to the zoo directly, if you just want to go to the zoo.)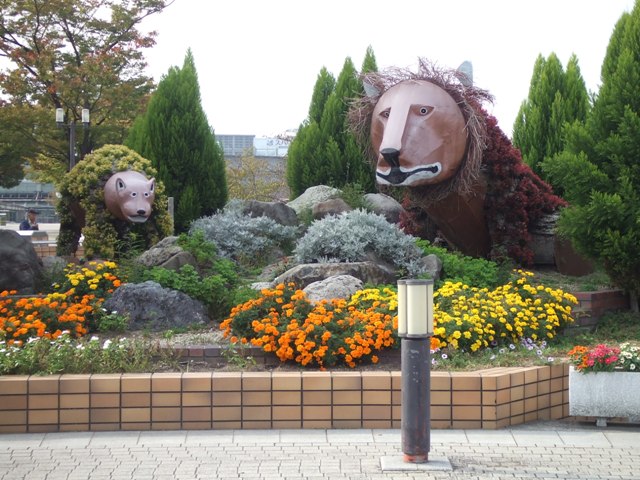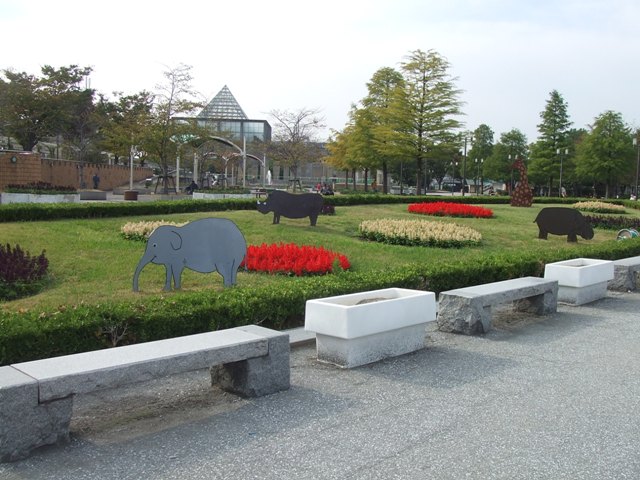 A few minute walk from JR and Subway Tennoji Station, and Abenobashi Station of Kintetsu Railway.
If you hear Asuka, many people think of Asuka in Nara. (I am talking about the name of the place.) In Japanese, we pronounce Asuka like "Aska" without "u" vowel.
But in Osaka, there is also a place called Asuka.
It is not scientifically proven that there was a capital in Osaka in 7th century yet, but it is highly possible. There is a ruin of a palace "Naniwano Miya" near Osaka Castle.
Asuka closer to Naniwano Miya used to be called "Chikatsu Asuka", and the one further from Naniwano Miya used to be called "Totsu Asuka".
Chikatsu Asuka is now around Taishi-cho, Kanan-cho of Minami Kawachi-gun and Habikino City in Osaka Prefecture. In Habikino City, there is still a name, Asuka ramained.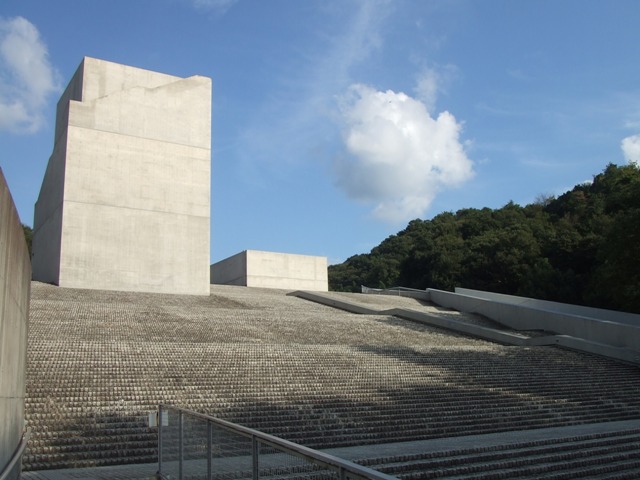 There is a museum, "Chikatsu Asuka Museum", which exhibits things found in Kofun tombs of 3rd to 7th centuries.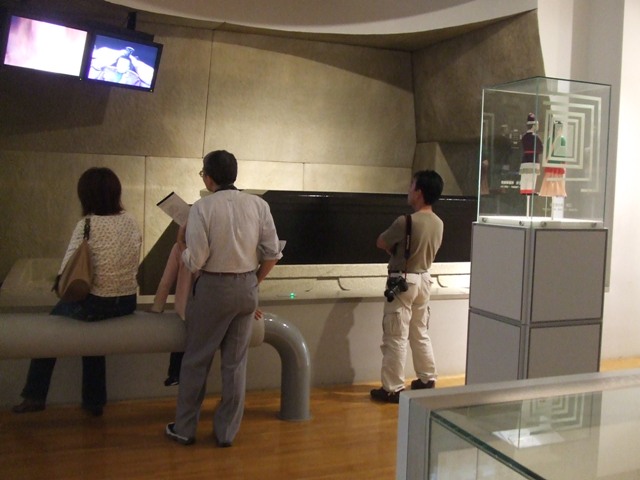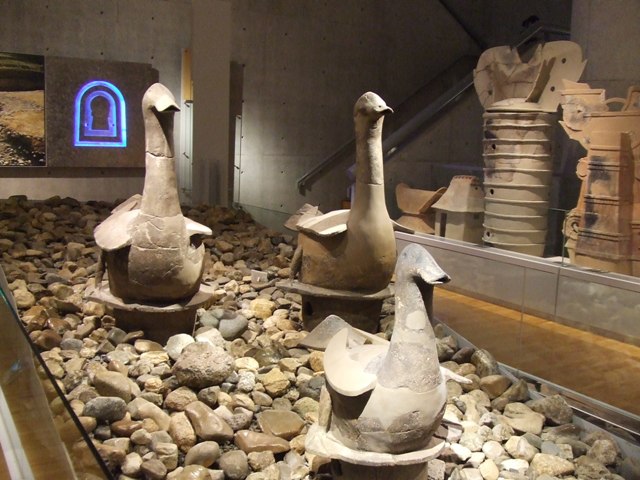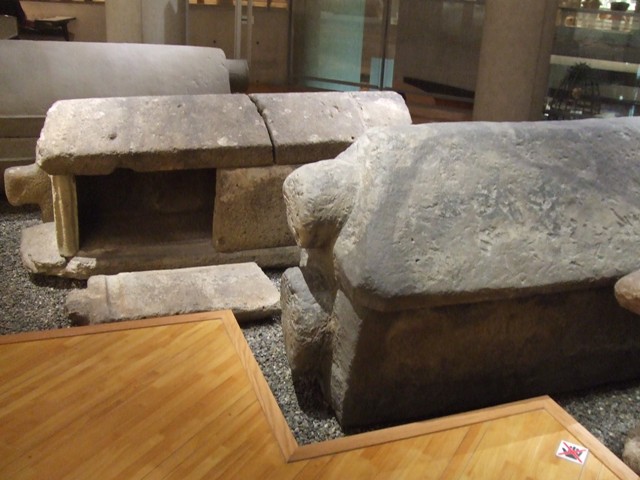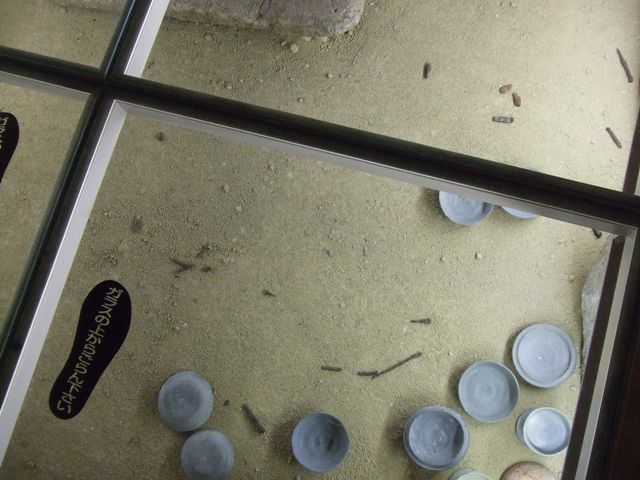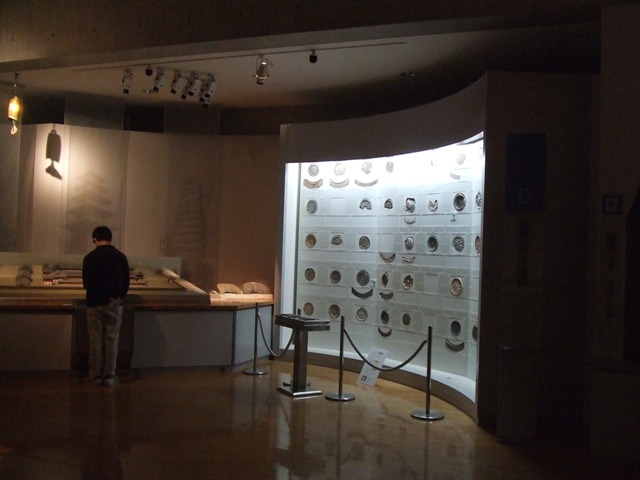 The building is designed by Tadao Ando, one of the top architects in the world. By the way, Tadao Ando is from Osaka.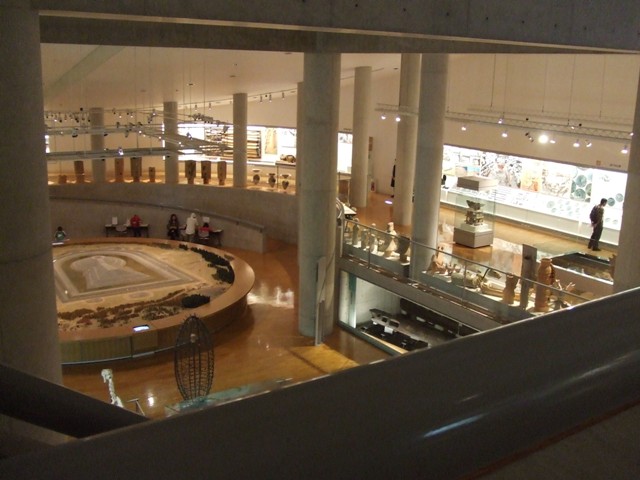 Photos are partially prohibited in the museum.
There are walking trails around this museum.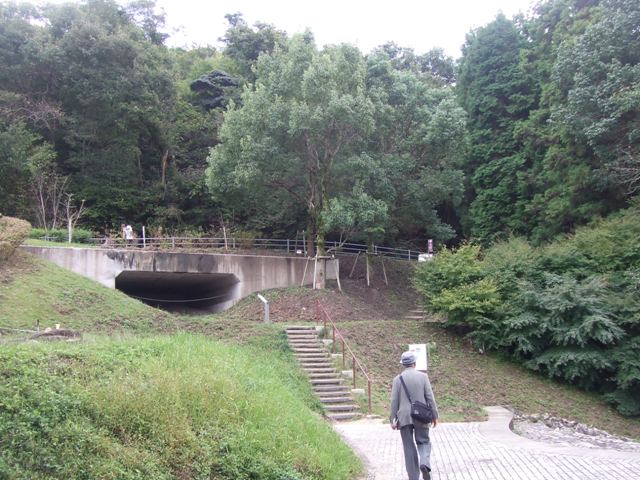 There are 102 smaller sized ancient tombs and you can see 40 of them.
From Kishi Station or Tondabayashi Station of Kintetsu Nagano Line, take the bus to "Hannan Neo Polis"(阪南ネオポリス).It takes 15 minutes from each station.
I went there by car.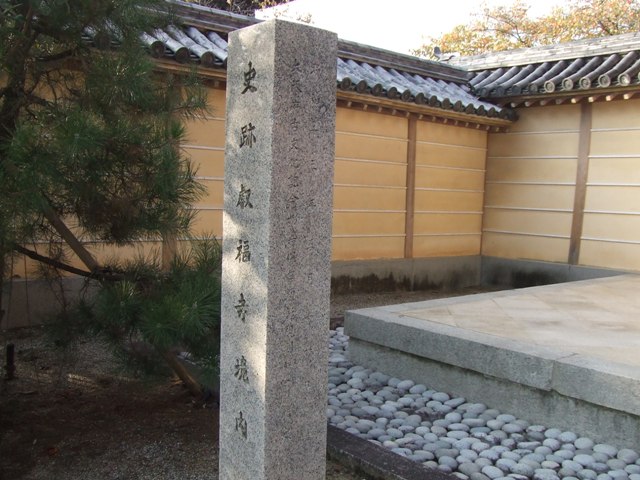 I went to Eifukuji Temple. It is in Taishi-cho, Minami Kawachi-gun in Osaka Prefecture.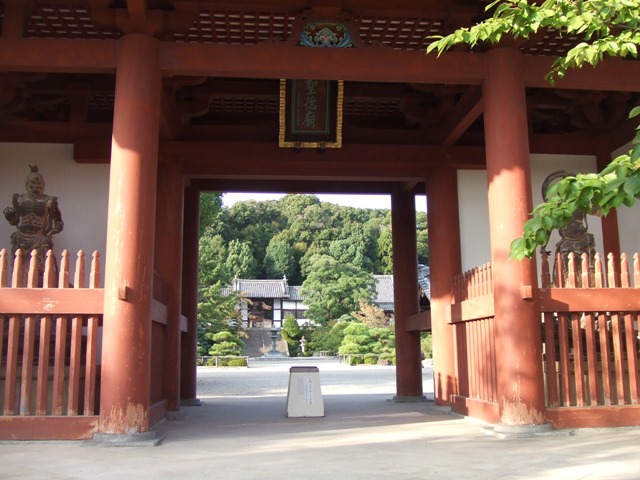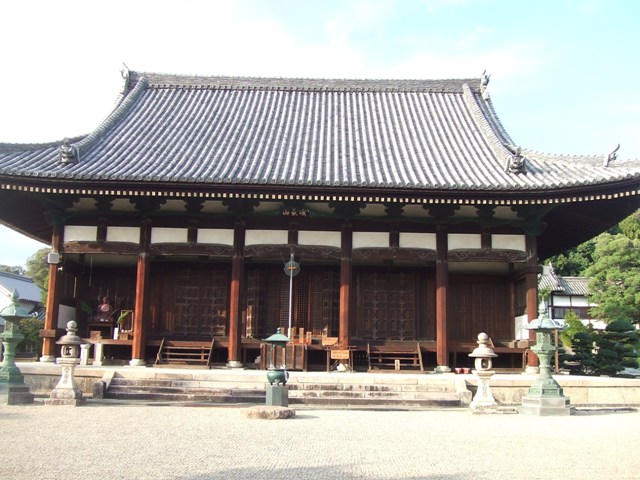 What is special Eifukuji for?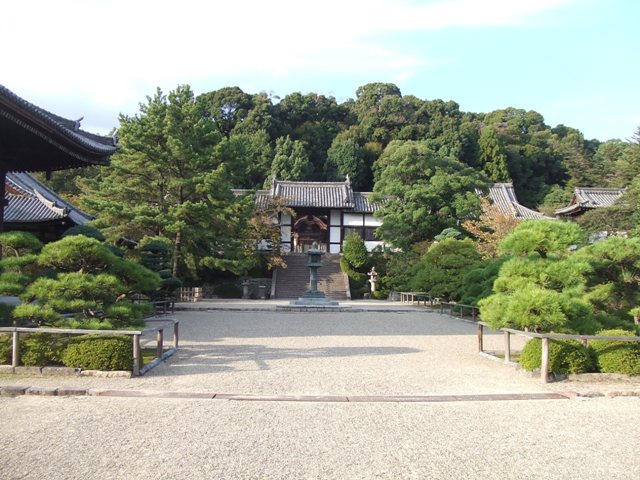 It has Prince Shotoku's tomb, The Mausoleum of Prince Shotoku.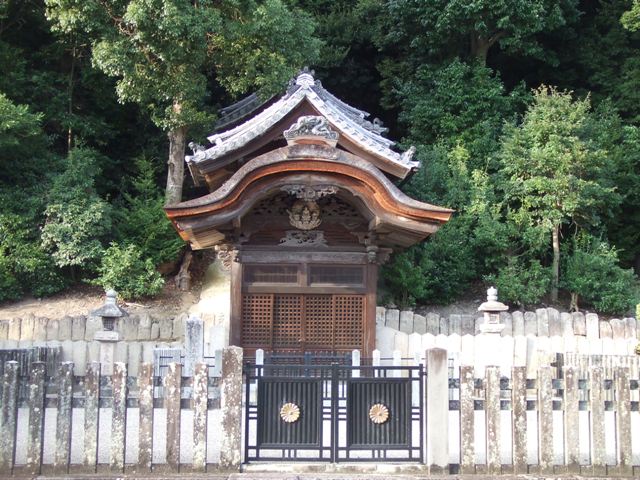 We call him "Shotoku Taishi", the town where there is his mausoleum, Taishi-cho, is named after Prince Shotoku, Shotoku Taishi.
He established
Shitennoji
in Osaka City in 593 A.D, as well as other importanta temples including Horyuji Temple in Nara.
He was a politician, who governed the country as Regent of Empress Suiko, enacted the Seventeen Article Constitution in 604.
He is still widely respected.
There buildings are designated "Important Cultural Assets):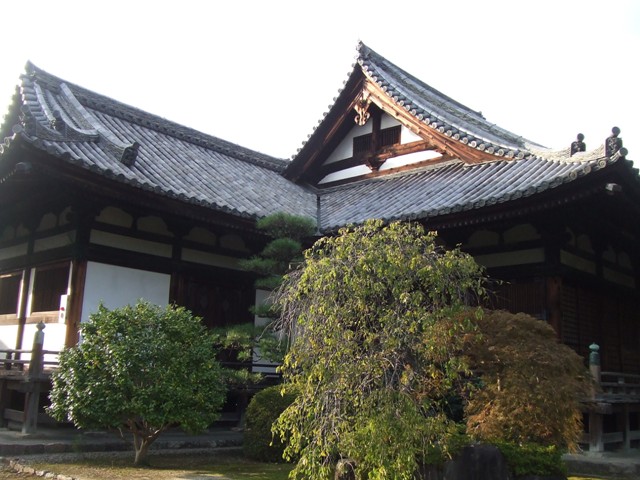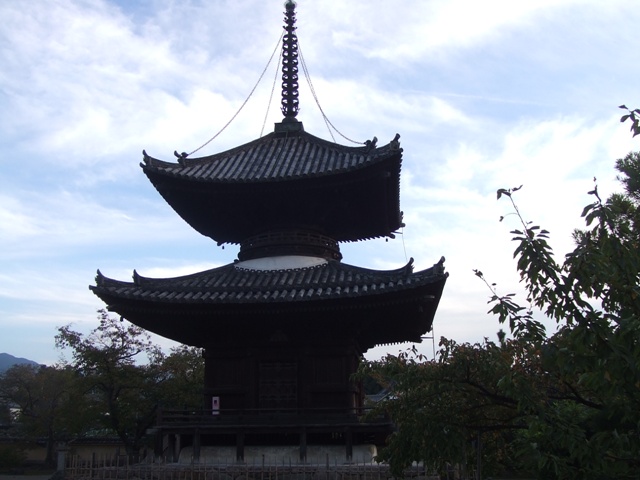 Views Eifukuji Temple and its surrounding area: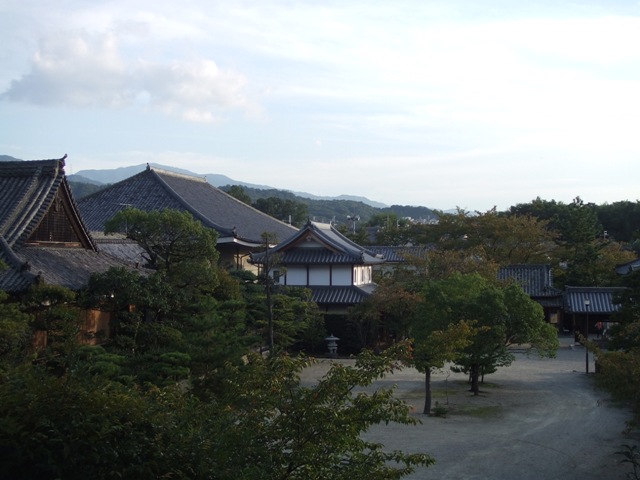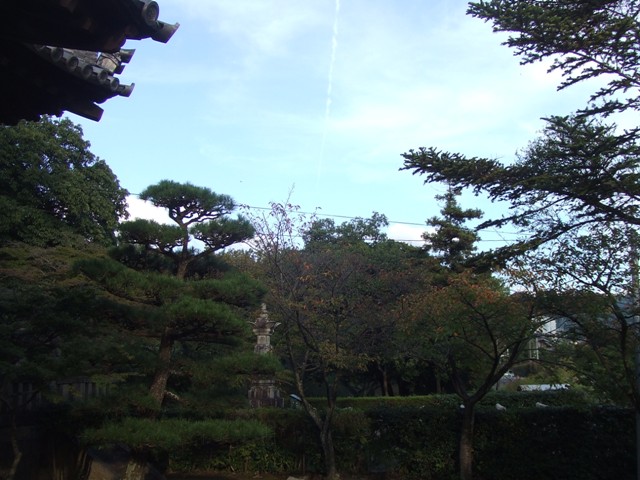 It is very quiet here.
Good for walking
from Kamino Taishi Station of Kintetsu Minami-Osaka Line which originates from Abenobashi Sation near JR and Subway Tennoji Stations. There are many hikers.
There is also a bus from Kamino Taishi Station and from Kishi Station of Kintetsu Nagano Line to Eifukuji Temple.
I went there by car.
Shitennoji is a Buddhist temple, and it is said that Shotoku Taishi (Prince Shotoku, 574~622 A.D.) established this temple. This is the oldest temple in Japan, but unfortunately, many of the buildings of this sacred place were burned down because of several attacks including the attack during the World War II.
The buildings were reconstructed, however, and you can see the temple like the way it used to be… except for the surrounding high-rise buildings.
Shitennoji is a Buddhist temple, but there is torii. Torii is a gate seen at the entrance of Shito Shrine.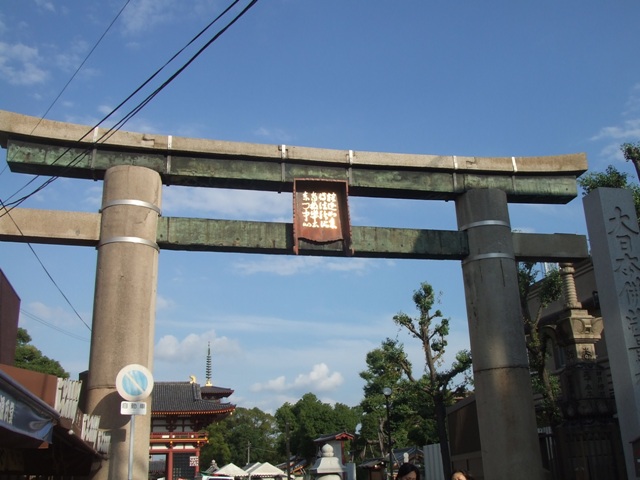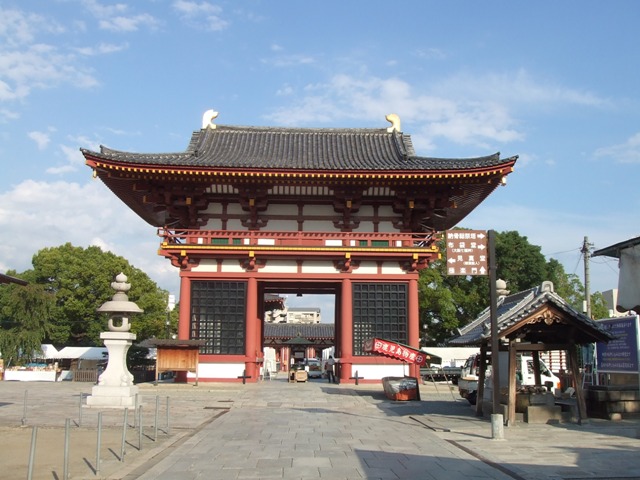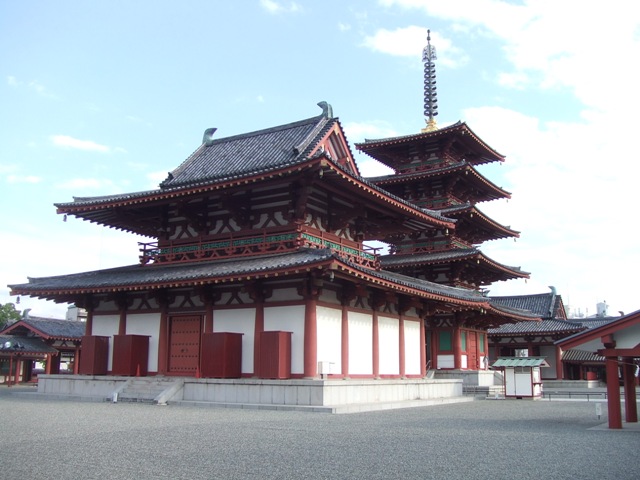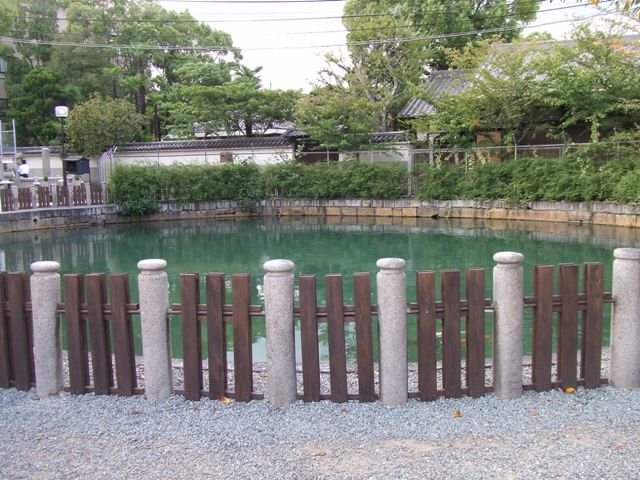 In front of the old temple building, there is Ishibutai, a stage made of stone. This is one of the most notable stages in Japan. The others are in
Sumiyoshi Shrine
in Sumiyoshi-ku, Osaka, and Itsukushima Shrine in Miyajima, Hiroshima Prefecture.
Dancing is dedicated on April 22nd here at Shitennoji Temple.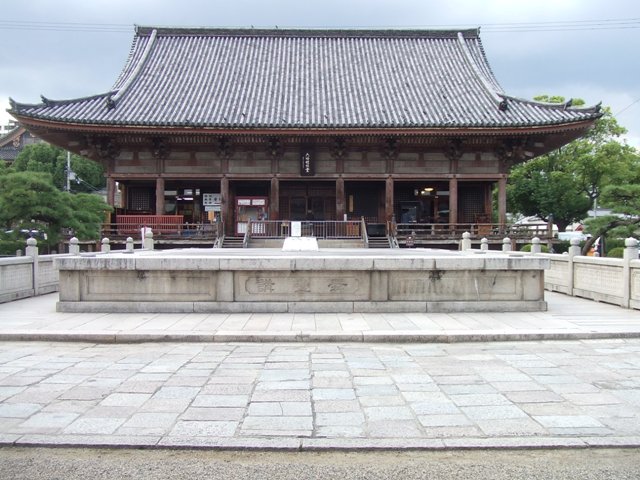 Kamei-do: Turtle Fountain