This is an incredible place where you can experience the luxuriouslife back in Edo period about 250 years ago.
In Edo Era, Osaka was the centeral business place in Japan.
Kagaya Jinbei was one of the successful business people; he was like abanker in those days.
After he retired, he devoted to develop the rice fields.
The newlydeveloped rice fields were called "Shinden".
There are four Shindens, including Kagaya Shinden, remained inOsaka Prefecture.
Kaisho means a gathering place.
It was also Kagaya Family's villa by the sea.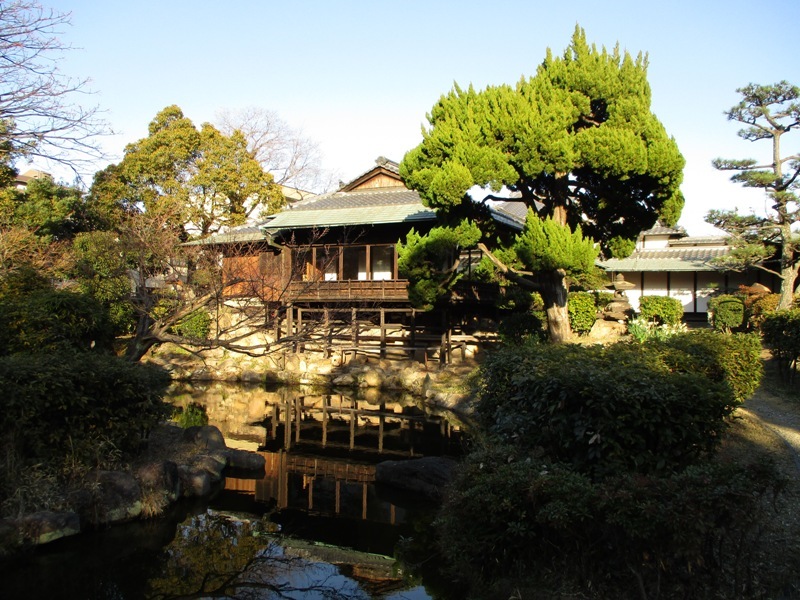 The gate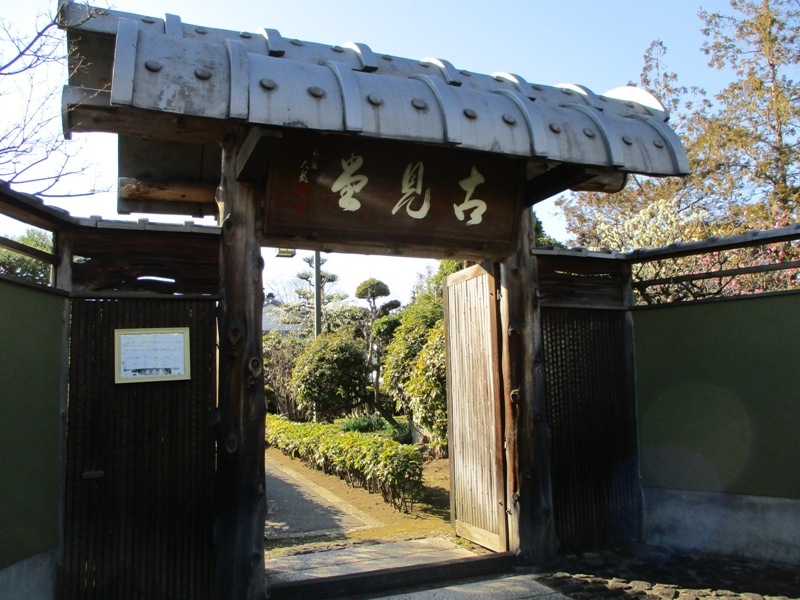 Sward rests at the entrance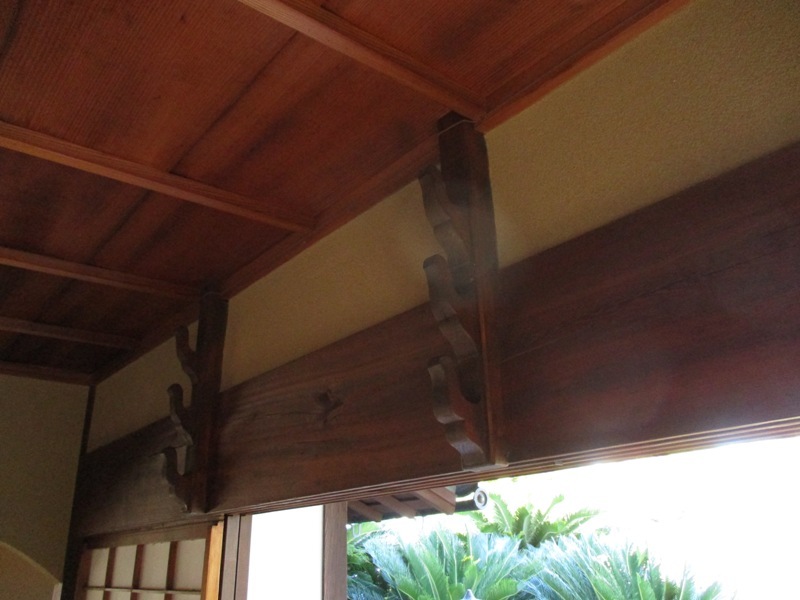 Zen style window.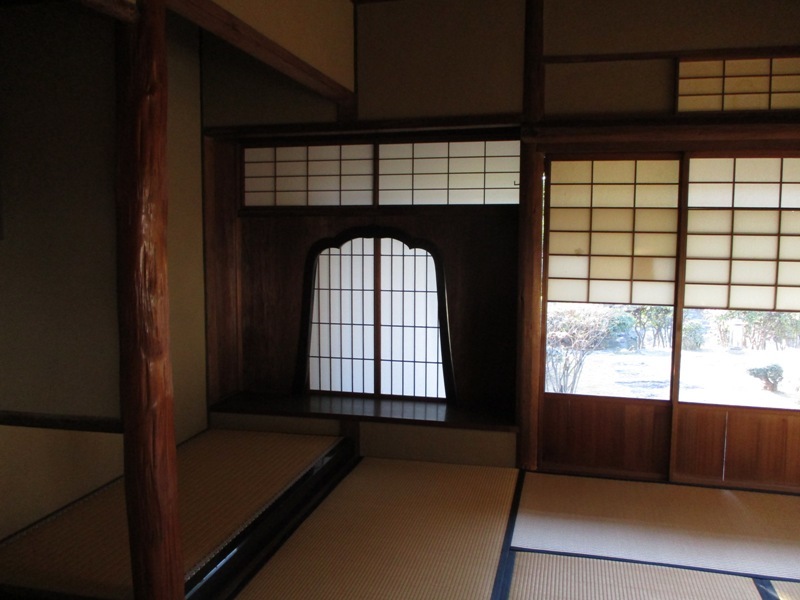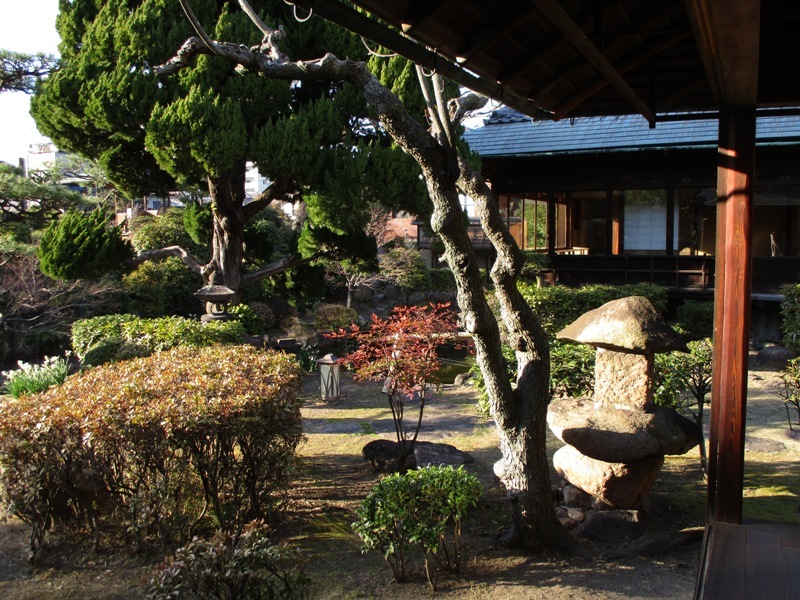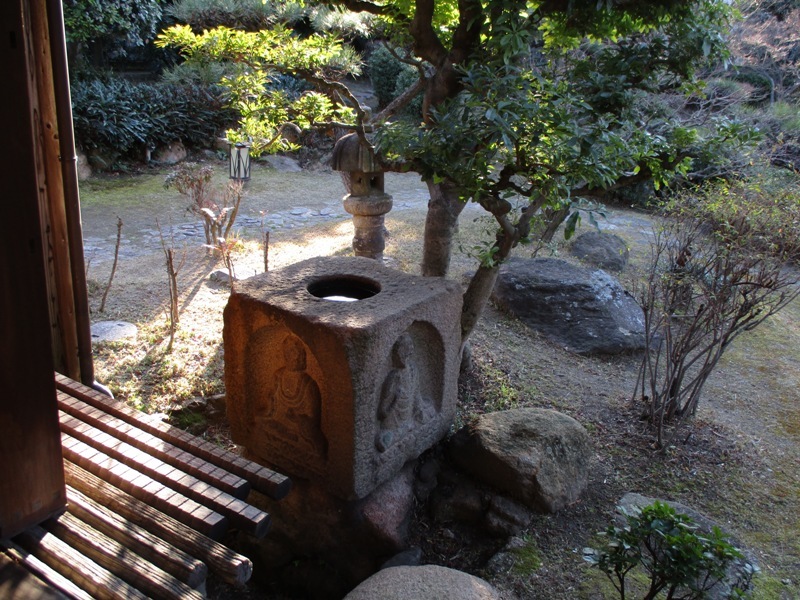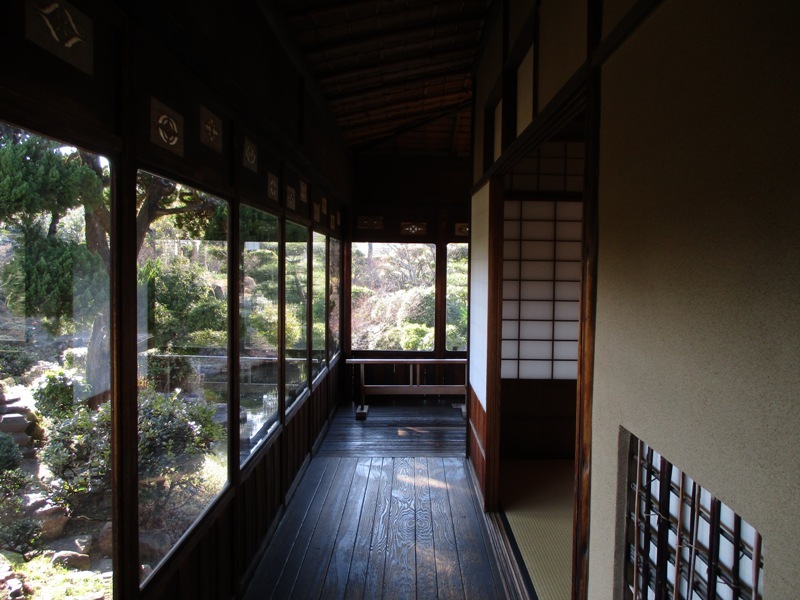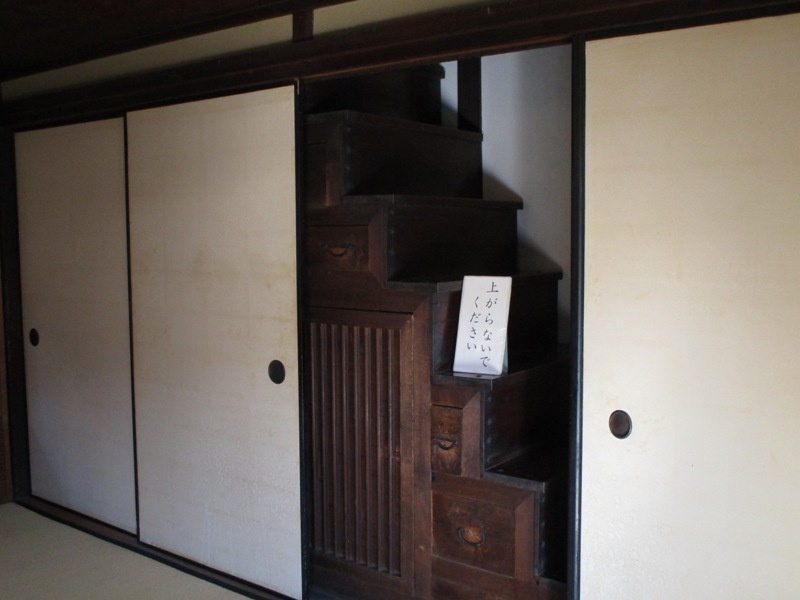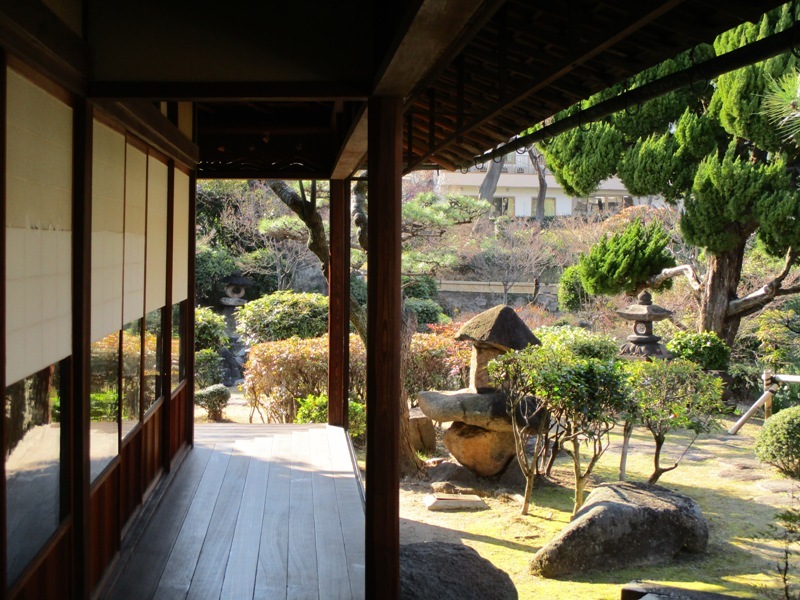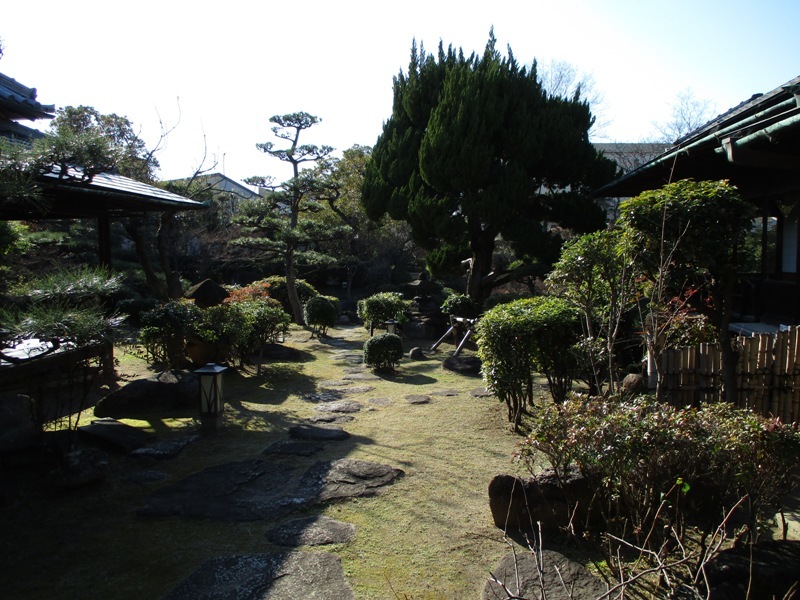 The sliding panel paintings are from 400 years ago.
Now it's got pale but was painted with gold powder.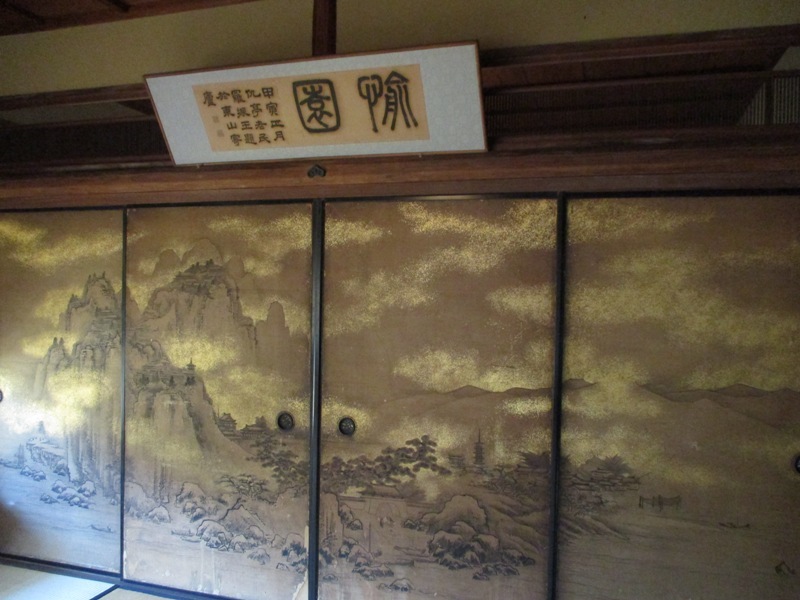 View through the kitchen door.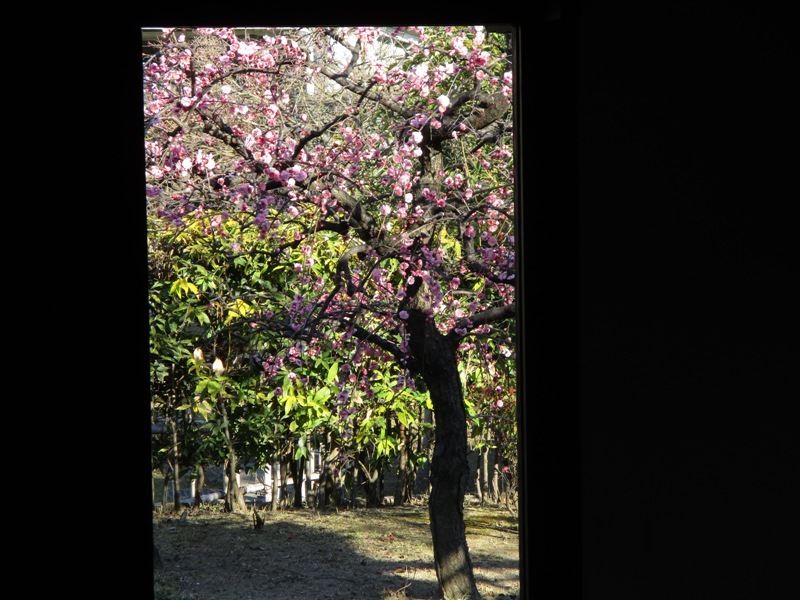 This stream used to be connected to one of canals which broughtthem to Minami Area, such as Namba, Dotombori maybe for business, orentertainment.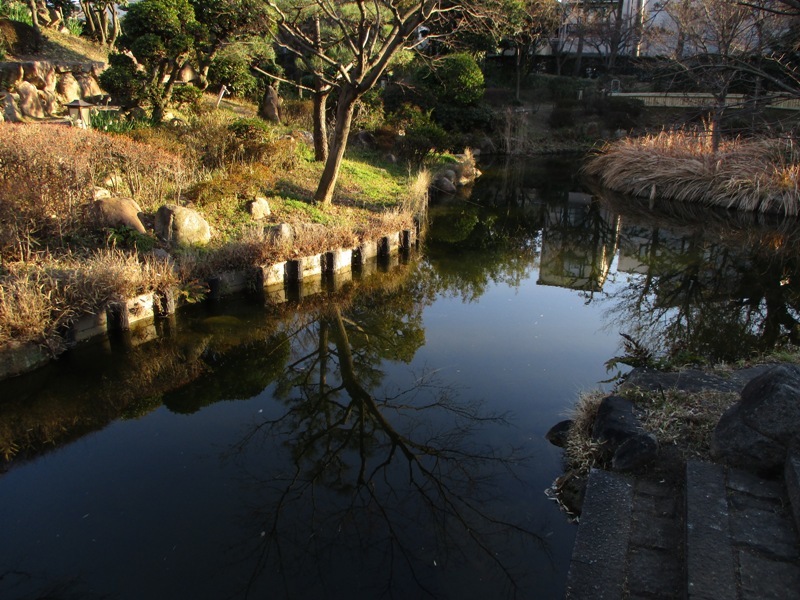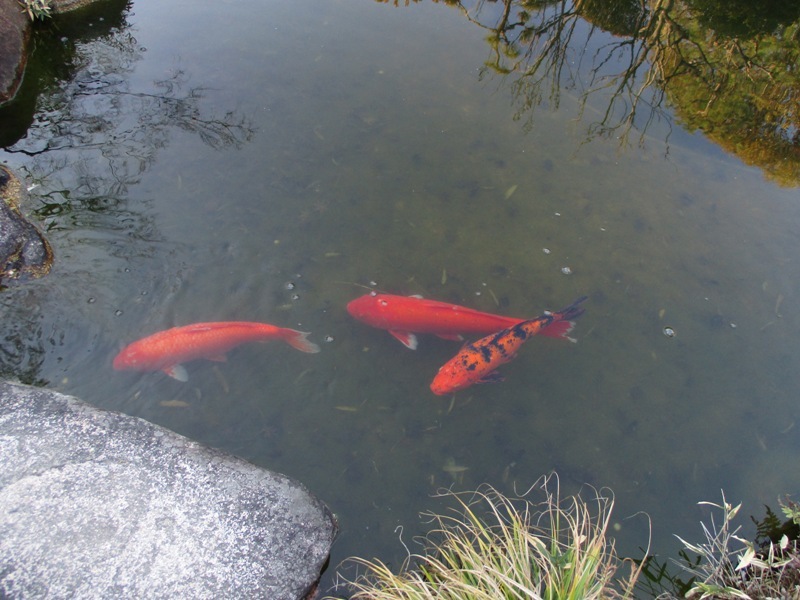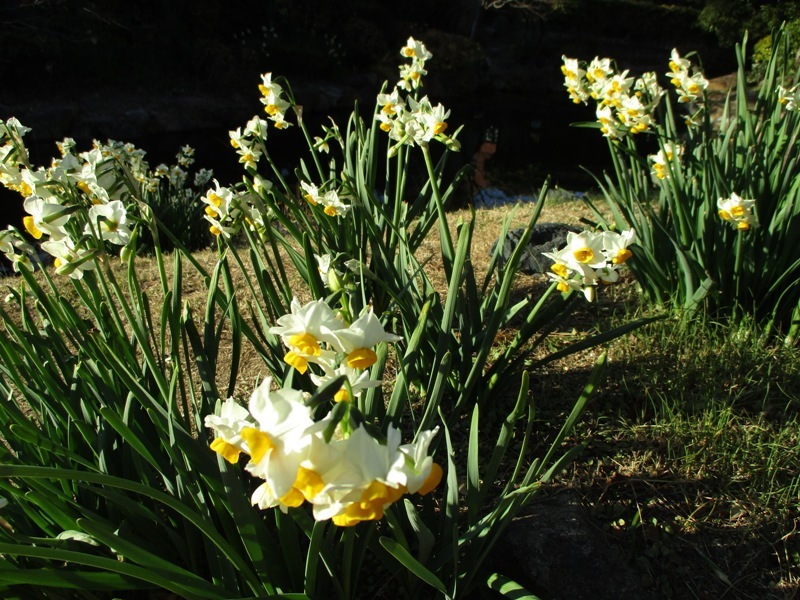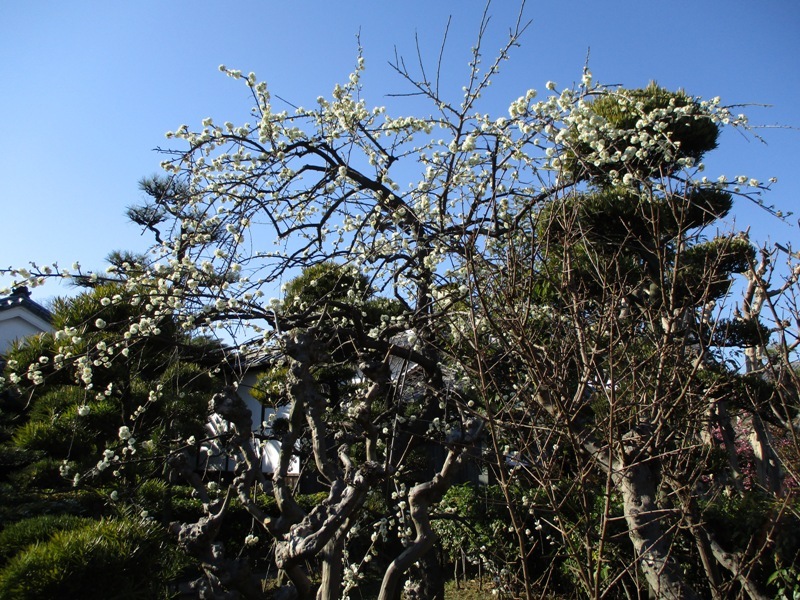 The waiting place for tea ceremony.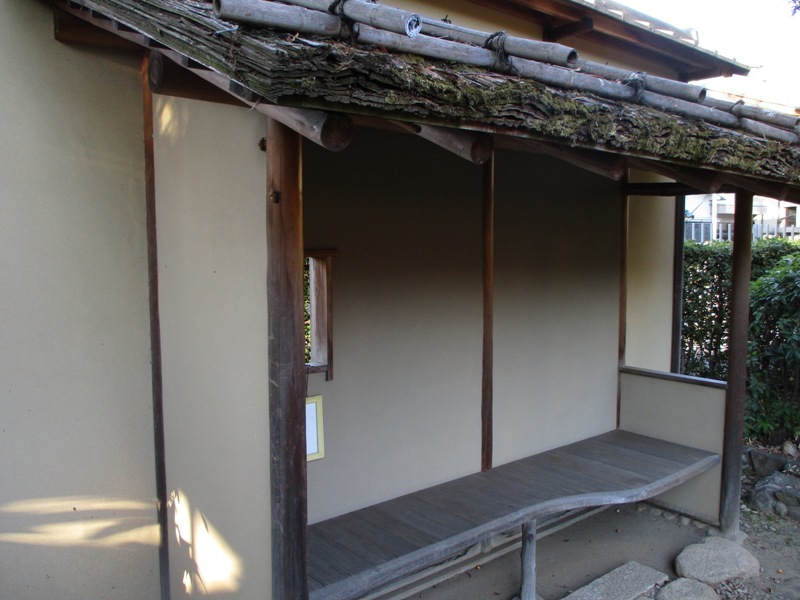 His name Kagaya, is now the name of the town.
Admission Free
Now the property is owned by the City of Osaka.
4-8-7 Minami Kagaya, Suminoe-ku, Osaka City
About 15 minute walk from Abikomichi Station of Hankai Tramway (Nickname:Chin-Den)
About 17 minute walk from Suminoe Koen Station of Subway Yotsubashi Line(Yotsubashi Sen)
About 20 minute walk from Suminoe Station of Nankai Main Line (NankaiHonsen)
Maybe these old houses were built a hundred and some decades ago.
Kishu Road is well known for old houses but this narrow street is just one block west to it.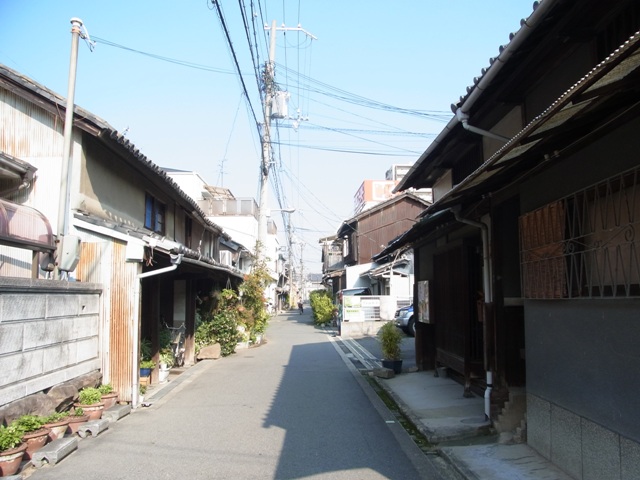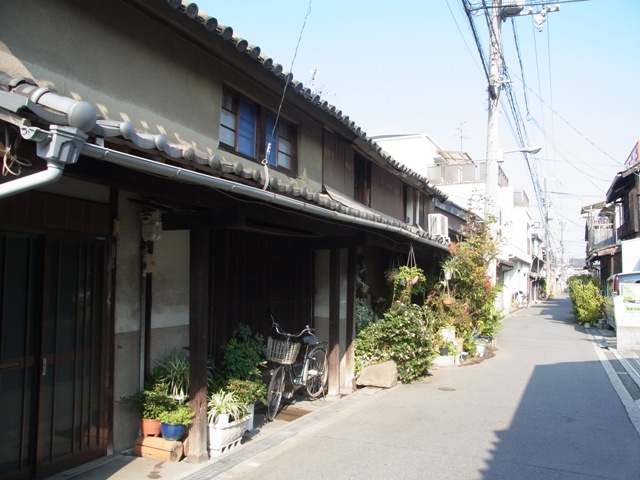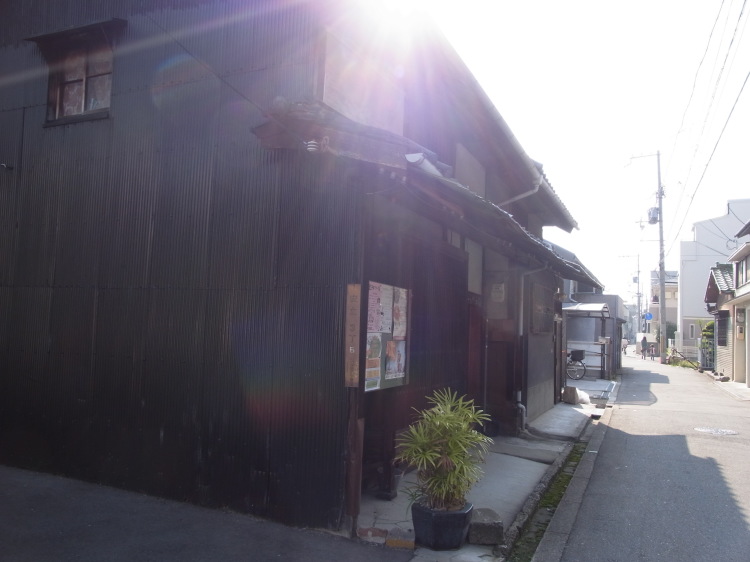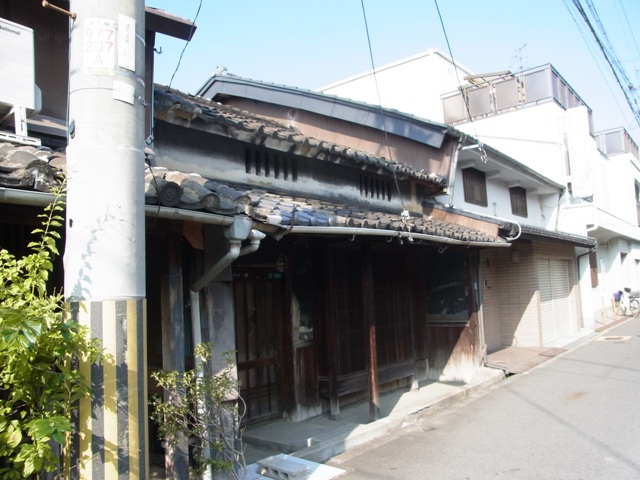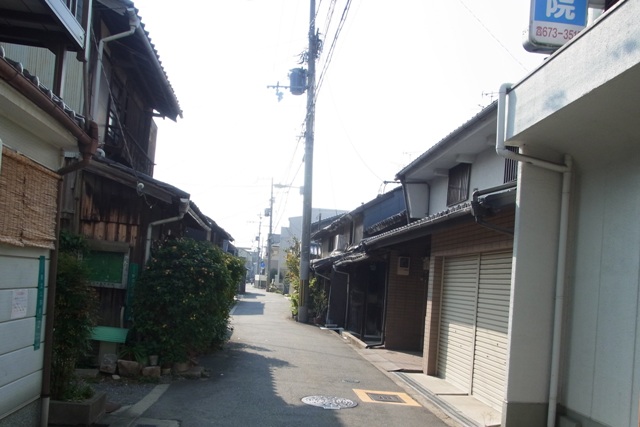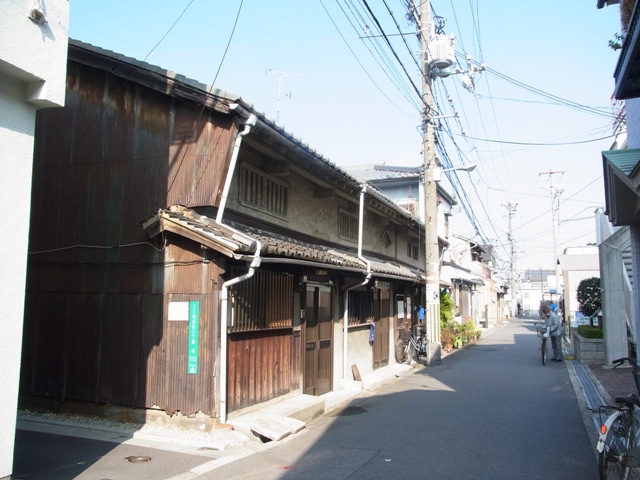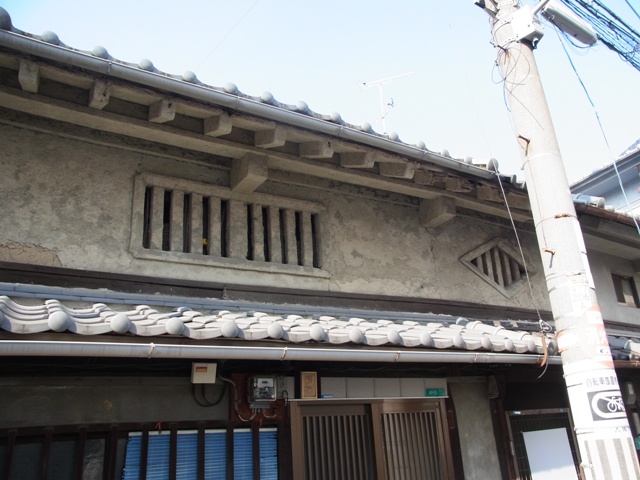 Beautiful cats!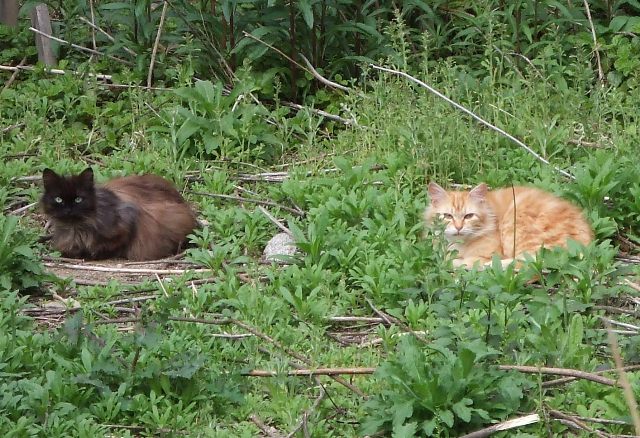 It was a "Cats' Meeting", beside the road which I usually don't take: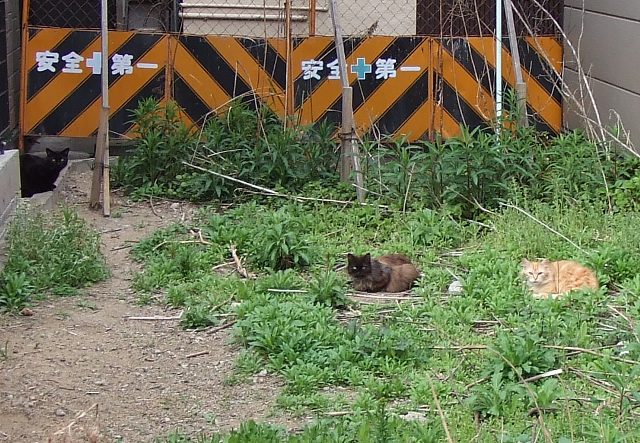 Kishu Road is an old road. People used this road to go worshiping Sumiyoshi Shrine, and the lords of Kishu-han, one of the territory of Tokugawa clans, used this road to go back and forth between Kishu, now it's Wakayama, and Edo, Tokyo.
There is a tunnel alley in the shopping center on Kishu Road.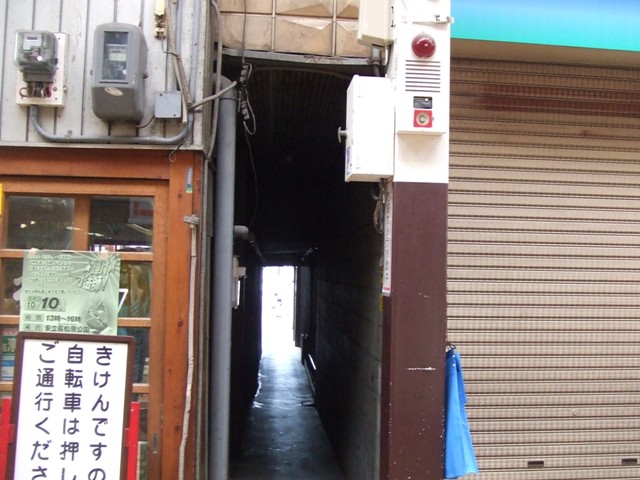 One block away from kishu road, there are still old houses remained.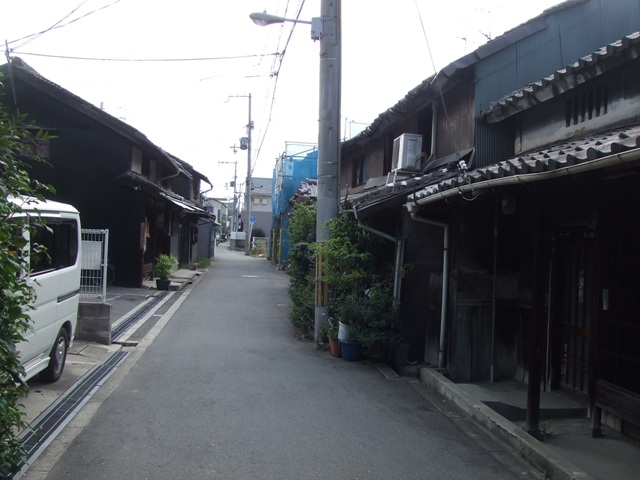 There is an alley though a house, but now it is locked for security.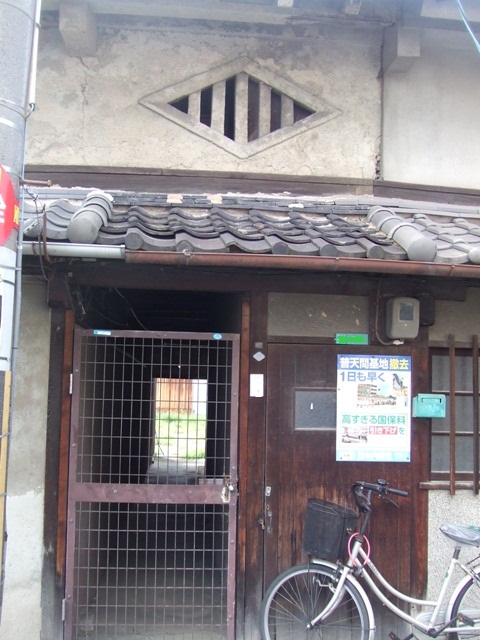 This style of row houses were built until 1909 in Osaka. We can still see some along or near Kishu Road and Kumano Road.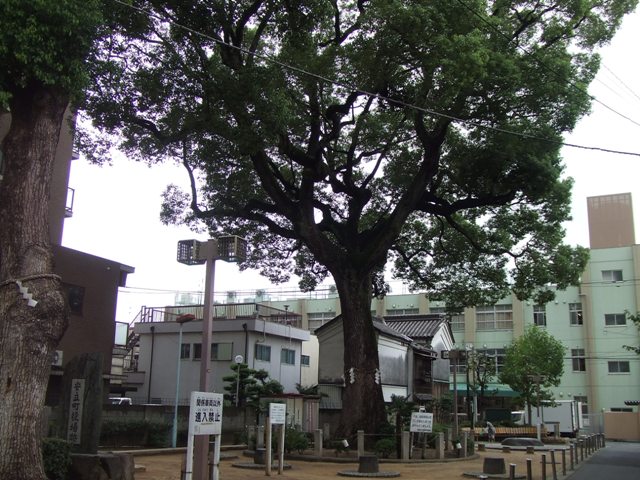 Even at a small park like Arare Matsubara Park, there is going to an event on Sunday, October 10 from 1:00 p.m. to 4:00 p.m.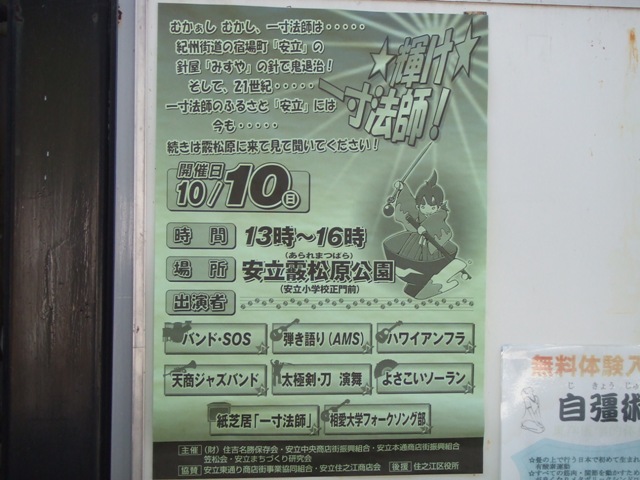 The illustration on the poster is Issun-boshi, who appears in an old fairy tale. An old couple, who could not have a child, prayed for a baby at Sumiyoshi Shrine, and they were given Issun- boshi. Issun is about 3 cm, a little more than an inch.
Around Arare Matsubara Park, a town of Anryu, is Issun-boshi's hometown.
You can experience an old-style picture-story show about Issun-boshi at this event (in Japanese)!
Also there are many music performances, Hula, and Japanese folk dance.
Arare Matsubara Park is about 5 minute walk from Anryu-machi Station of Hankai Line, 5 minute walk from Suminoe Station of Nankai Main Line.
On Kishu Road, there is a park called Arare Matsubara. Matsubara means pine tree field, and it tells that there used to be a beach with beautiful white sand around here. In 706, Emperor Monmu's son, Naganomiko, visited here and his song is appeared in Manyoshu, the oldest existing collection of Japanese poetry.
Monument of Naganomiko's poet: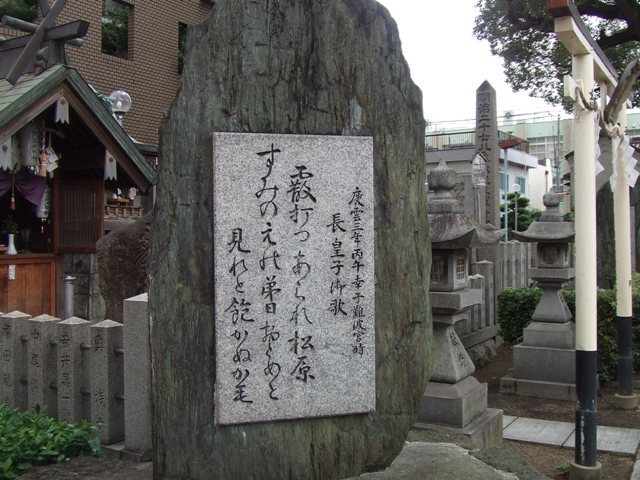 There is a vestige of the Shrine, Amenomikomaritoyouranomikoto Shrine.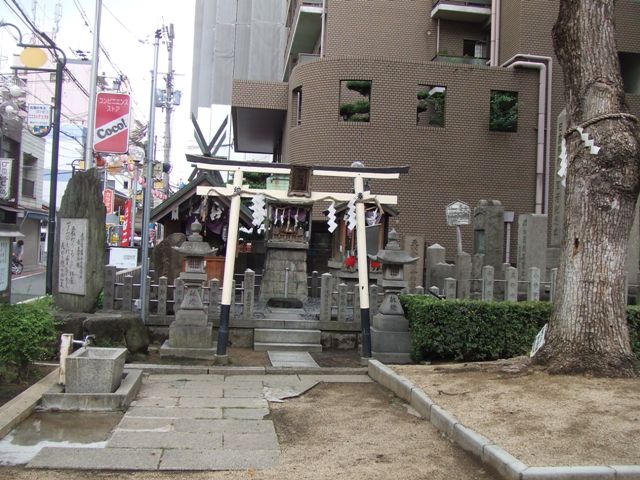 Now this shrine is moved to a corner of the precinct of
Wakamatsu Shrine
.
Walk along the Kishu Road to the south, and there is a shopping center. Along this road, some old houses are remained.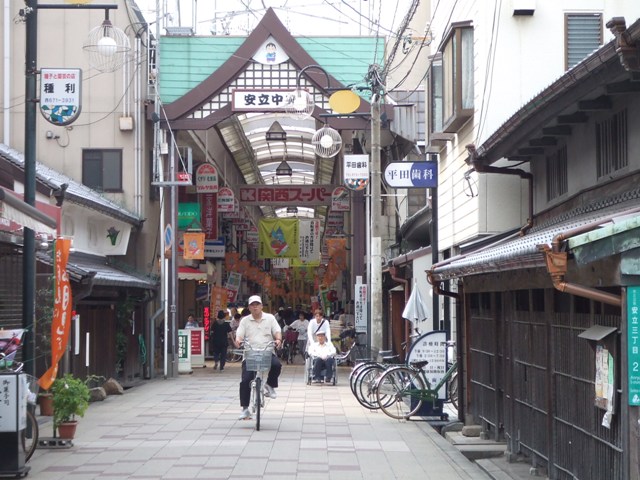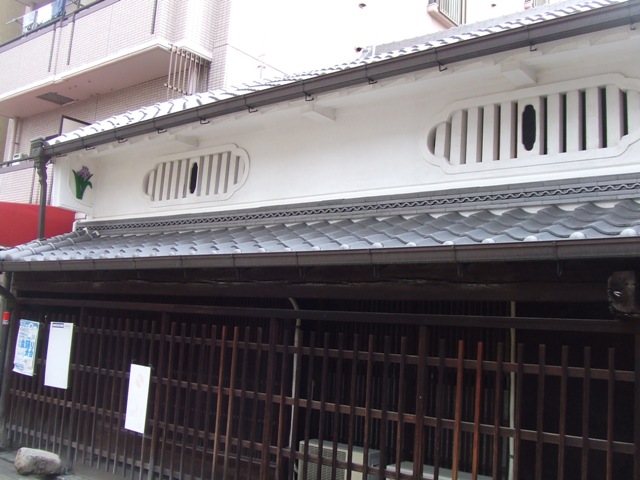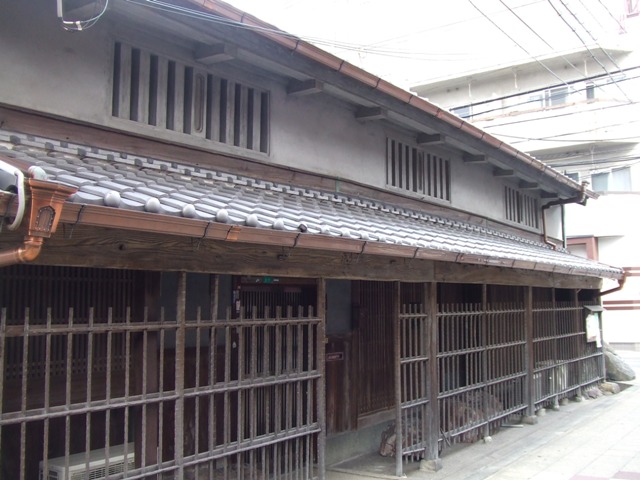 From Arare Matsubara toward west to Suminoe Station, there are houses with old storehouses,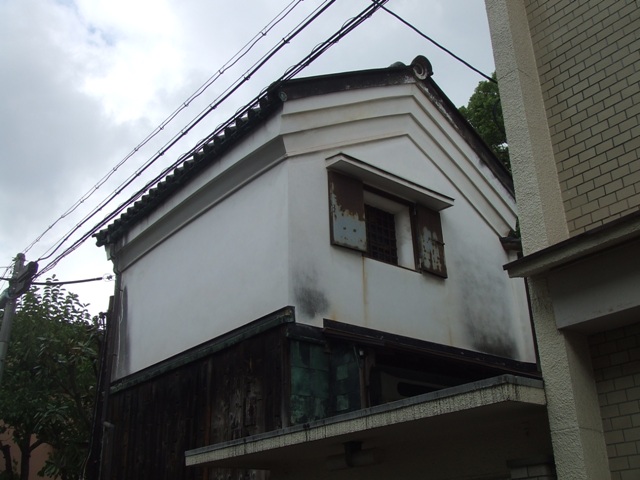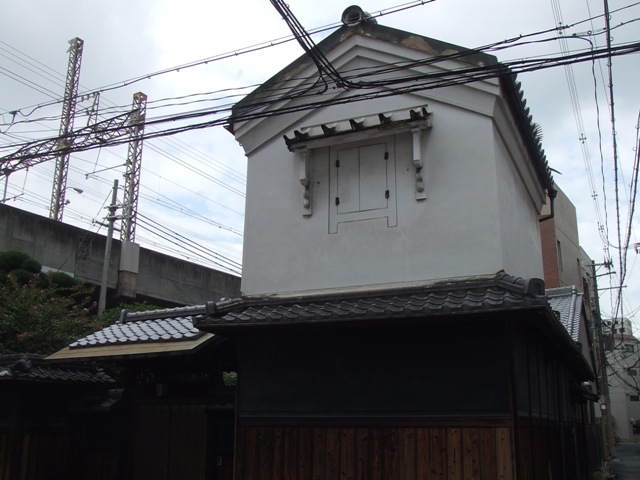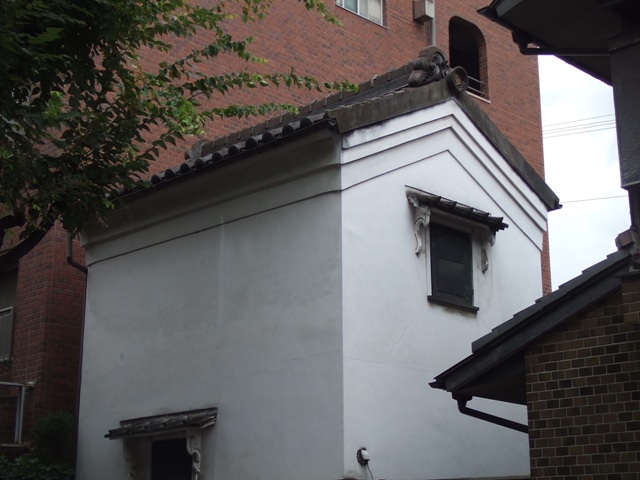 and an old house like this.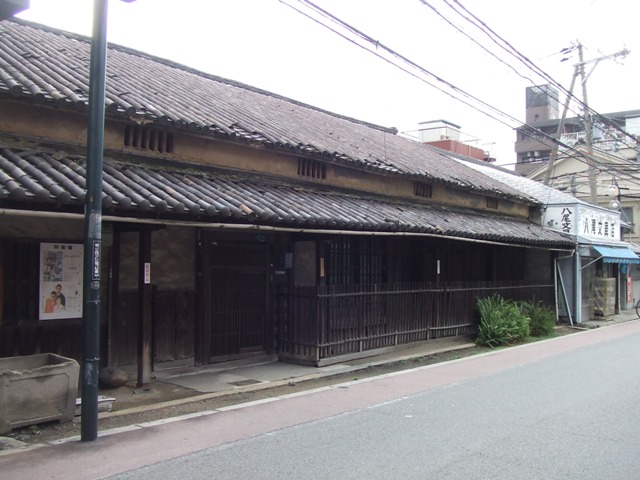 "Terraced house". It's definitely sounds better than "row house".
In southern part of Osaka City, in Nishi-Suminoe, southeastern part of Suminoe-ku, there are terraced houses built 70 or 80 years ago.
In southwestern part of Sumiyoshi-ku, which is next to southeastern part of Suminoe-ku, there are some terraced houses built at the same age, but they are renovated and are not as well preserved as the ones in Suminoe.
This terraced house is amazingly well-preserved. It appears exactly like the way it used to be.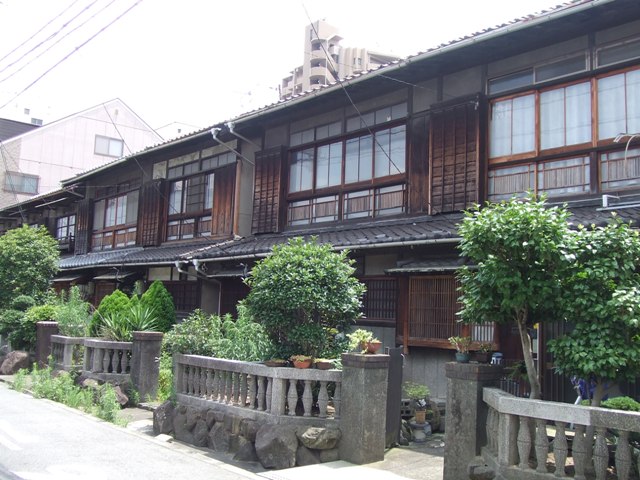 Other terraced houses in Nishisuminoe: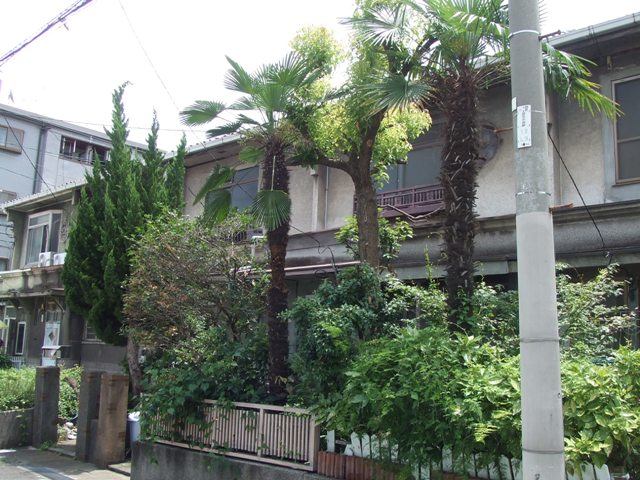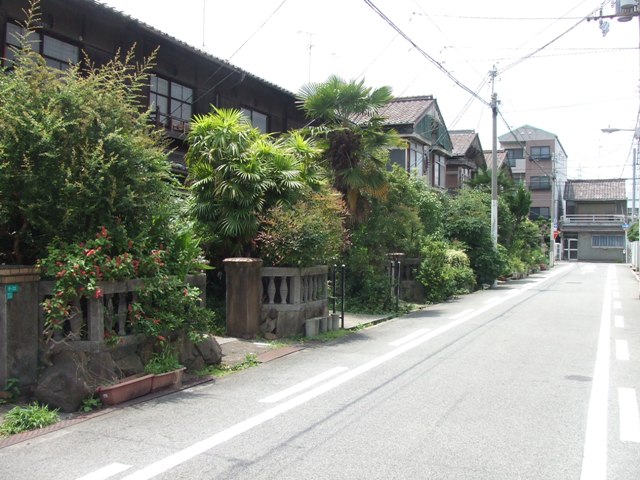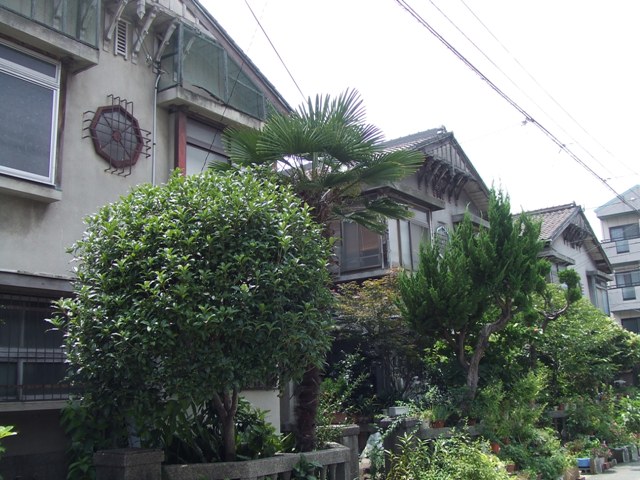 "Western" style terraced house which has balcony: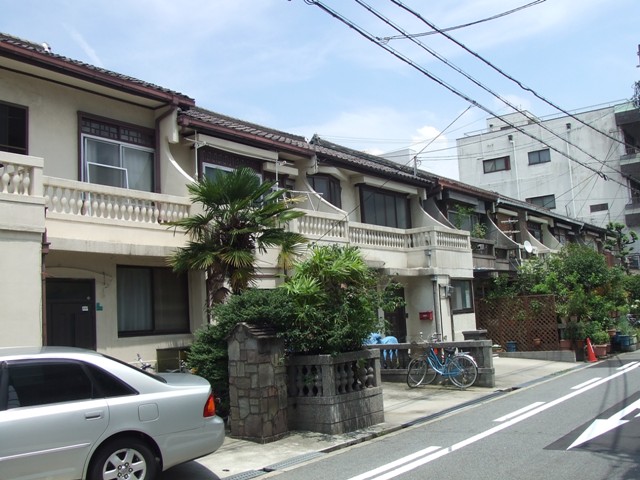 A few minute walk from Suminoe Station of Nankai Main Line
7 or 8 minute walk from Abikomichi Station of Hankai Line
Get out of the main gate of Sumiyoshi Shrine, go across Hankai Line, and walk westward for a minute, and you will get to Sumiyoshi Taisha Station of elevated Nankai Main Line.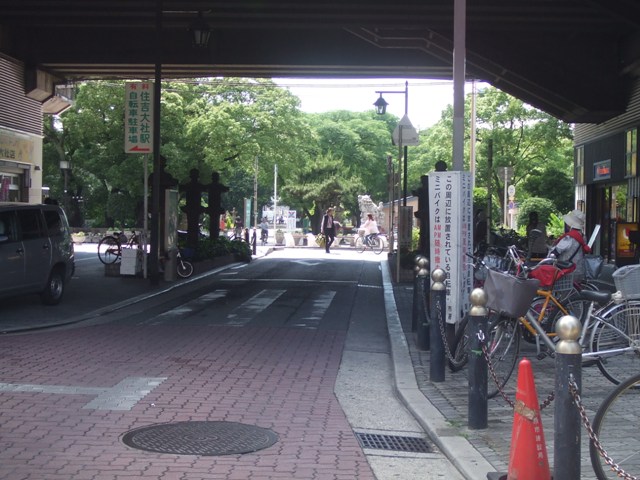 Go straight forward under the Nankai Line, and you will get to Sumiyoshi Park.
Sumiyoshi Park is one of the oldest parks in Osaka Prefecture, and you can stay here comfortably.
Cherry blossoms are beautiful in spring, and all year around, you can enjoy beautiful flowers. Right now, hydrangeas are very beautiful.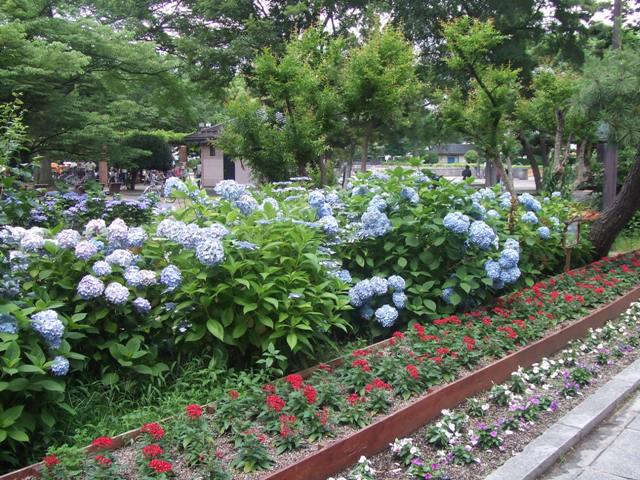 You can even enjoy barbecue at the designated area.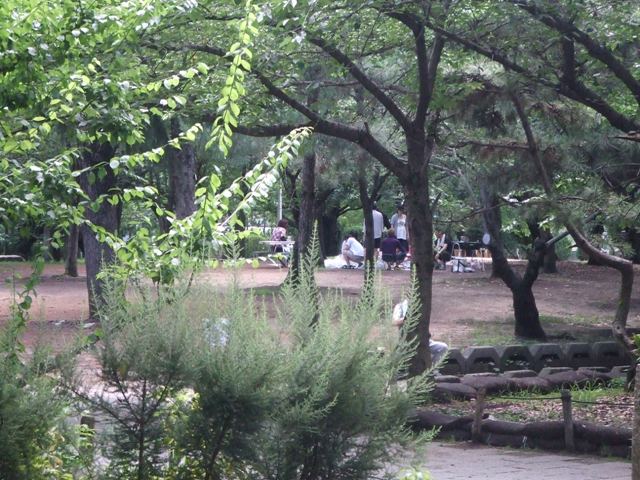 This is an approach to go worship to Sumiyoshi Shrine.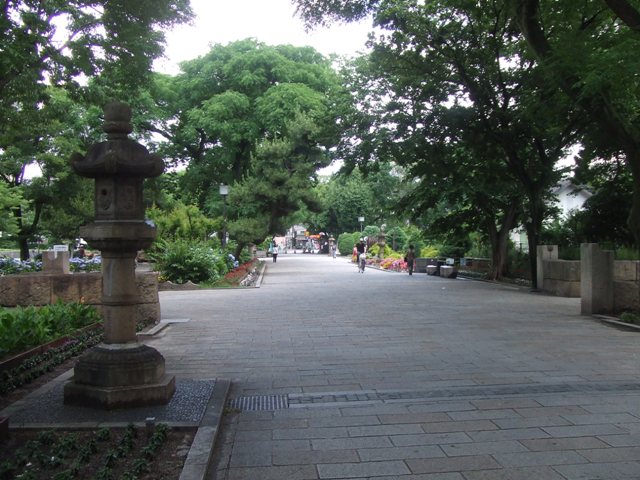 If you reach the west end of Sumiyoshi Park, you will see the old light house called "Takardoro" across from the park. This is the replica, though.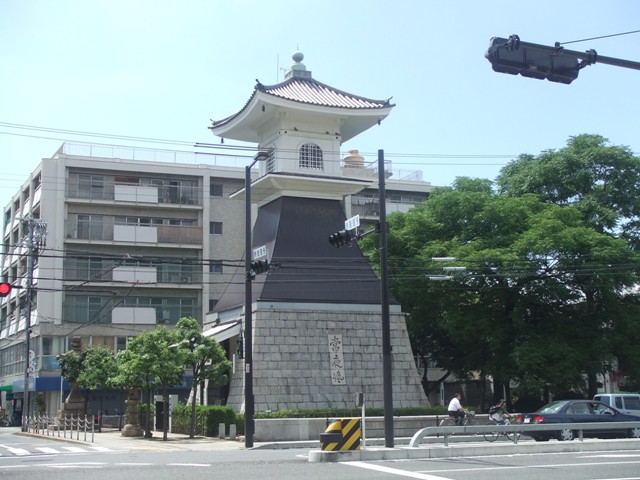 You can find the sea used to be close to Sumiyoshi Park long time ago according to this picture.